These cute little squares of rava are so inviting isn't it? The roasted cashews and other nuts are making me more hungry for this sweet thing right now. Some one there please pass them on. I occasionally crave for something sweet and then what comes to my mind is rava sheera. Because making sheera is all easy and hardly needs any pre-planning. But now a days, SUGAR is considered as culprit of major diseases. And I try to minimize sugar in my cooking. So today jaggery rava sheera, where I substituted jaggery for sugar in normal rava sheera recipe. Let me be honest, this dessert tasted way too delicious.
My daughter is a big fan of rava sheera and I remember her demanding this dessert alone for lunch when she was in 2nd standard. But being a health concerned mother I didn't let her  eat sheera alone instead, tried to convince her how bad sugar is.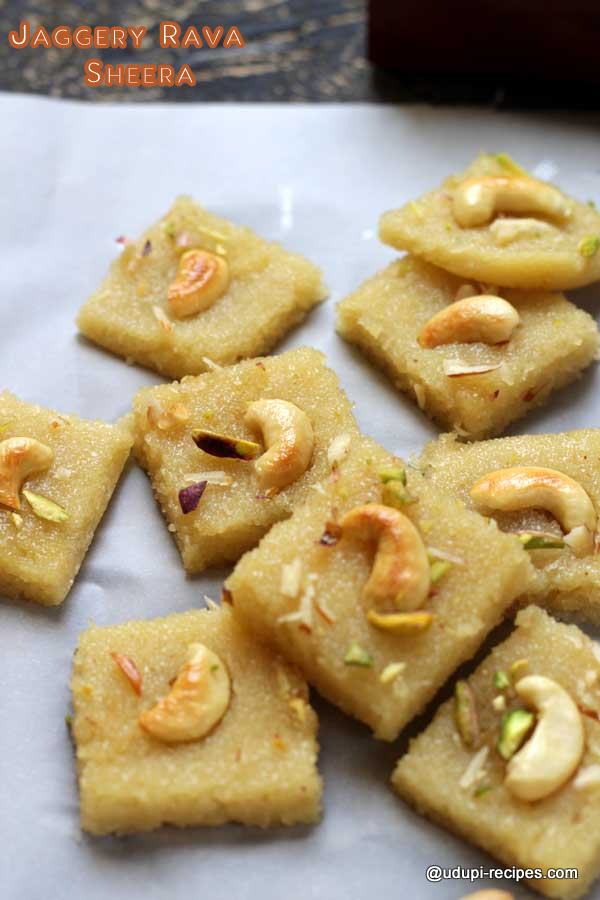 In this recipe I have tried to compensate sugar by organic palm jaggery and it was quite successful I must say. The preparation is more or less similar to it's sugar based counterpart. But instead of adding jaggery in dry form, I cooked it in water. When jaggery dissolves in water and boils, roasted rava gets in to cook deliciously delicious. The darker the jaggery you use, the more pleasant rava sheera would look in texture. So if you are like me who minimizes sugar use in everyday cooking, then this jaggery rava sheera is for you.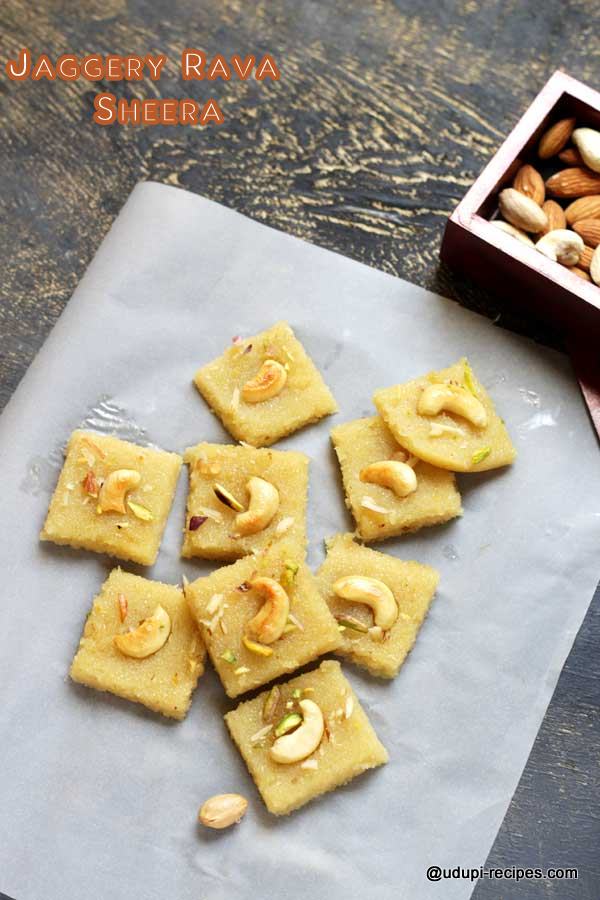 Jaggery Rava Sheera | Sooji ka Halwa with Jaggery
Ingredients
Medium rava- 1/4 cup
Ghee-1.5 tbsp
Jaggery- 1/4 cup
Water- 3/4 cup
Cardamom powder- 1/4 tsp
Dry fruits (nuts)-Handful
Instructions
Method

Heat a tbsp of ghee in a heavy bottom pan, add rava and with constant stirring roast it in medium flame.
When the raw smell disappears and absorbs all ghee, turn off the flame. Transfer it to a plate. Next heat the same pan and roast the cashews. Transfer it too.
Next, Add jaggery to the pan along with water and let it boil.
When the jaggery dissolves in water completely, filter the syrup to remove impurities and heat it again. When the syrup boils, slowly add the roasted rava stirring continuously to avoid lump formation.
Let rava cook in jaggery syrup, then include cardamom powder and remaining ghee. Gently mix and continue cooking for few more minutes.
Next in a ghee greased tray, transfer the sheera. Make pieces when it cools down.
Garnish the pieces with nuts of your choice. Enjoy jaggery rava sheera as a dessert or snack.

Notes

The color of jaggery determines the sheera color. So choose jaggery that is darker in shade.
Though 1/4 cup jaggery is needed for sheera, I used little less as I don't like too much sweetness.
Rava and water ratio is 1:3. This water quantity gives nice texture to sheera.
https://udupi-recipes.com/2018/07/jaggery-rava-sheera-gud-sooji-ka-halwa.html
All the content in this website are © Copyrighted to – Udupi-Recipes