This is instant! This is healthy! and this is delicious. Finger millet shavige can be a wonderful addition to your breakfast list. Let me convince you on how I think it's a feasible food.
It's instant. Meaning you don't have to plan few hours in advance to soak finger millet. If you have finger millet flour in the pantry, you are ready to go.
It's not at all a tedious process or elaborated one. So you are in kitchen for very less time.
Finger millet is a healthy cereal and this shavige is going to be a new of way using the cereal in your daily diet.
It resembles quite like noodles(not exactly though), so kids can be convinced to eat this.
My experiences with rice four ottu shavige and rava idiyappam were super successful. And I was skeptical to do the same trial with finger millet flour. Trust me, it too turned so very soft, mellow and delicious. Spicy coconut chutney and tiffin sambar are the best side dishes to serve this finger millet shavige.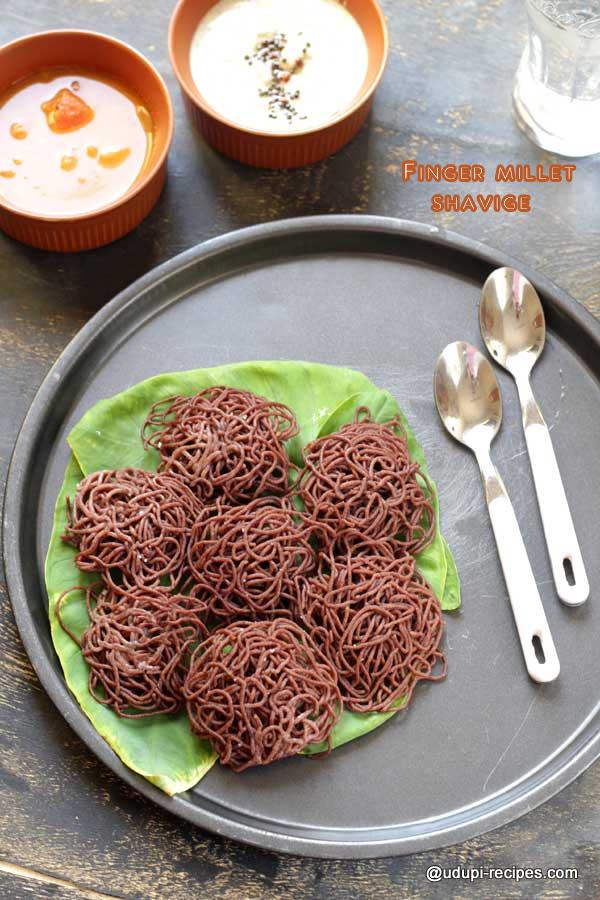 This shavige is pretty much apt for those who are keen in using finger millet flour in their diet. I know some of the health conscious guys who hate eating finger millet rotti but their health demands it. May be little hard rotti isn't inline with their tastes, but this finger millet shavige is soft. Even if you reserve the same for later eating, it stays soft. So finger millet can be your friend guys. Try it out.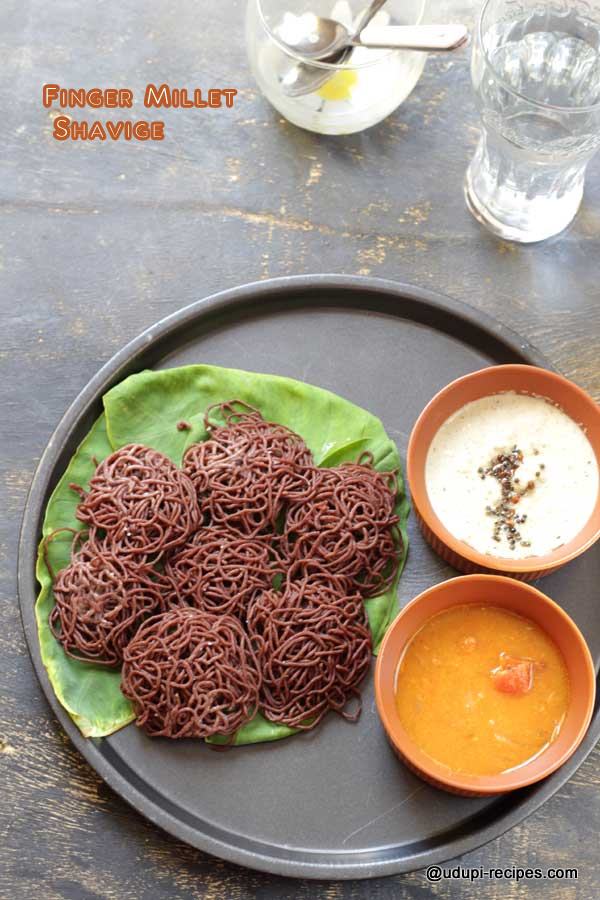 Finger Millet Shavige | Ragi Ottu Shavige
Ingredients
Finger millet flour- 1 cup
Water- 1 cup
Salt- 3/4 tsp
Instructions
Preparation

In a heavy bottom pan, roast the finger millet flour in medium flame stirring constantly. When it gets aromatic, switch off the flame. Let it cool.

Method

Transfer the roasted finger millet flour in to a bowl, add salt and mix. Meanwhile bring water to rolling boil in a sauce pan.
Carefully add hot water to the finger millet flour in the bowl little by little and mix.
You may or many not need all the water, so use as required. Knead a soft, sticky dough. Fill the shavige press with the dough.
Next press small swirls of shavige on a idli plate and steam cook it for 10 minutes or till done. Slowly remove from the steamer plate and serve.
Healthy finger millet flour shavige is ready to serve with chutney and sambar.

Notes

Roasting the flour helps to subside the raw smell. So please do not skip it.
I have used all the water to knead soft, sticky dough. It may vary with the quality of flour used. So add water little by little.
This is easy breakfast option for those who doesn't like finger millet flour in other forms like rotti.
https://udupi-recipes.com/2018/06/finger-millet-shavige-ragi-ottu-shavige.html
All the content in this website are © Copyrighted to – Udupi-Recipes