This one is super nutritious and it is apt for these days where MILLET vibes are in it's peak. Little millet dumpling would undoubtedly be a healthy breakfast to kick start the day. I just pause here to think of my days in Bangalore this vacation. The millets and organic food vibes were high on every one's house that I visited. So I could see lots transformations that have happened to people's mindset. Every one is leaning towards healthy food habits keeping the junk food level minimum. I generally eat healthy and real foods but not totally overdo it. But people's mindset reminded me of some interesting food stuff which should be part of this space which isn't till now. So I carried variety of millets with me on my way back from India.  And you guys, stay tuned for upcoming super interesting and real food here in this space.
Though some millets I could really get hold of, here in UAE were part of my blog food early this year(like this kodo millet pongal, foxtail millet dosa) I have used little millet ( SAAME in Kannada) for the first time now.  So I created a dumpling with little millet and veggie. Like the name, these millets are very tiny in size.  You can even use them as whole for this dumpling but I keep it coarsely ground. I  love that way.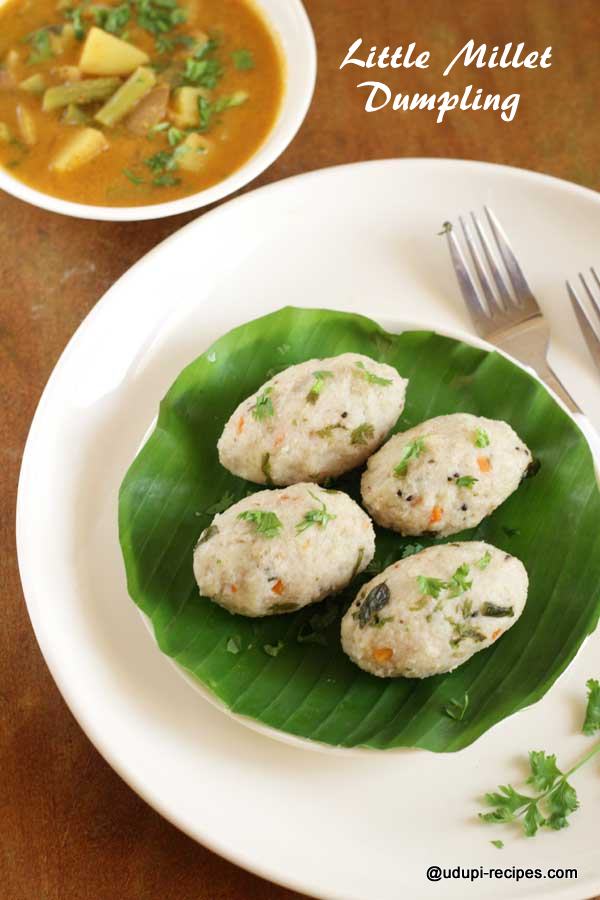 To make the little millet dumpling eye-pleasing I have included carrot but you can have rainbow of veggies included. Let me guess. Fresh green peas, fine pieces of beans and sweet corn should be too awesome to be popping out here and there in dumpling. And if you are not making them for kids, some green chillies and ginger would surely enrich the taste. Oh, you can play around with it and deliciousness is all around too.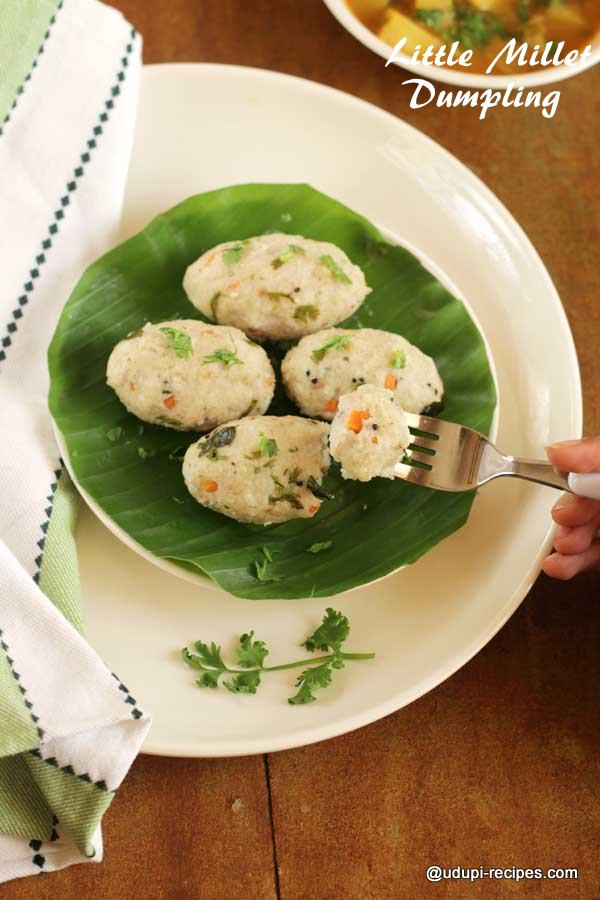 Little Millet Dumpling | Saame Pundi Gatti
Ingredients
Little millet(Saame)- 1 cup
Finely chopped cubes of carrot- 1/4 cup
Fresh grated coconut- 1/4 cup
Water- 1 cup
Salt- 3/4 tsp

To temper

Cooking oil- 2 tsp
Mustard seeds- 1/2 tsp
Split black gram lentils- 1/2 tsp
Split chickpea lentils- 1/2 tsp
Curry leaves- Few
Instructions
Method

Heat a pan with all the items under the list "To temper" and saute. As the mustard seeds sizzle and lentils turn brown pour a cup of water.
Throw in the chopped carrot and grated coconut in to the water so that it gets cooked. It may take few minutes. Let it cook in medium flame.
Meanwhile rinse the little millet with enough water and drain out the excess water. Add it to the mixer and grind it coarsely.
Next add salt to the boiling water in the pan and include ground little millet too.
Combine everything well so that millet absorbs water and comes together like a mass. When it is still warm, shape cylindrical dumpling and steam in presser cooker or idli steamer. It may take 15 to 20 minutes to get cooked perfectly.
You can check for done-ness by inserting a spoon in to the dumpling. Relish this healthy little millet dumpling along with coconut chutney and sambar of your choice.

Notes

Carrots are optional, you can skip them or add any other veggie like green peas or finely chopped beans. It makes the dumpling more nutritious.
If you like grainy dumpling, then skip grinding step and use the whole little millets.
You can add greens like dill-leaves too.
Do not grind the millet finely that may turn the dumpling sticky. Let it be coarse.
https://udupi-recipes.com/2017/08/little-millet-dumpling-saame-pundi-gatti.html
All the content in this website are © Copyrighted to – Udupi-Recipes