Kotte kadubu, a real classic recipe from the village of my roots. It may seem like your regular, normal idli but it has got an artistic touch. Which means you are learning something new. The art of converting jackfruit leaves in to cup like structure and steaming flavorful idli in it is heavenly experience. When you make them for the first time, you would surely feel the joy of hand made art. The plan for kotte kadubu recipe with video was in my to-do list since a while. But where in the world can I get Jackfruit leaves? In this dessert land of Middle East? Nope.  Hence, my return journey from India had all such precious stuff in my travel bag. Seems weird to you? But for me, from the perspective of my blog all such unique items which I can't get hold of so easily here are super PRECIOUS.  So you can imagine my travel bag and it's contents now.
Idli is the food that I was raised on. Not Kotte kadubu though. Our ancestors and their food knowledge needs lot of appreciation. Kotte kadubu is one such example where in the leaves of jackfruit become cups to steam idli batter.  The leaves not only induce it's flavor to the steamed cake but also act as use-and-throw kind of cup. Which means no hassle of dish washing and storing the idli for later use. Hats off to our ancestors and their intellect.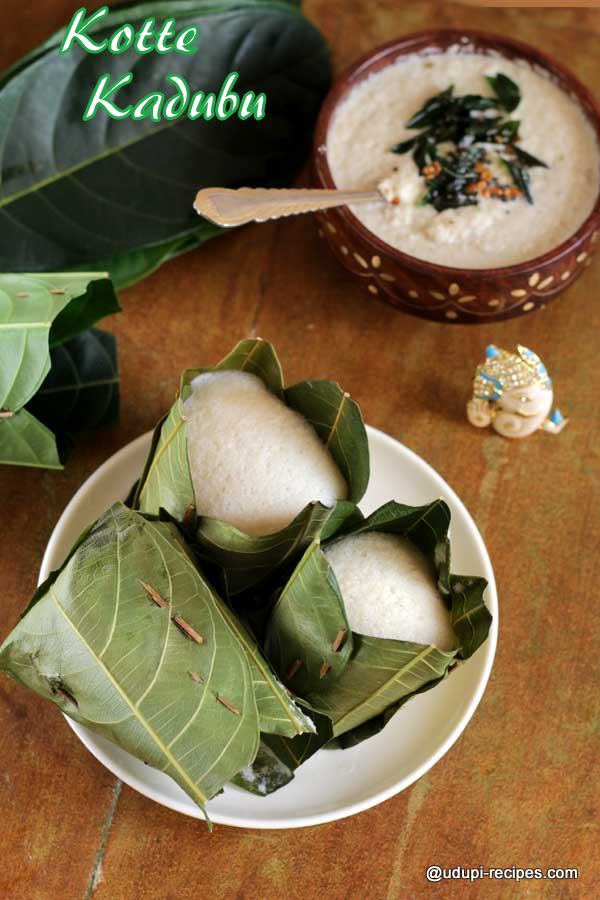 When you need to steam cook idli for a large crowd in mammoth quantity, then this method is the best. All that is needed is lot of jackfruit leaves and few hands to turn them in to cups.  I have put together a detailed video which will help you learn the art of cup making and hence kotte kadubu.
Check the video here: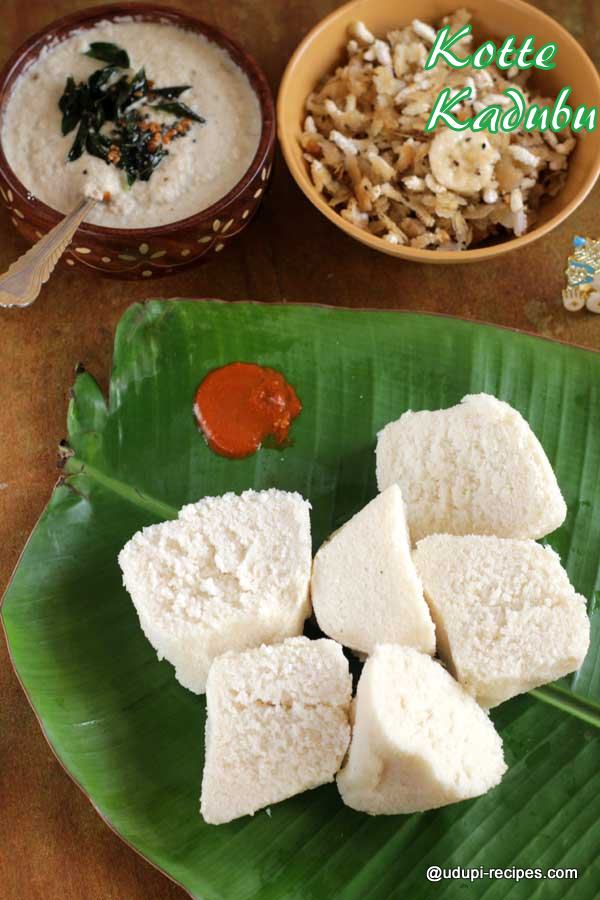 Kotte Kadubu Recipe | Idli in Jackfruit Leaves Cup
Ingredients
For Kotte

Jackfruit leaves- 30
Coconut leaflet midrib (coconut leaflet stick)- Few

For Kadubu

Split blackgram lentils- 1 cup
Idli rava- 2 cups
Salt- 1.5 tsp
Instructions
Preparation

Choose the jackfruit leaves that are big and even in size. You need 4 leaves for making one cup like structure(kotte). Using cocunut leaflet midrib stitch 4 leaves together as shown below.
Next bend leaf in "L" shape and fix it with adjacent one.
Bending and stitching each leaf with it's adjacent one has to be repeated till you obtain cup like structure.
Following this procedure get all the cups ready. You can make them a day ahead too. I have cut the extended stem for neat presentation.
Wash and soak the blackgram lentils for about 2 hours.

Method

Drain all the water from lentils and grind it to light and airy batter adding required water. You can use wet grinder if you have one.
Soak idli rava in enough water for about 20 minutes. Squeeze and add the rava to lentils batter. Mix and let it rest for about 8 to 10 hours for fermentation.
After fermentation the batter would have raised up. Add required salt an mix well. Now batter for kotte kadubu is ready.
Next carefully pour the idli batter in to jackfruit leaf cup prepared earlier. Arrange batter filled cups in a idli-steamer and steam cook for about 15-20 minutes.
Insert a spoon in to cooked idli to check for doneness. If it comes out clean, it's done.
Remove all the sticks used to stich the cup and serve idli along with chuntey and sambar of your choice.

Notes

Ensure the jackfruit leaf cup isn't leaking. If you follow the video, the cup turns perfect with no holes.
Keep them ready before-hand to save time in the morning.
Grinding the batter using wet grinder yields light, airy batter with good volume. So use it if you have one.
I have used idli rava instead of grinding rice. You can use rice too. In that case, soak rice, grind coarsely and mix with lentils batter.
Give the batter enough resting time for better fermentation. In warm places 8 hours of fermentation is enough.
You can keep as many cups as your steamer can hold and steam them all together.
https://udupi-recipes.com/2017/08/kotte-kadubu-recipe.html
All the content in this website are © Copyrighted to – Udupi-Recipes