Here comes a recipe in line with the upcoming festival of Lord Ganesha. Very auspicious and delicious offering named ashta druvya is right in front of you without which it isn't a true Ganesha Chaturthi for us. Yes, the festival begins by offering this divine tasting rice flakes to Lord Ganesha followed by prayers seeking His blessings.
The name itself is very exciting and meaningful. Lets break the name as two words. Ashta literally reflects the number of constituents that make up this awesomeness. Druvya means the actual constituents that actually go in to the recipe.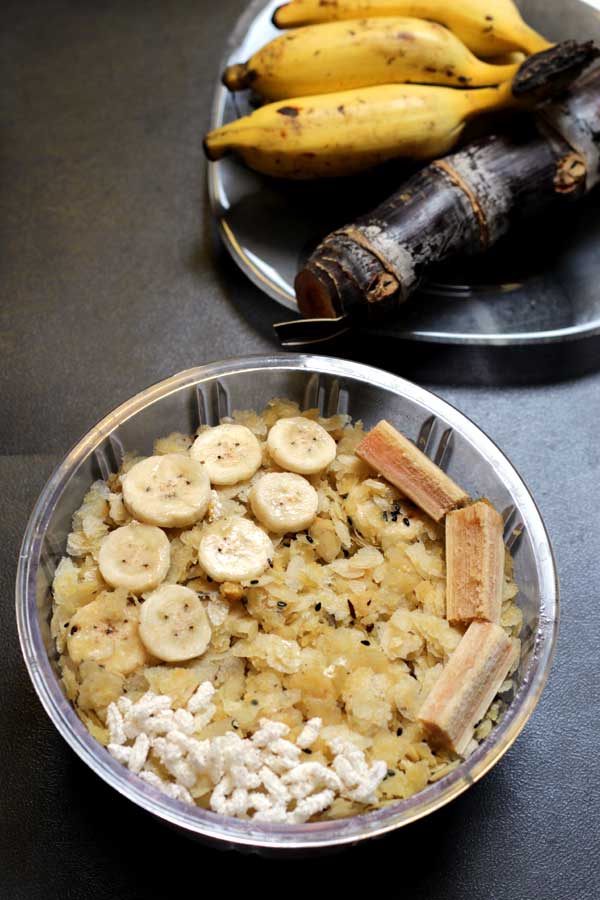 First things first, the grated coconut: It is this fresh and juicy coconut when gets combined with jaggery becomes lusciously sweet. The third primary constituent is rice flakes which actually turns soft and infuses the sweetness when combined with coconut plus jaggery. Next comes ghee which is mainly incorporated for flavor explosion. Rest of the ingredients the banana, sugarcane, puffed paddy and black sesame seeds are used to enhance the deliciousness and make it heavenly divine in taste.
After the offering, ashta druvya is dispersed to all the family members and we end up eating it like meal because it is YUM, YUM and just YUM.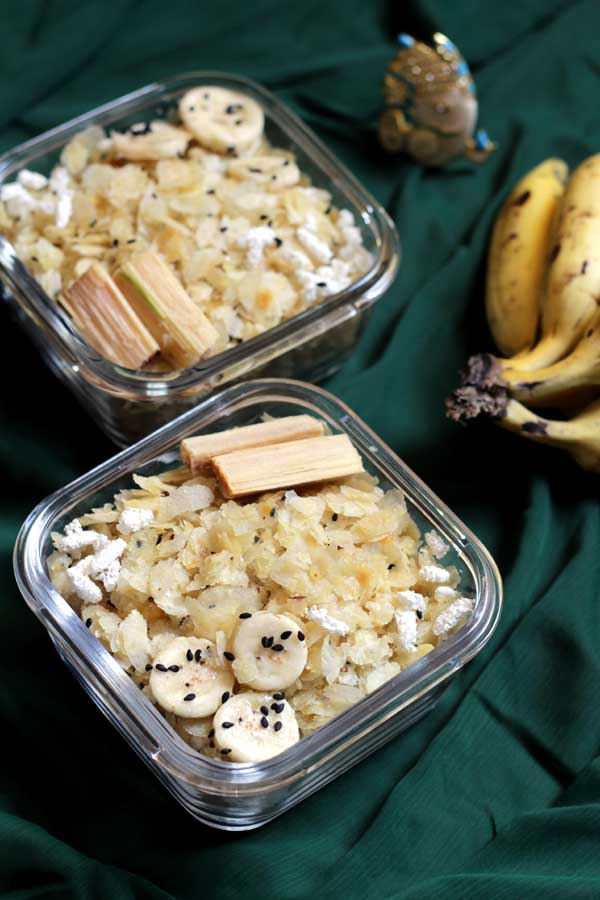 Ashta Druvya Recipe | Sweet Poha in Udupi Style
Ingredients
Thin rice flakes- 2 cup
Powdered jaggery- 1 cup
Grated coconut- 1 cup
Sugarcane pieces- 1 cup
Puffed paddy- 1/4 cup
Black sesame seeds- 2 tsp
Ripe banana- 2 nos.
Ghee- 1/8 cup
Instructions
Preparation

Initial step starts with peeling off hard skin of sugarcane and cutting inch sized pieces out of it. Similarly peeling off banana and slicing it gets the things ready.

Method

In a wide bowl take fresh grated coconut and jaggery powder. Mix it well with your fingers so that mixture becomes juicy. Add in thin rice flakes and mix it too.
Next dry roast the black sesame seeds and add to the mixture. Finally pour ghee, throw in banana slices, puffed paddy and sugar cane pieces.
An auspicious offering ashta druvya is ready for Lord Ganesha.

Notes

Always use fresh coconut so that the rice flakes turn soft and juicy.
You can optionally add honey and cardamom powder to enrich the taste.
It can last for two days at room temperature.
https://udupi-recipes.com/2016/09/ashta-druvya-recipe.html
All the content in this website are © Copyrighted to – Udupi-Recipes