September! The season of having people over to your house for lunch because it's the festival of Lord Ganesha. And when I think of people over this festival, let's be honest. I think of steamed modak, undulka, sihi kadubu, rava laddu, dry fruits karanji and much more whose main ingredients are rice flour, coconut, semolina and jaggery. These are the best possible festival days of my life in India.
My vacationing is appropriately planned to match with festivals this year because I could enjoy most important ones with my beloved family. Otherwise I get to celebrate only two of them like I did last year. These pretty and awesomely shaped traditional sweets of Ganesha chaturthi are most yummiest and wonderful ever delicacies. Being a foodie I eat  and admire everything my mother lovingly cooks for the festival.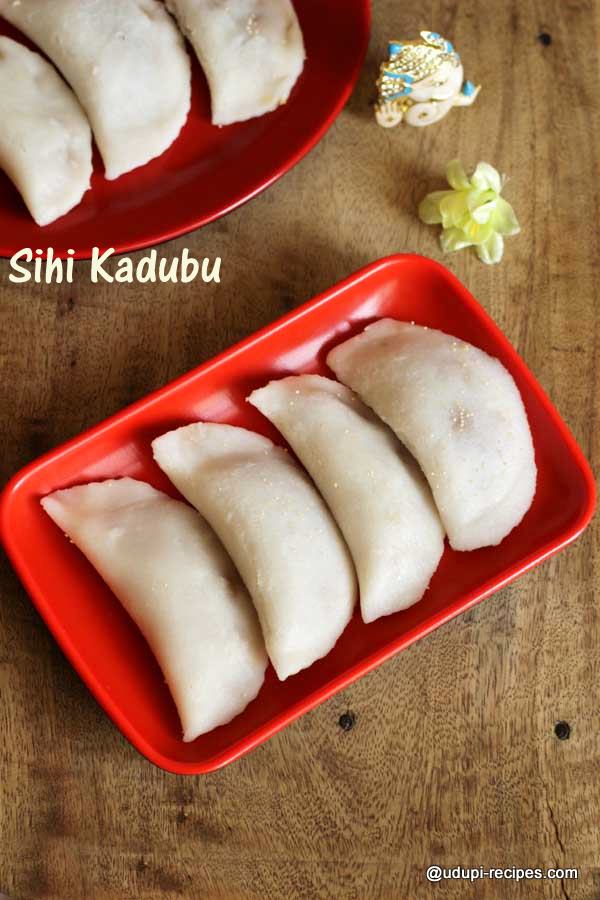 Sihi kadubu, as it is well known in Karnataka is a dumpling in which coconut and jaggery is stuffed. There are two steps.
Step one: Stuffing. Make jaggery dissolve in little water and cook till it bubbles up. Saute fresh grated coconut, poppy seeds and cardamom powder in it till thickens. Get this stuffing ready and let it cool down so that you can handle it.
Step two: Outer dough. Water and rice flour in equal quantity gets the dough in perfect consistency. Water when gets to rolling boil situation, pour in rice flour and mix. Get the consistency right like not too thick or thin. Pat 2″ discs over damp cloth, stuff a tea spoon of coconut-jaggery mix and cover in semi circular shape. Some times shaping sihi kadubu needs quite a bit of trick and designing skill. Steam cooking such carefully designed dumpling and offering to God is the best ever way to enjoy the festival.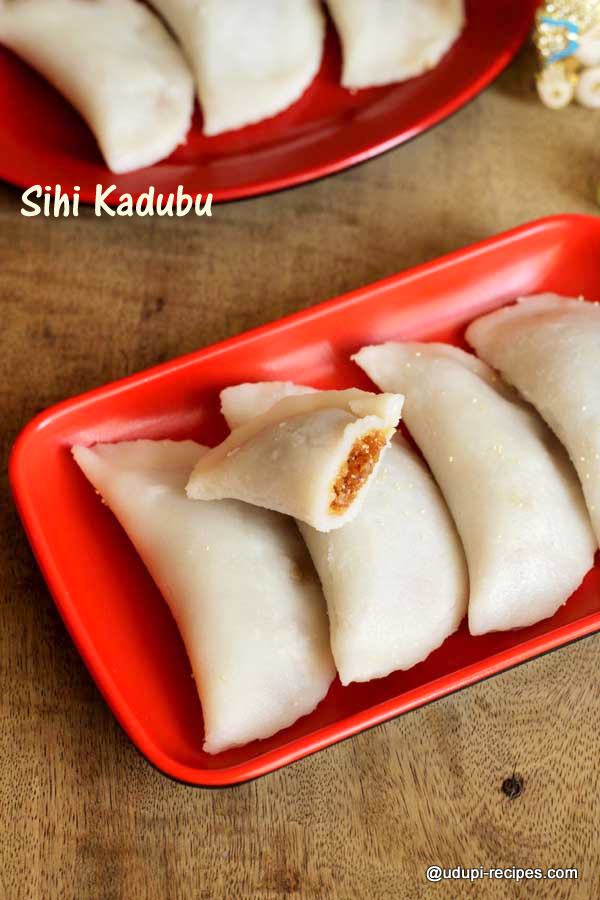 Sihi Kadubu | Coconut Stuffed Dumpling
Ingredients
Rice flour- 1 cup
Water - 1 cup
Salt- 1/4 tsp
Ghee- 1 tsp

For stuffing

Coconut- 1/2 cup
Jaggery-1/3 cup
Cardamom powder- 1/4 tsp
Poppy seeds- 2 tsp
Instructions
Method

In a pan add jaggery and 1/8 cup of water. Cook this in medium flame till jaggery dissolves and becomes frothy. Next add coconut, poppy seeds and cardamom powder and mix well.
When moisture gets evaporated and mixture comes together, switch off the flame. Stuffing is ready now, transfer this to a container. Next add 1 cup of water, salt and ghee to a pan and bring this to rolling boil. Include rice powder and mix well to form dough. Switch off the flame.
When the rice dough is still warm, divide it in to equal portions and roll like ball. Take a rice ball and place it over damp cloth. Flatten it in to 3" disc using your fingers. Add two teaspoons of coconut stuffing, fold and seal the edge. Continue this process with all the rice balls.
Steam cook thus prepared dumplings for about 15 minutes. I used idli stand and pressure cooker for steaming them.
Sihi kadubu with coconut jaggery filling is ready to offer to Lord Ganesha.

Notes

When cooking jaggery, do not add too much water which makes the stuffing runny.
If the stuffing becomes runny, it oozes out while steaming. So try to evaporate most of the moisture from stuffing through cooking.
Keep the rice flour balls covered in damp cloth till you finish making these kadubu. It helps the balls to be moist and soft.
You can trim the edge after folding and sealing the dough over stuffing in half circular manner.
https://udupi-recipes.com/2016/08/sihi-kadubu-coconut-stuffed-dumpling.html
All the content in this website are © Copyrighted to – Udupi-Recipes