Home made vangi bhath powder!! It makes your life easy friends.
Masala powders are integral part of Indian kitchen which help to build meals around. Because you may be having brinjal (eggplant) or capsicum right in your fridge and with this handy powder in the jar, whipping up a meal can be just a 30-minute task. If you visit my kitchen at any point of time, you find a jar full of vangi bhath powder or bisi bele bath powder along with regular sambar powder and rasam powder. Can I imagine my cooking life without these powders?(It's a question to self). Nope..
When I have to balance between blog food and everyday food, like some times I cook meals for normal life parallel with specific one for the blog. It's possible only when masala powders are in stock which would take way too long otherwise.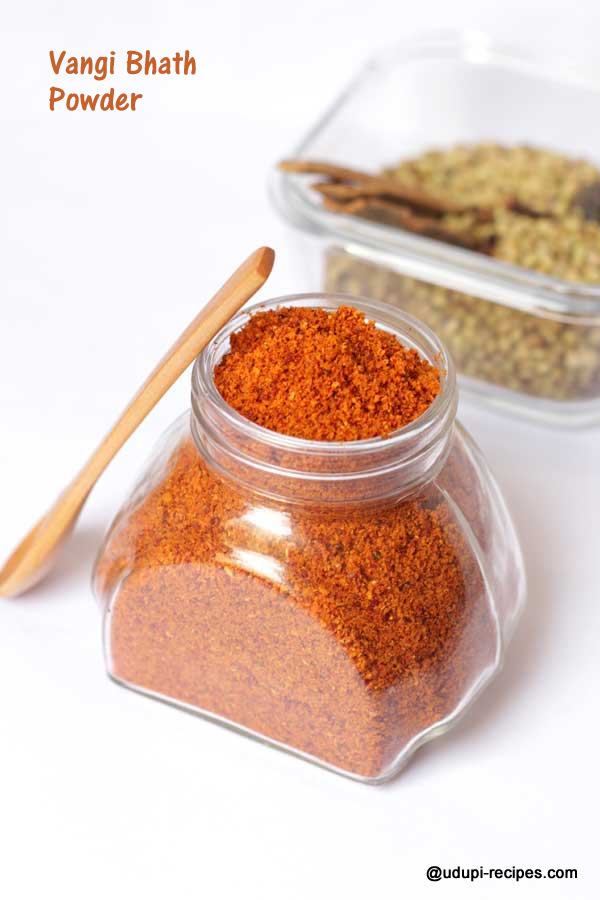 Sparing 20 minutes of time in constantly roasting all possible spice flavors in the kitchen and eventually powdering them in a blender would be a self gift for sure. I would consider this one as best possible self gift that could ever exist. A whole jar full of vangi bhath powder makes an easy meal whenever hungry craving shows up.
Using this powder, learn how to make vangi bhath with step-wise pictures.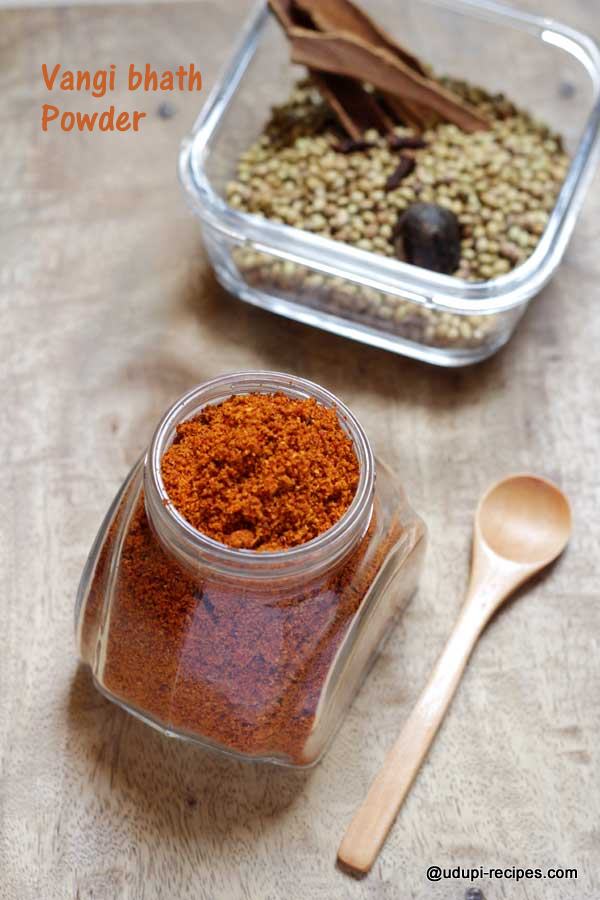 Vangi bhath powder Recipe
Ingredients
Chickpea lentils- 1/4 cup
Split blackgram lentils- 1/4 cup
Coriander seeds- 1/4 cup
Desiccated coconut- 1/2 cup
Fenugreek seeds- 2 tsp
Poppy seeds- 2 tsp
Red chillies(byadagi)- 20-24 nos
Cloves- 8 nos.
Cinnamon- 4" long
Nutmeg- 1/2
Cooking oil- 3 tsp
Instructions
Method

Heat oil in a pan adding chickpea lentils, blackgram lentils and red chillies. Stirring constantly roast them till the lentils change color. Eventually chillies puff up too.
Transfer it to a plate. Then add coriander seeds, poppy seeds, fenugreek seeds, cinnamon, cloves and nutmeg. Roast them together till done. Finally add desiccated coconut and stir a minute. Switch off the flame.
Let all the roasted ingredients cool down to room temperature. Put everything in a blender and whir to fine powder.
When the vangi bhath powder cools down, store in a air tight container.

Notes

It's always advisable to roast the ingredients in medium flame with constant stirring.
Do not burn any of the spices that can ruin the taste of powder.
It can last for 15 days and it may lose flavor thereafter.
https://udupi-recipes.com/2016/07/vangi-bhath-powder-recipe.html
All the content in this website are © Copyrighted to – Udupi-Recipes