Banana stem is a super food which I am bringing back to blog in the form of stir fry(Remember banana stem raita?). Banana stem stir fry is too good friends, you must try this. Fiber loaded banana stem in any form is always always a healthy option and in take of such an awesomeness works wonders on our body in terms of detoxification. So there is so much good going on here..
When you buy a banana stem from super market, don't think all layers of it are edible. This fiber-y veggie needs some prior work like removing the skin off from the stem till you obtain a hard core portion which cannot be peeled further. It is this part of the stem which is good to eat and consume. When you chop this edible part, you get to notice lots and lots of strings of fiber clinging around which needs to be removed then and there. You carry on removing fibers and chopping it in to fine cubes simultaneously and it's a unique precooking experience!! 😕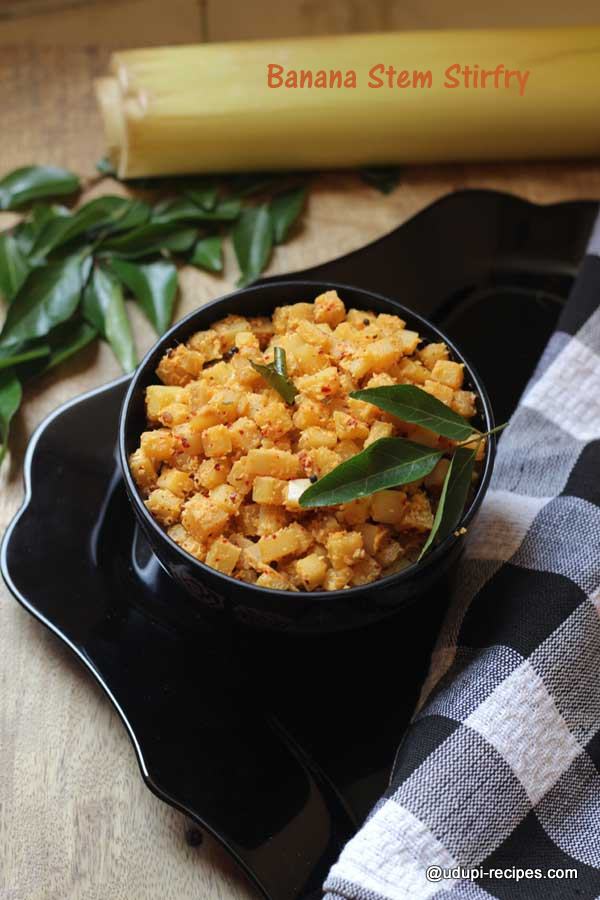 When you have those cubes of banana stem in hand, then cooking stir fry is a breeze. Like season, cook, grind some spices and mix. that's it. I used red chilly and little mustard seeds with coconut as a masala mix which you can alter and try various other combinations. Like swapping red chilly by green ones or using cumin instead of mustard, stuff like that. All these combinations work really well to make wonderfully delicious banana stem stir fry which you love for it's detoxification.
Banana Stem Stir fry | Bale Dindina palya
Ingredients
Banana stem - one large piece(around 2 cups of cubes)
Salt- 1 tsp
Turmeric powder- 1/4 tsp
Powdered jaggery- 1 tsp
Fresh grated coconut- 4 tsp
Mustard seeds- 1/4 tsp
Red chillies- 1 nos.

Seasoning ingredients

Cooking oil- 2 tsp
Mustard seeds- 1/2 tsp
Split black gram lentils-1 tsp
Curry leaves- Few
Instructions
Preparation

When you buy banana stem from the vegetable shop, you have to prepare the same for cooking by peeling off the stem till you obtain a tender inner core which cannot be peeled further.

Method

Next as you start slicing the stem horizontally in to discs, you will notice lots of fiber clinging to the stem. Remove all the fiber using your fingers and continue chopping. Keep the chopped stem immersed in water.
Next heat a heavy bottom wok, adding all the seasoning ingredients in the order given. As the mustard seeds sizzle and splutter add chopped banana stem cubes. Throw in turmeric powder, jaggery, salt and some water. Let it cook in simmer.
Meanwhile take coconut, mustard seeds and red chilly in a mixer and whip to coarse paste without adding any water. When the banana stem cubes have turned soft, add this coconut plus chilly paste and mix well. Continue cooking for a minute and switch off.
Anti-oxidant rich banana stem stir fry is ready to serve.

Notes

Chop the stem in to fine cubes as it has lots of fiber. It would be difficult to chew the large chunks of it.
The stir fry is medium spice, you can adjust the red chillies as per your preferences.
Skip jaggery if you don't like even hint of sweetness in the stir fry.
This banana stem is said to be very good in removing toxins from body. So use it in your menu at least once in a month.
https://udupi-recipes.com/2016/07/banana-stem-stir-fry-bale-dindina-palya.html
All the content in this website are © Copyrighted to – Udupi-Recipes