I have been switched over from morning tea to this wonderful herbal drink Kashaya or Kashayam since 2 years and I am happy that I did change my tea routine. Basically liquid refreshments like coffee, tea are not allowed to be an addiction in my life. I prefer such beverages only twice a day that too only half cup. But when I realized the benefits of kashaya over tea, coffee, I could easily make up my mind to consume it as substitute of regular ones.
Whenever I feel like drinking some hot drink, I just boil ½ cup water with 1 heaped tea spoon of Kashaya powder along with a tea spoon of jaggery powder. Jaggery is recommended over white sugar to make this kashaya but if you prefer you can substitute it with white sugar or sugar candy(kallu sakkare) too. As this mixture comes to rolling boil, I add 3/4 cup of hot milk and switch off flame once it boils together. Again add more or less quantity of milk depending on your preference.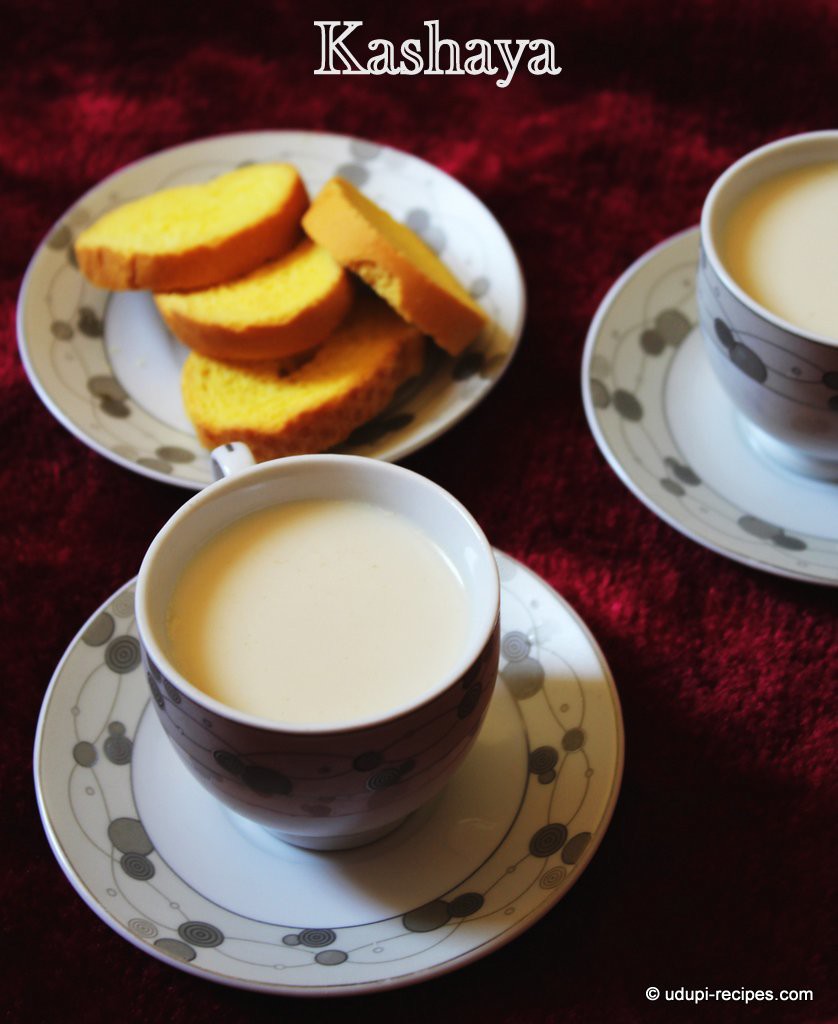 You can make some variations in kashaya preparation. Add a pinch of turmeric powder when boiling kashaya which not only enhances the color but also good relief for itchy throat.  It's a wonderful magic drink which is said to be good in curing nausea, lose of appetite and cold. Give it a try and see if you like it.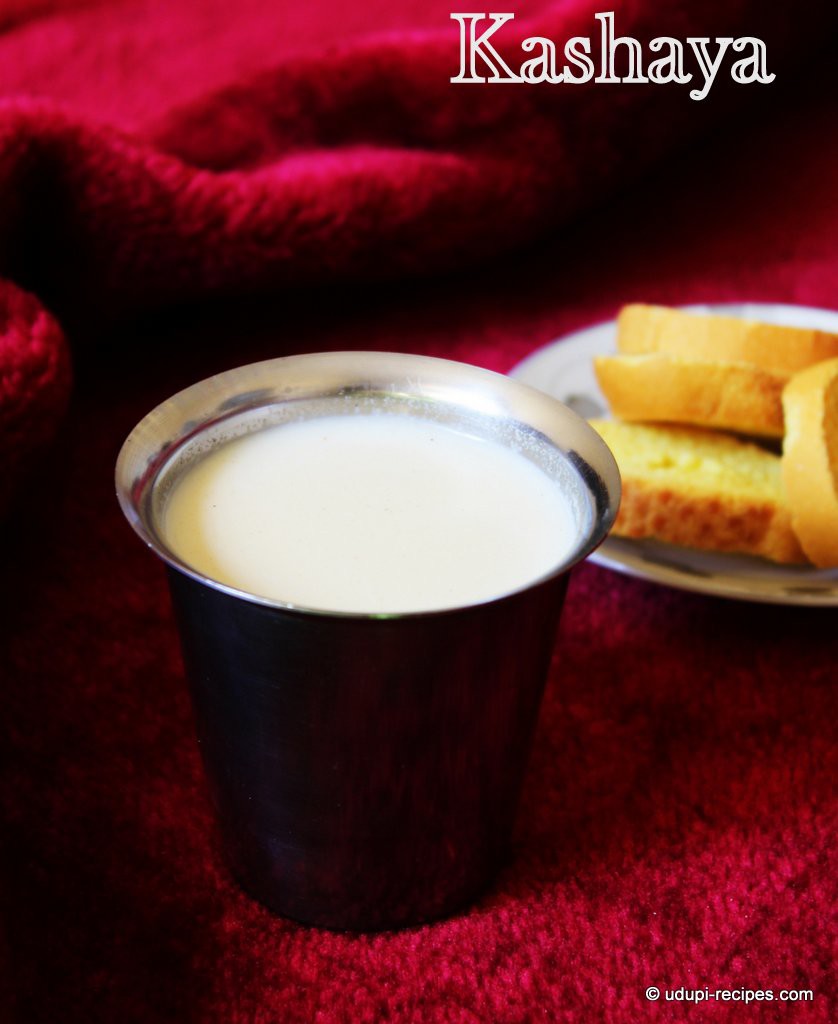 Kashaya | Kashayam | Healthy Hot Beverage Recipe
Ingredients
Hot Milk- 3/4 cup
Water- 1/2 cup
Jaggery powder- 1.5 tsp
Kashaya powder- 1 tsp
Instructions
Method

Boil half cup of water, then add a tea spoon of kashaya powder. Bring it to rolling boil so that the spices in the powder impart their aroma to the drink.
Include 1 to 1.5 tea spoon of jaggery powder and let it dissolve completely in kashaya mixture. Then include hot milk, as it continues to boil switch off the flame and strain the kashaya in to cup.
Aromatic and healthy herbal drink kashaya is ready. You can drink it as a substitute of tea, coffee and relish it's health benefits.

Notes

You can replace jaggery by sugar or sugar candy as per your preference. But I would recommend jaggery itself.
1.5 teaspoon of jaggery gives appropriate sweetness and suits my taste buds. Adjust as per your requirement.
It's always better to include hot milk to kashaya while boiling, if we boil milk along with kashaya mix for long it tends to curdle.
https://udupi-recipes.com/2015/01/kashaya-kashayam-healthy-hot-beverage-recipe.html
All the content in this website are © Copyrighted to – Udupi-Recipes