I belong to a region where every one's day starts with a tall glass of hot coffee to kick start their morning activities. But I hardly remember myself drinking this caffeine loaded beverage to begin the day,  I am a tea lover in fact.  It's the influence of North Karnataka where I spent my childhood days where this tea with less milk is the only beverage they consume at any time of the day.
Years have passed, days have changed and a healthy hot beverage Kashaya (herbal drink) substitute for tea, coffee has been in my life since 2 years as a regular liquid refreshment.  An ayurvedic drink which is popular as Kashaya in Udupi-Mangalore region and which is recommended as a kitchen medicine during cold and cough is being consumed by my family as a regular hot beverage in the morning nowadays.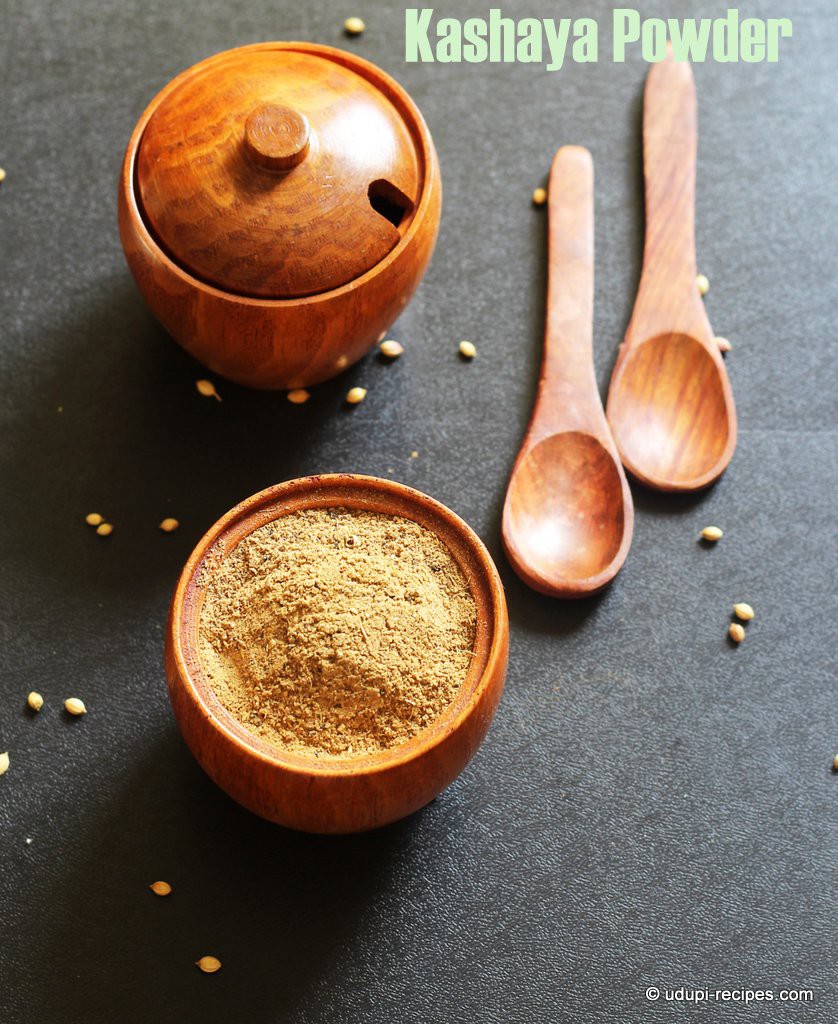 In my return trip from India I always make sure to buy a pack of Kashaya powder from the stores of Udupi car street but I often prefer to make a batch of Kashaya powder at home with selected fresh spices. Today I thought of sharing this wonderful, aromatic and healthy kashaya powder recipe with you. There is a big  list of ingredients though you can make basic powder with minimum available ones like coriander+cumin+black pepper+cloves+cardamom+fennel seeds+nutmeg. To make this hot beverage an immune booster I have included few ayurvedic spices like Jeshtamadhu, ashwagandha and dry ginger as they impart essential health benefits to our body and keep it fit.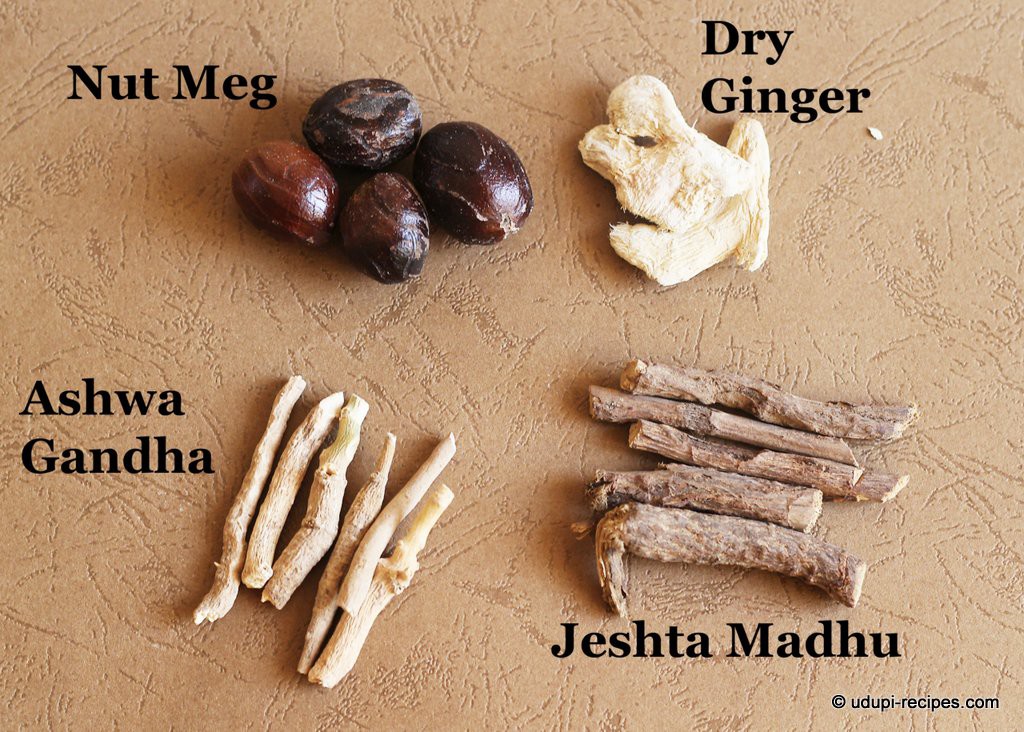 As you start making Kashaya powder, ensure you have enough time to roast the 4 main ingredients like coriander, cumin, fennel seeds and pepper corns. Rest of them are included without roasting. As the spices need constant attention while roasting, if you get distracted they will burn and ruin the taste. So please do not rush.  For ease of powdering I used my mortar and pestle to crush the ayurvedic spices Jeshtamadhu, ashwagandha and dry ginger then included in mixer. After powdering to the desired consistency, ensure it is cooled down to room temperature before storing in air tight container. It can last for 1 to 11/2 month at room temperature, mine doesn't last for more than 3 weeks. I will post how to prepare kashaya or kashayam using this powder in a day or two.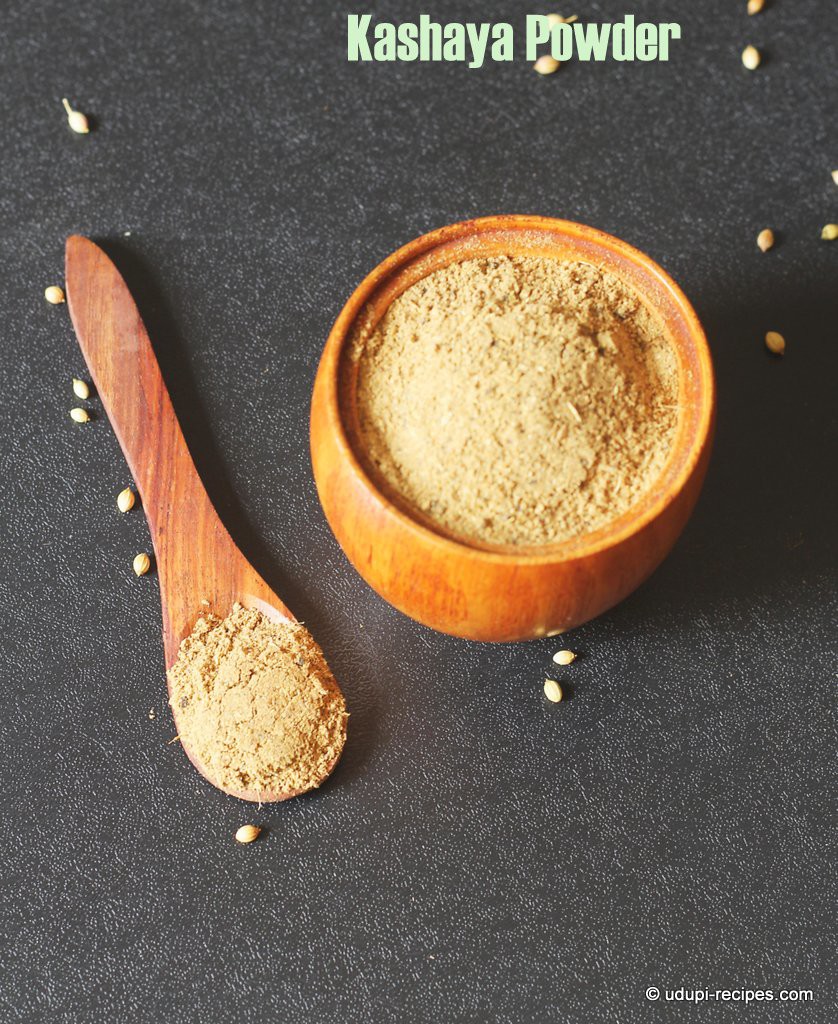 Kashaya Powder | Herbal Drink Powder Recipe
Ingredients
Coriander seeds- 1/2 cup
Cumin seeds- 1/4 cup
Cloves- 7 nos.
Green cardamoms- 4 nos.
Bay leaves- 3 nos.
Black pepper corn- 1 tsp
Fennel seeds- 2 tsp
Nutmeg- 4 nos.
Dry ginger- 2 nos.
Ashwagandha- 6 nos.
Jeshtamadhu- 6 nos.
Instructions
Method

Assemble all the spices in specified quantity at one place.
In a heavy bottom wok dry roast coriander seeds, cumin seeds, fennel seeds and black pepper corns one after the other in low flame. Coriander, cumin and fennel seeds slightly change in color and waft out nice aroma when roasted. Switch off right then. Roast black pepper corns till they are warm. Ensure none of the spices are burnt.
Using mortar and pestle crush nutmeg, ashwagandha, jeshtamadhu and dry ginger so that mixer can easily powder them.
Include roasted ingredients, crushed ones and rest of the ingredients in a blender or mixer and powder them together. Transfer the powder on to a plate and let it cool.
Aromatic kashaya (herbal drink) powder is ready. Store it in air tight container.

Notes

Do not ever burn the ingredients while roasting, it leads to bitterness of kashaya.
If you do not get all the spices, you can still make the powder with available spices.
Shelf life of this powder is up to 1 or 1and 1/2month.
https://udupi-recipes.com/2015/01/kashaya-powder-herbal-drink-powder-recipe.html
All the content in this website are © Copyrighted to – Udupi-Recipes