Pulao, methi rice, ghee rice or any such one pot meals are normally fluffy, spicy and flavorful that would need a comforting side dish making every spoonful of rice soupy and mild. According to me onion tomato raita gets a top favorite side dish badge out of all.  It's easy, quick and crunchy raita that can be whipped up in 10 minutes.
My kids just love eating pulao at any time of the day but without onion tomato raita if it is served then they say a big NO NO for meal. So when I plan rice varieties of any kind I ensure I have enough yoghurt (curds) in stock, if it is not then meal plan is simply dropped.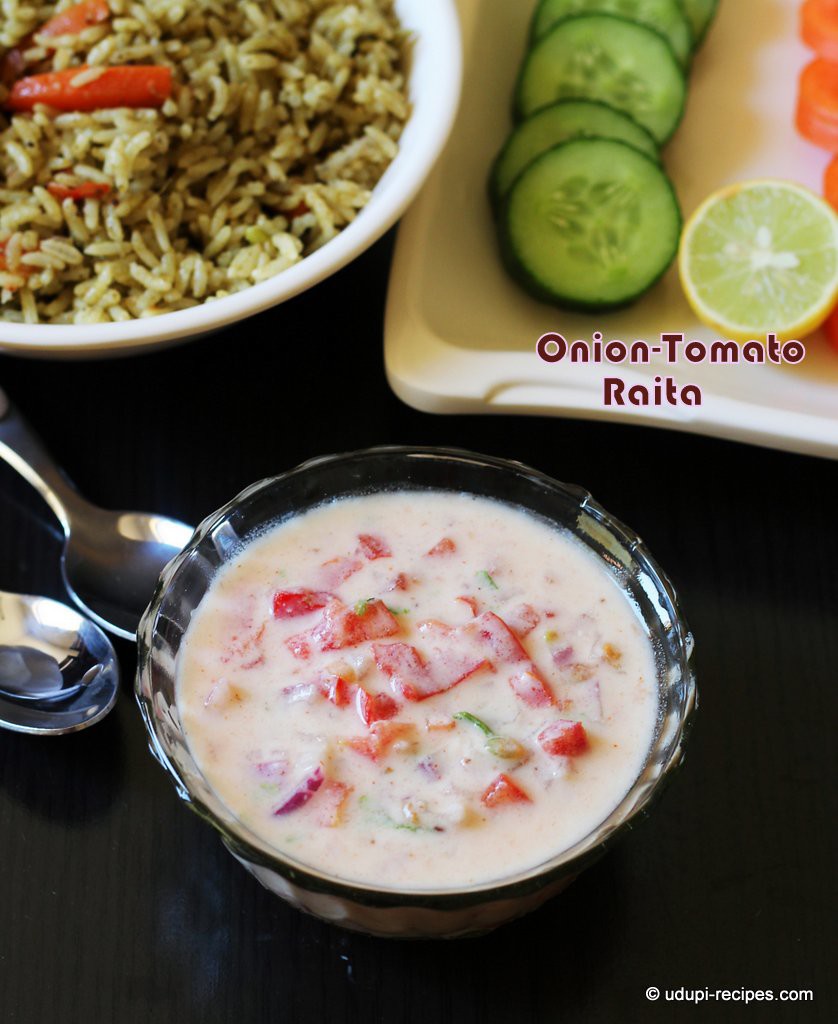 Shredding onion, tomato  and coriander leaves is the only process that counts some minutes in raita preparation. Then it involves combining with thinned yoghurt and spices. I have used little roasted cumin powder in an effort to make the raita flavorful.  That is optional but I liked the flavor, when I had it first time in a birthday party.  You can take call on this based on your taste preferences.
If you are a spice lover then I would suggest including minced green chillies too, I have limited it to just a tea spoon of red chilly powder. It has deepened the color of onion tomato raita and this crunchy, mild side dish looks so appetizing.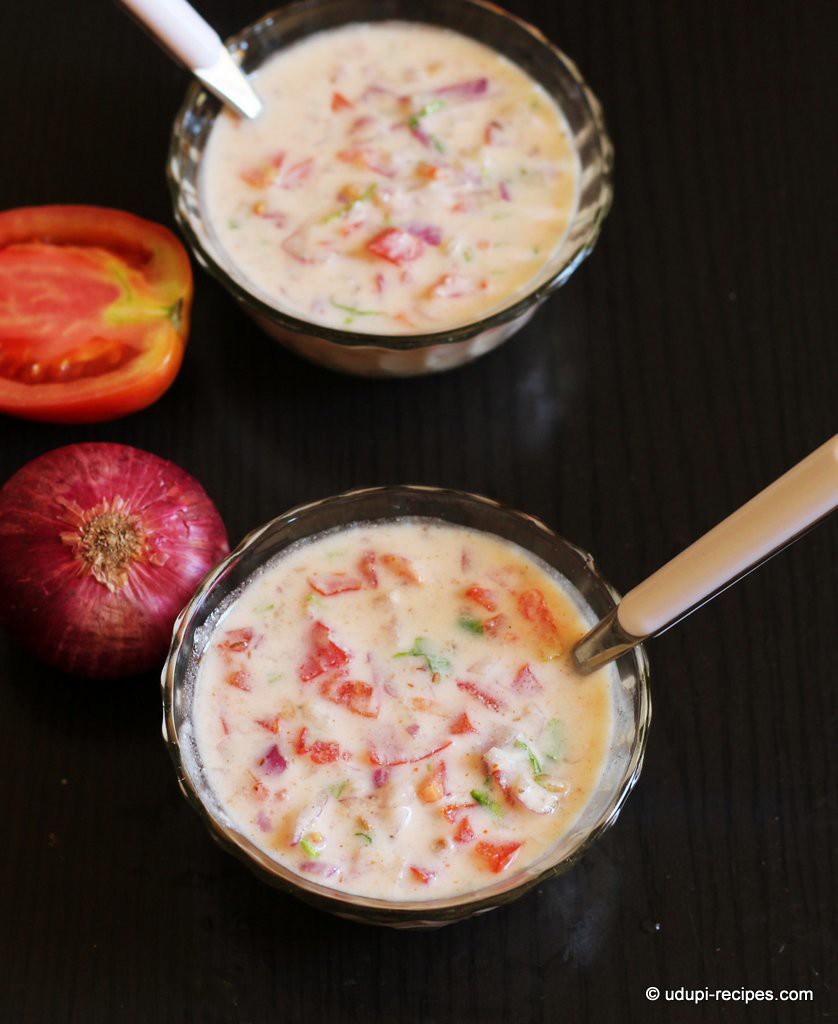 Onion Tomato Raita Recipe
Ingredients
Tomatoes - 2 nos.
Onions- 2 to 3 nos.
Curds/yoghurt- 1/2 cup
Cumin seeds- 1/2 tsp
Salt- 1 tsp
Red chilly powder- 3/4 tsp
Coriander leaves- handful
Instructions
Method

Chop onion, coriander leaves and tomatoes very finely and set them aside.
In a seasoning pan dry roast cumin seeds and powder it finely using mortar and pestle.
In a wide bowl whisk curds adding some water and make it thinner. Then include finely chopped tomatoes, onions and coriander leaves, throw in salt, red chilly powder and cumin powder into the bowl. Combine everything well.
Comforting and easy onion-tomato raita is ready to relish with pulao.

Notes

It is always best to use fresh curds than sour one.
Roasted cumin powder enhances the flavor of raita. It is optional you can skip it if you prefer.
You can substitute red chilly powder by green chilly paste.
https://udupi-recipes.com/2015/02/onion-tomato-raita-recipe.html
All the content in this website are © Copyrighted to – Udupi-Recipes