Curry called "Saasmi" is either prepared in raw version or cooked version in Udupi. With some vegetables raw version of saasmi is perfect where as for some other cooked version. In this space you can see a number of such saasmi varieties like cucumber saasmi, mango saasmi, Bende kayi saasmi etc. Red amaranth leaves saasmi or padipe saasmi is the cooked version of this curry among all that are posted till now. Today let us learn elephant yam saasmi/chutney recipe which is again prepared using raw vegge, so no cooking!!!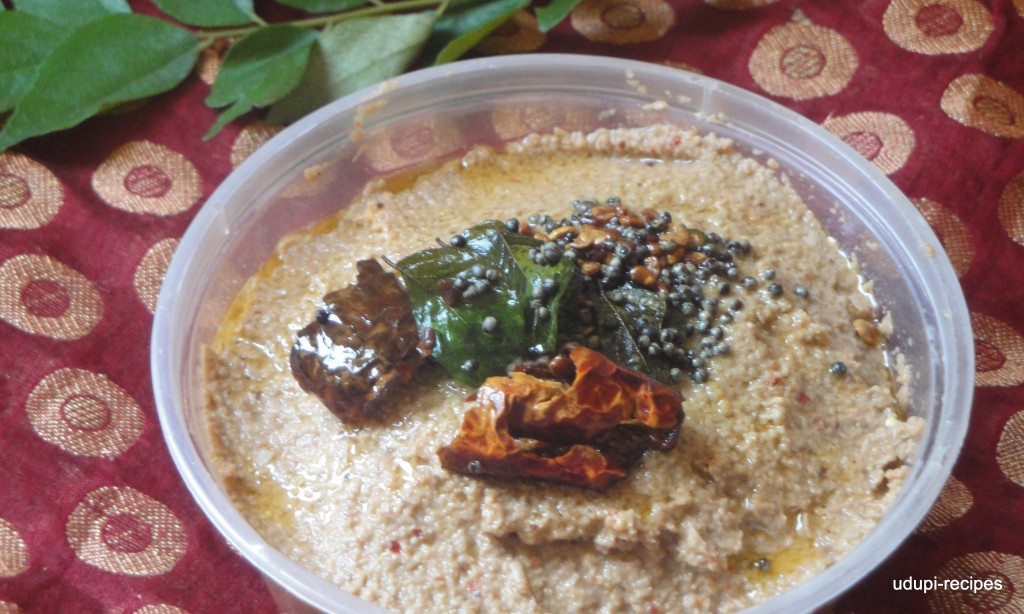 Elephant Yam Recipes- Elephant Yam Chutney/Suvarna Gadde Saasmi Recipe
Ingredients
Elephant Yam- A small piece or a bowl of chopped yam
Grated coconut- 1/2 bowl or 5 teaspoon
Tamarind- A marble size
Mustard seeds-1 tea spoon
Red chilly- 1 no.
Salt- 1 tea spoon

Seasoning ingredients

Coconut oil- 1 tea spoon
Mustard seeds- 1/2 teaspoon
Split black gram-1/2 teaspoon
Broken red chilly- 1 no.
Curry leaves- few
Instructions
Preparation

Remove the skin and chop elephant yam(suvarna gadde) in to small cubical pieces.

Method

Grind elephant yam pieces, mustard seeds, tamarind, red chilly, salt and grated coconut in to coarse paste using mixer grinder.
Transfer it to a vessel. Heat a seasoning pan adding oil, mustard seeds, split black gram, red chilly and curry leaves. When mustard seeds splutter add the seasoning to elephant yam chutney/suvarna gadde saasmi.
Elephant yam chutney/Suvarna gadde saasmi is ready to be served with hot steamed rice.

Note:

Some species of elephant yam have itching feature which causes your tongue to itch after eating. Make sure the Yam is not that type before preparing this saasmi.
Increase red chillies if you need more spiciness.
As no cooking involved in this dish, it lasts in half a day without refrigeration.
https://udupi-recipes.com/2013/09/elephant-yam-recipes-elephant-yam-chutneysuvarna-gadde-saasmi-recipe.html
All the content in this website are © Copyrighted to – Udupi-Recipes
Meet you all with one more interesting Udupi recipe. Till then bye.