A number of super Udupi delicacies can be prepared with my favorite vegetable breadfruit. I have already posted breadfruit recipes like breadfruit bajji/pakoda, breadfruit dosa and now it is breadfruit stirfry. This palya goes very well with chapati and rice. I like it most as a combo with rice-rasam. Hope you too like it.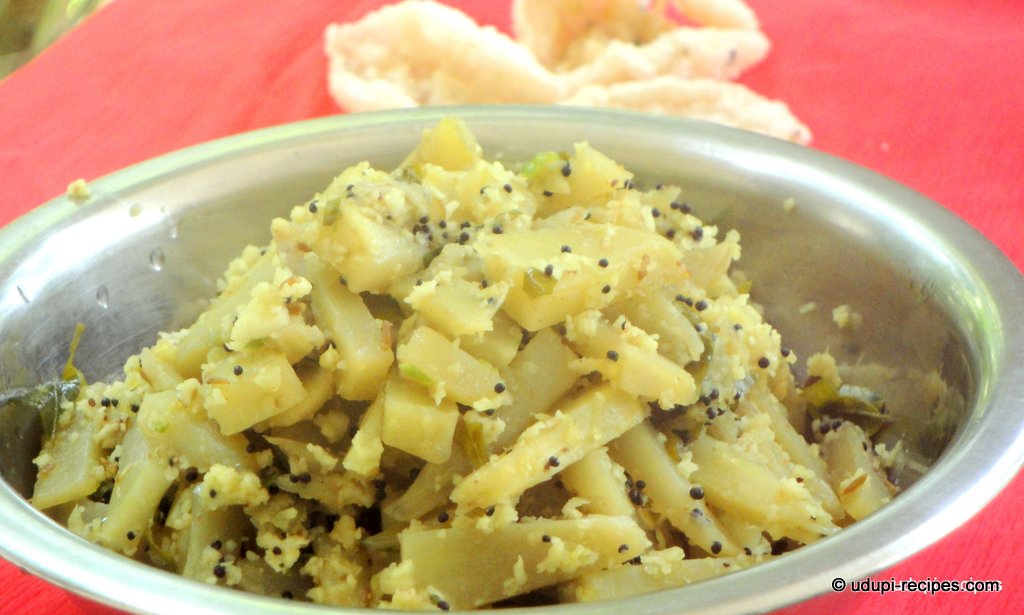 Breadfruit Recipes- Breadfruit Palya/Breadfruit Stirfry Recipe
Ingredients
Breadfruit- 1 medium sized
Grated coconut- 6 teaspoon
Salt- 1.5 teaspoon
Red chillies- 2 no.
Cumin seeds- 1 teaspoon
Jaggery- Lemon sized
Curry leaves- 1 strand

Seasoning ingredients

Coconut oil- 2 teaspoon
Mustard seeds- 1 tea spoon
Split black gram- 1/2 teaspoon
Curry leaves- few
Instructions
Method

Wash and peel breadfruit skin. Chop it into thin vertical pieces as shown below. Keep it in water to avoid discoloration of the veggie.
Heat a pan/kadai adding all seasoning ingredients in the order mentioned(oil, mustard seeds, split black gram and curry leaves). When the mustard seeds splutter and split black gram turns to brown add the chopped vegetables. Add salt, jaggery and little water. Saute for a while and let it cook till soft.
Meanwhile grind coconut, cumin seeds, curry leaves and red chillies without adding water. This is the masala for breadfruit palya/stir fry.
Add the ground masala to cooked veggie and saute for few minutes in low flame.
Now Breadfruit palya/stir fry is ready to be served with rice/chapati.

Note:

Do not add too much water to cook breadfruit pieces. Breadfruit gets cooked immediately in little water, it will become mushy otherwise.
For more spiciness you can add slit green chillies too while cooking.
https://udupi-recipes.com/2013/09/breadfruit-palya-breadfruit-stirfry-recipe.html
All the content in this website are © Copyrighted to – Udupi-Recipes
Meet you all with one more interesting recipe. Till then bye.
 Meet you all with one more interesting Udupi recipe. Till then bye.