This genuinely colorful breakfast is so close to my soul that I love eating it straight out from griddle. Damn good food of my life revolves around such colorful breakfast recipes. The name "uppu huli dosa" sounds quite uncommon, but it's a typical local name given to spice loaded crepe. The attractive color, the wonderful spices that go in to batter makes anyone to crave for it. Basically this crepe is prepared instantly as soon as batter is ready. I mean, No FERMENTATION required at all.
Versatility, is what I love about uppu huli dosa. I make this dosa batter in huge quantity and in a portion I throw in healthy greens like fenugreek leaves.  It serves healthy and amazing flavor loaded fenugreek leaves dosa. Suppose If my store of greens is empty, then I look for some veggies like ridge gourd or brinjal or sweet potato. Thin slices of these veggies dipped in dosa batter and placed on the griddle makes a healthy veggie based dosa. Like this ridge gourd dosa.
Most of the basic spices that get in to uppu huli dosa include coriander seeds, cumin, red chillies, tamarind, jaggery and salt. Which means all taste ingredients are added to the dosa batter itself. So the dosa necessarily doesn't require any accompaniment. You can top it with butter or simply pair with honey. I sometimes make coconut chutney or pair with plain yogurt. So lot many ways to serve the dosa. Isn't it?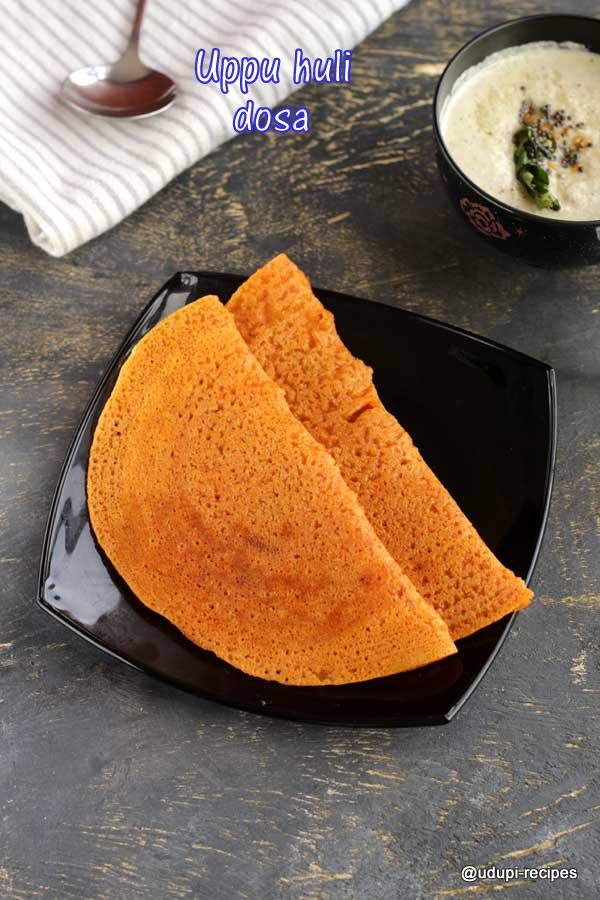 Watch the video:
Uppu huli dosa | Spicy dosa | Unique breakfast
Ingredients
Dosa rice - 1 cup
Grated coconut- 1/2 cup
Coriander seeds- 1 tbsp
Cumin seeds- 1/2 tbsp
Red chillies- 3 nos.
Tamarind- small lemon sized
Jaggery- 1 tbsp
Salt- 1 tsp
Instructions
Preparation

Rinse the rice with enough water and soak it for 3 hours.

Method

In a mixer jar take coconut, coriander seeds and cumin seeds.
Add red chillies, jaggery, tamarind and salt too. Grind them together to coarse paste adding required water.
Include soaked and drained rice to the same mixer. Grind everything together in to fine batter.
Transfer the batter to a wide bowl. Heat a dosa griddle and pour a ladle full of batter at the center. Spread in in circualr fashion using back of ladle.
Cook it covered for few seconds. Once done, remove from griddle and repeat the process with rest of the batter.
Amazingly delicious uppu huli dosa is ready. Serve it with serve hot with coconut chutney or honey or butter.

Notes

Grind the spices with coconut first and then include soaked rice. It eases grinding.
You can rest the batter for 2 hours before making the dosa. Or you can make instantly too.
You can add greens like fenugreek leaves, drum stick leaves or spinach to this batter and make dosa.
https://udupi-recipes.com/2012/10/uppu-huli-dosa-spicy-dosa.html
All the content in this website are © Copyrighted to – Udupi-Recipes