Instant dosa mix, a boon to working women around there. Very handy for all the home makers who strive to feed their family a healthy, nutritious breakfast. It's practically easy-to-use instant food that any bachelor looks for. So, make a jar full of this instant dosa mix  today and feel the benefit for yourself.
It all happened like this. Last night during dinner time, my little son was very fussy to eat neer dosa which he hates. I was trying to convince him to eat the same as I had no alternative of his preference. So my food mind was thinking of some ready-to-eat, instant dosa kind of food.  Though I never buy such instant dosa mix from the store, was thinking to make it at home. And that is how the magic of instant dosa mix happened.
In this recipe I have used the same ingredients which go in to a  actual masala dosa batter. Like white lentils (urad dal), pigeon pea lentils, chickpea lentils and fenugreek seeds along with rice powder. But instead of soaking and grinding, I roasted and powdered. That means, I can store the dry flour longer than actual batter. Which is a big WIN for me.  Convincing and bribing son for eating his food which he dislikes isn't my job henceforth. I have the instant dosa mix and he loved eating the masala dosa made from the same. So happy me..
Once every week or fortnight, I can stock this mix and relax about breakfast or dinner. How about you guys? Do find it easy? handy?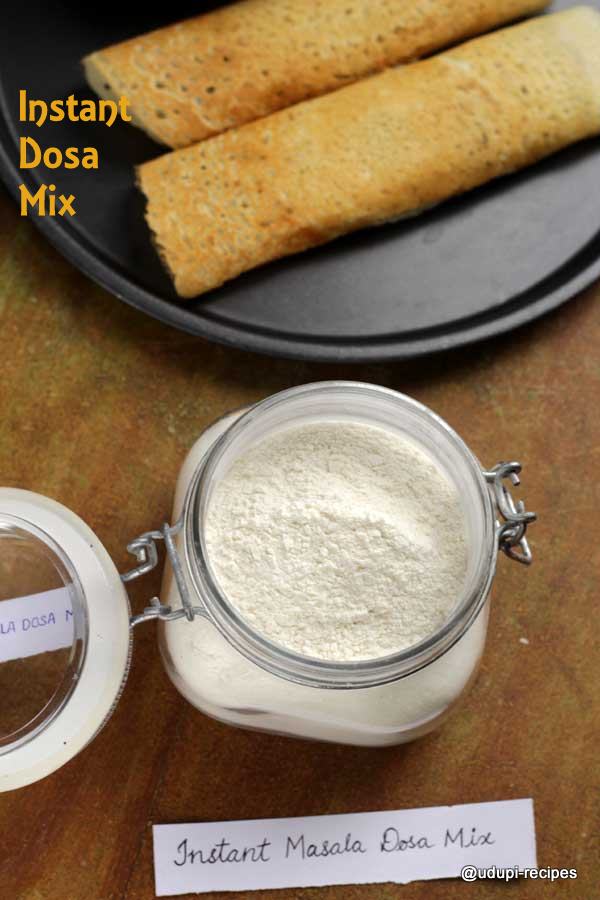 Watch video:
Instant Dosa Mix | Masala Dosa Mix Recipe
Ingredients
Split blackgram lentils (urad dal)- 1 cup
Pigeon pea lentils(toor dal)- 1 tbsp
Chickpea lentils ( chana dal)- 1 tbsp
Fenugreek seeds- 1 tsp
Rice powder - 3 cups
Chiroti rava (fine semolina) 1/4 cup
Salt- 2 tsp
Baking powder- 1 tsp

For dosa

Instant dosa mix-1 cup
Curds - 1/4 cup
Water as needed
Instructions
Method

Assemble all the lentils. In a wide pan add blackgram lentils, pigeon pea lentils, chickpea lentils and fenugreek seeds. Roast them in low flame. Do not let them change color.
Let all the roasted ingredients cool down to room temperature. Next powder them together very finely and transfer to wide bowl.
Now add rice powder, salt to it.
Also add baking powder and chiroti rava. Mix everything together. Now instant dosa mix is ready. Store in airtight container.
Next whenever you want to make dosa, in a wide bowl add a cup of this instant dosa mix.
Include curds and water. Mix well to dosa batter consistency. Add water as needed to make the batter. Let this batter rest for 20-30 minutes.
Next heat a griddle and pour a ladle of dosa batter. Spread like dosa and cook. Keep potato masala at the center and serve with chutney.
A jar full of instant dosa mix to relish masala dosa at any time.

Notes

While roasting lentils, ensure they don't change color. Warming them up is enough.
To make instant dosa, you need to add curds. In other case, you can mix with water to make batter and ferment for 8 hours.
This quantity of dosa mix yields 20-25 of instant masala dosa.
This is very handy for making breakfast in a jiffy.
https://udupi-recipes.com/2019/02/instant-dosa-mix-masala-dosa-mix-recipe.html
All the content in this website are © Copyrighted to – Udupi-Recipes