A deep fried crispy and crunchy pakoda using millet seems quite weird and unauthentic. Isn't it? But trust me, this barnyard millet pakoda is too good. The best part is the crispiness that lasts for long. The millet flour which has no gluten helps the pakoda to be crisp and crunch for much longer. Which is why I loved it the most and it would appear many more times in my kitchen for sure.
Conventional onion pakoda which has gram flour becomes soggy after few hours. It's the characteristic of gram flour which transforms slowly from crisp to soft and soggy. And in such cases it becomes necessary for us to prepare the pakoda just in time in order to relish it's crispiness. But millet pakoda can be prepared a day ahead and it assures you to be crisp till you eat.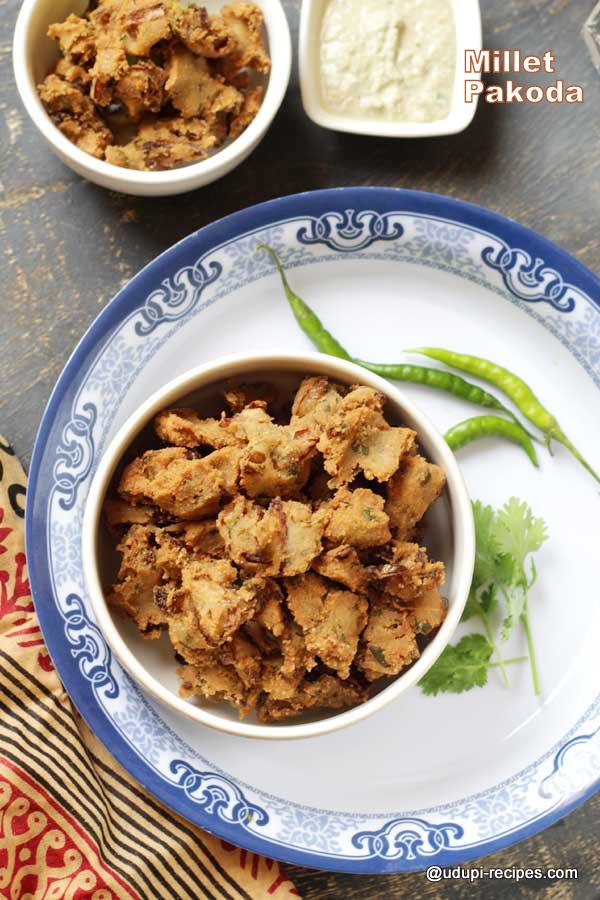 I have used barnyard millet in specific to whip up this awesomeness. But I guess even foxtail millet or Kodo millet can also be used. Any millet flour for that matter has less gluten, so I added little rava and maida to make the dough that is drop-able as pakoda.
You can take flavors to next level by adding dill leaves or any other greens to the pakoda dough. The onion and green chilly bites in the millet pakoda are too yummy to relish in the mouth. You can try yourself to know!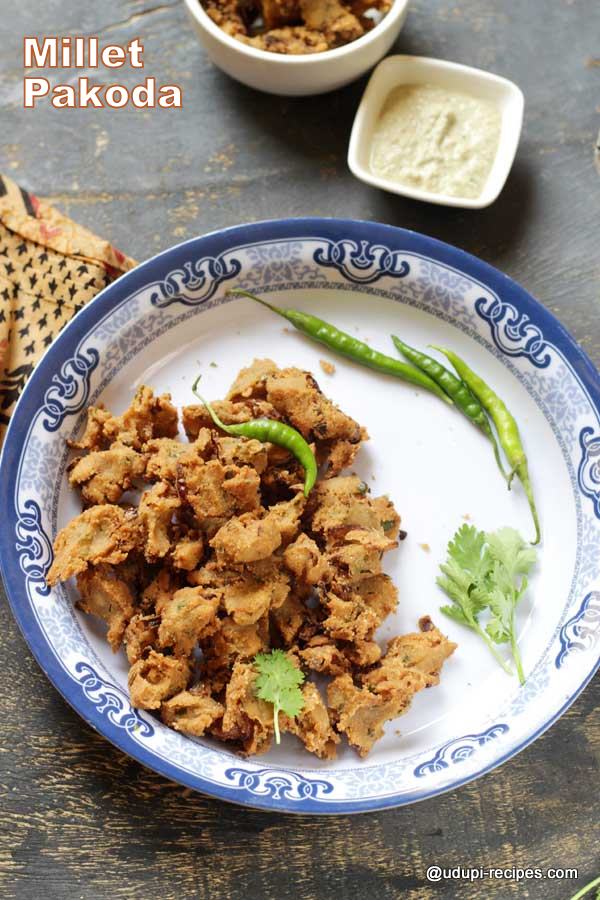 Barnyard Millet Pakoda Recipe
Ingredients
Barnyard millet(Baragu)- 1 cup
Medium rava- 1 tbsp
All purpose flour- 1 tbsp
Salt- 1 tsp
Onion- 2 nos.
Finely chopped ginger- 1 tsp
Green chillies- 2 nos.
Curry leaves- Few
Coriander leaves- Handful
Cooking oil- Enough to deep fry
Instructions
Method

Take a cup of millet and grind it to fine flour using mixer grinder.
Sieve it so that you obtain evenly powdered flour. Next add rava and maida to it. Give a quick mix.
Peel off the onions and slice them thinly. Chop green chillies, curry leaves and coriander leaves finely. Next add all the chopped ingredients to the flour along with salt and ginger. Adding water in steps, make a stiff dough.
You can taste and adjust the salt and spice at this stage. Next heat oil in a wok and drop pinch of dough in to oil. Deep fry in medium flame till they turn brown.
When the bubbles reduce, remove the millet pakoda from oil using a slotted ladle. Let them drain off excess oil on a tissue paper.
Very crispy millet pakoda is ready to serve as evening snack.

Notes

Since millet flour doesn't have gluten, adding maida and rava helps it to hold shape.
You can add the greens like dill leaves to enrich the taste of pakoda.
While making pakoda dough add only required amount of water. Otherwise the dough turns loose and pakoda becomes soggy.
https://udupi-recipes.com/2018/05/barnyard-millet-pakoda-recipe.html
All the content in this website are © Copyrighted to – Udupi-Recipes