This year I have chosen few easiest ever papad, fryum recipes as summer delights of the year. Because I get inspired to cooking through such effortless food itself. At this point, I can even read your minds who are nodding to my statement. Isn't it true guys? If you can make a batch of long lasting summer delicacy which needs no cooking, it's highly appreciable. Don't you think so? Let's welcome this poha papad with wide arms then. What say?
When I made a batch of poha papad, it took almost an hour of kitchen time. Under the sun it took two days to be a perfect, moisture free papad. As they get in to oil for deep frying, the size widened and tasted amazingly delicious.  My little son had fallen in love with this papad already. So what do you think? Had I stopped there? Nope. I made another batch of rice flakes papad. So a big box full of papad would accompany my variety rice at least  for few months..Happy me.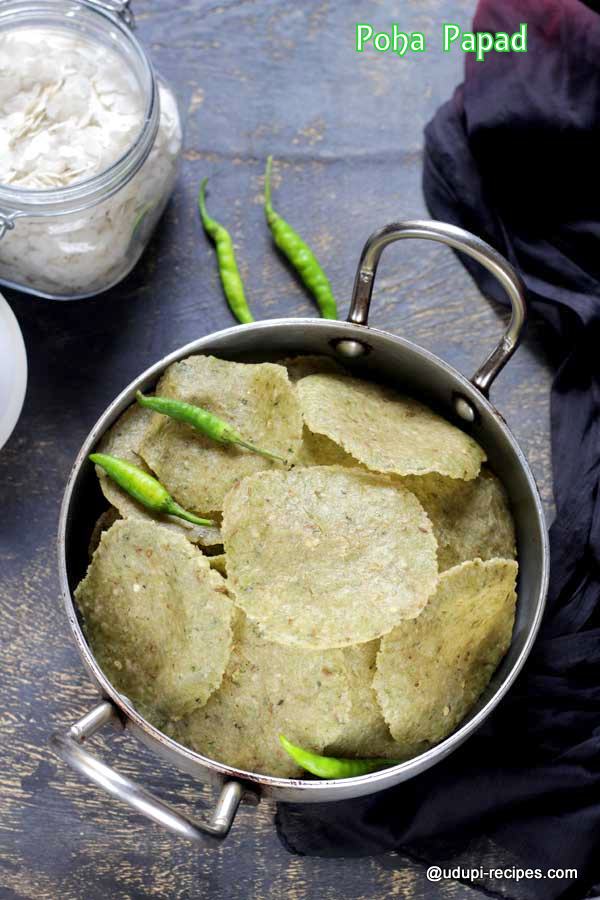 Before jumping over to the recipe, keep just couple of key things:
The dough shouldn't be too gooey or too stiff.
The green chillies, greens like coriander, mint etc would enhance the flavor of papad. And if you are bit color conscious, try red chillies. It would add up nice color.
Going forward, I am hunting for one more such easy cum delicious summer condiment.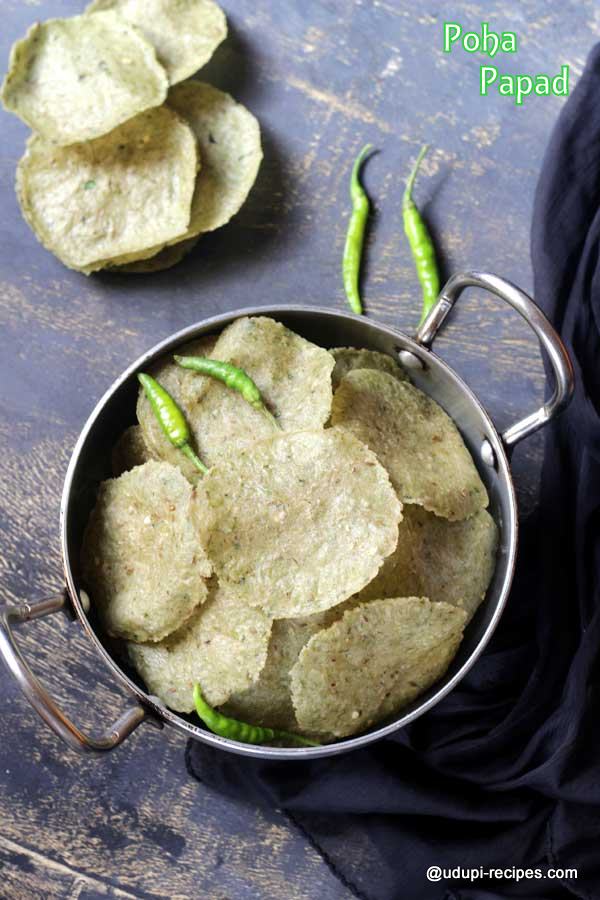 Poha Papad | Rice Flakes Papad
Ingredients
Rice flakes(poha)- 3.5 cups
Salt- 1.5 tsp
Green chillies- 3 nos.
Cumin seeds- 1 tsp
Coriander leaves- Handful
Curry leaves- Handful
Instructions
Preparation

Wash and soak 1.5 cups of rice flakes in 1.5 cups of water. Let it soak for 1 to 2 hours.

Method

Take remining 2 cups of rice flakes in a mixer and powder it finely. Add this powder in to a wide bowl.
Next grind green chillies, cumin seeds, coriander and curry leaves together to coarse puree. Add a tea spoon of water for ease of grinding. Add this puree also to the bowl.
Next mash the soaked rice flakes well and combine it with powdered rice flakes. Make a thick and stiff dough. Divide it in to 20-25 equal parts and roll in to balls.
In papad press, keep a oil greased polythene sheet and a dough ball at the centre. Cover it with one more polythene sheet.
Press to get evenly rolled papad. Carefully transfer the papd over a clean cotton cloth. Repeat the process with all the dough.
Let them sun dry for at least 2 to 3 days or till they are absolutely moisture free.
Store them in airtight container. Deep fry as and when needed to relish these rice flakes papad with rice-rasam.

Notes

Do not use too much water to soak the rice flakes. Because the dough may turn too soft to press.
You can use some mint leaves also to grind along with other spices. It will enhance the flavor.
These papad don't stick to the cloth. You can easily remove as they get dried up.
https://udupi-recipes.com/2018/03/poha-papad-rice-flakes-papad.html
All the content in this website are © Copyrighted to – Udupi-Recipes