I am diving headfirst into all the color and texture and the flavor that makes your mouth warm and cozy. After some good months of time I am bringing in these wholesome legumes in to a blog post. Yes, these black eyed peas taste way too awesome in a curry which has minimum spices and fresh grated coconut. Authentically this black eyed peas curry is popular as "GASI" in coastal region of Karnataka. Specifically in Udupi, Mangalore. And I haven't even deviated from the authentic GASI recipe because it's amazingly delicious and scrumptious. Also I would like to pass on the traditional recipes the way they are, with no fancy tweak.
The protein rich legumes when soaked up, turn very soft to cook. Even on the stove top you can easily cook them to the perfection like neither mushy nor hard. Tamarind extract and jaggery added at this stage would get well with legumes. You can even add a bit of salt for the legumes to absorb.
This black eyed peas curry is thick, sauce like in consistency. And the spices that get in to are few red chillies, coriander seeds, cumin and black gram lentils. The uniqueness of the recipe is only lentils have to be dry roasted, rest of the spices are ground in raw form along with coconut.
I usually pair this gasi with hot steamed rice and chapati. It's amazingly delicious with both. So let's have this load of protein in the form of curry. What say?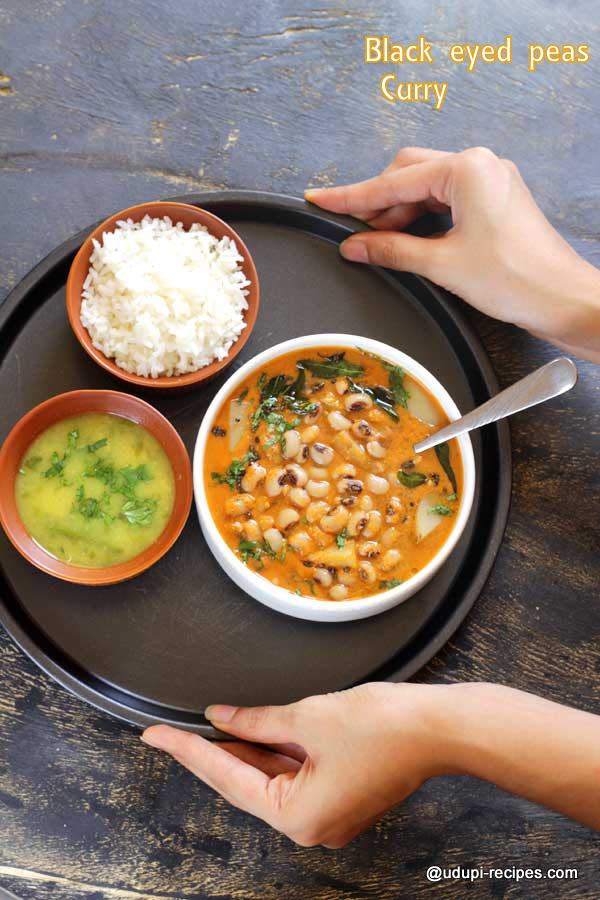 Blackeyed Peas Curry | Alasande Gasi
Ingredients
Blackeyed peas(Alasande)- 3/4 cup
Potato (medium sized)- 1 no.
Tamarind- Small lemon sized
Powdered Jaggery- 1 tsp
Grated coconut- 1/2 cup
Coriander seeds- 1 tsp
Split blackgram lentils- 1 tsp
Cumin seeds- 1 tsp
Red chillies- 2 nos.

To temper

Coconut oil- 1.5 tsp
Mustard seeds- 1 tsp
Split blackgram lentils- 1 tsp
Curry leaves- Few
Instructions
Preparation

Wash and peel off the potato, then cut it in to 1" long pieces. Keep them immersed in water till use.
Soak the blackeyed peas in enough water for about 3 to 4 hours or overnight.

Method

After soaking the blackeyed peas would have turned soft. Add water up to it's level and cook in medium flame.
Include the potato pieces and let them also cook. Meanwhile soak tamarind in enough water and assemble ingredients for the masala.
Next dry roast the blackgram lentils till they turn little brown. Then, include coconut, red chillies, roasted lentils, coriander and cumin seeds in to mixer and grind to fine puree adding water as needed.
The blackeyed peas would have cooked halfway, now include tamarind extract and jaggery. Let it cook till soft.
Next add the ground coconut masala, salt and bring it to nice boil.
In a seasoning pan add all the ingredients under "To temper" list, as the mustard seeds sizzle pour it over the curry. Authentic curry "alasande gasi" is ready to serve with rice or chapati.

Notes

The legumes need to be soaked for 3 to 4 hours minimum, otherwise it won't get cooked properly.
The spices like red chillies, coriander and cumin seeds are added unroasted in this curry. And it tastes uniquely delicious.
You can increase or decrease chillies according to your taste.
https://udupi-recipes.com/2018/03/black-eyed-peas-curry-alasande-gasi.html
All the content in this website are © Copyrighted to – Udupi-Recipes