This week was absolutely crazy !! My summer condiment preparations were at the peak with fryums and pickles along with routine mountain high load of work. The March month has set off with kids final exams and summer preparations. So you find me running all around which is very obvious for a food blogger, you know that well because you are so wonderful like that. Before even beginning with fryums, I had few dozens of tender mangoes which had to be cleaned and cubed. So it took almost an hour from cutting the mangoes to keeping them covered in brine. Prior to that cleaning, wiping and drying them out had been tedious, taking almost half of my day. Next, finger millet fryums was in  the pipeline which took almost 3 days in a row. So in a nutshell, SUMMER food stuff that lasts longer takes longer to prepare also.
Finger millet was in my to-do list since last year. Yes, I said YEAR, because I make such stuff when SUMMER just begins and temperature is just right. Here in UAE, though we get to face bright SUN almost 8 months of the year, not all months are suitable for making such summer food condiments. High temperature doesn't let us do much cooking. Much has been ranted about summer food, now let me turn towards finger millet fryums recipe.
This fryum is very simple as we are using finger millet flour. This flour makes a batter in buttermilk which then cooking in enough water. You can throw in the spices of your choice and like cumin, green chilly, sesame seeds, salt and cook till it thickens. This batter spooned in like a fryum makes perfect summer food stuff. I would advice to spoon in a tbsp of batter for individual fryum. Because after drying up under SUN for 3 days, the size shrinks a bit. So if you plan it this summer, let me know, I will have a sneak peak.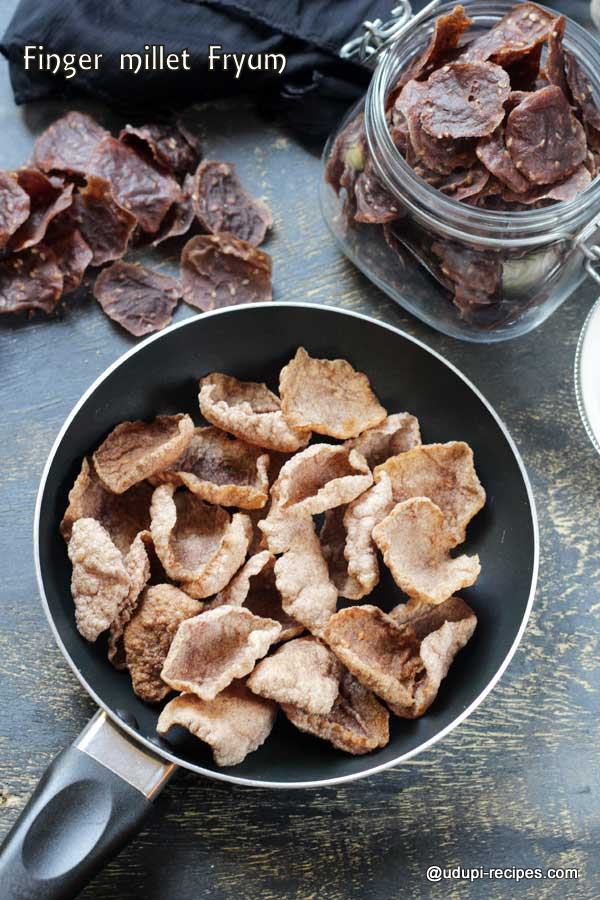 Finger Millet Fryums | Ragi Sendige Recipe
Ingredients
Finger millet(Ragi)flour- 1/2 cup
Buttermilk- 1/2 cup
Water- 2.5 cups
Salt- 1 tsp
Green chillies- 2 nos.
Cumin seeds- 1/2 tsp
Asafoetida- 1/4 tsp
White sesame seeds- 2 tsp
Instructions
Method

Take finger millet flour and buttermilk in a container and mix the flour well such that there are no lumps.
Next add half cup of water to it and mix again to make thin batter. Set it aside. Take green chillies, cumin seeds and asafoetida in a mixer, grind to make coarse paste.
Heat 2 cups of water in a pan and bring it to rolling boil. Next add salt and ground green chilly puree. Let it boil for couple of minutes.
Now include finger millet plus buttermilk batter to the pan, Keep stirring constantly and ensure no lumps are formed.
When flour gets cooked and the mixture thickens, inlude sesame seeds and switch off the flame. Now the fryum batter is ready.
On a clean cotton cloth pour a spoonful of this batter at equal distance. Continue this step till you are done with the batter. Let these fryums dry under SUN for a day.
Then sprinkle water generously behind the cloth, so that you can peel off the fryums from cloth. After peeling dry these fryums again for two more days or till they turn crisp and moisture free.
Finger millet fryums are ready which can be stored in a airtight container for a year. You can deep fry them as and when required and pair with rice-rasam.

Notes

Finger millet flour to water ratio is 1:6 cups, I have halved the quantity here.
Ypu can add some coriander and curry leaves to grind along with green chillies. They enhance the taste of fryum.
You can replace green chillies by red ones too. In that case the color of the fryum differs.
You can use little sour buttermilk to balance all tastes in fryum.
I prefer cotton cloth to Sun dry the fryums than plastic sheet. You can use either cloth or plastic sheer according to your preference.
https://udupi-recipes.com/2018/03/finger-millet-fryums-ragi-sendige-recipe.html
All the content in this website are © Copyrighted to – Udupi-Recipes