"Breakfast on the go" is a latest food trend of younger generation. Which is nothing but eating as we go, like it can be a fruit or fruit based smoothie. It may be today's craze of youngsters but what I personally prefer is a full, warm sit-down breakfast. Fruits and smoothies just doesn't go well with me as breakfast. The food that we take in the morning after fasting for 8 night hours should be nutritious, wholesome that can provide energy to kickstart our day. So I make cereal rich food like dosa, idli, chapati kind of stuff. The trendy cereal millets also make my part of breakfast many times. Little millet idiyappam is one among them.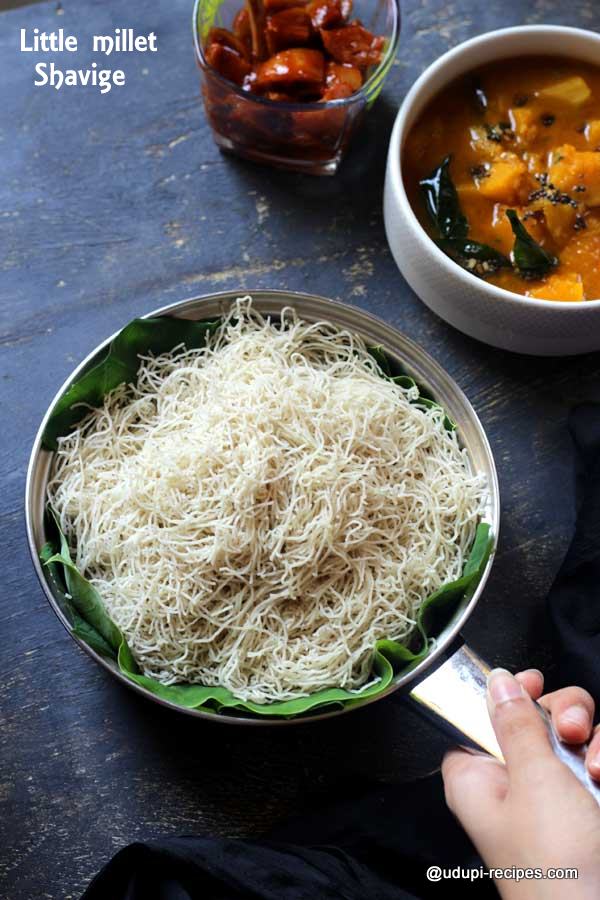 Idiyappam or shavige which is normally prepared using rice can now be made using millets. Since these tiny grains are in vibe these days, making idiyappam using them is a good idea. So last weekend the healthy millets have dominated my food world at home. I chose little millet for this recipe and it perfectly made non-sticky, soft string hoppers. You need to be extra careful when grinding the batter for the same which needs to be little watery than normal dosa batter. Otherwise it can make the idiyappam harder or chewy.
In order to serve little millet idiyappam you can make coconut chutney, sambar or you can even season it with onion and green chillies. Either way it tastes amazingly delicious.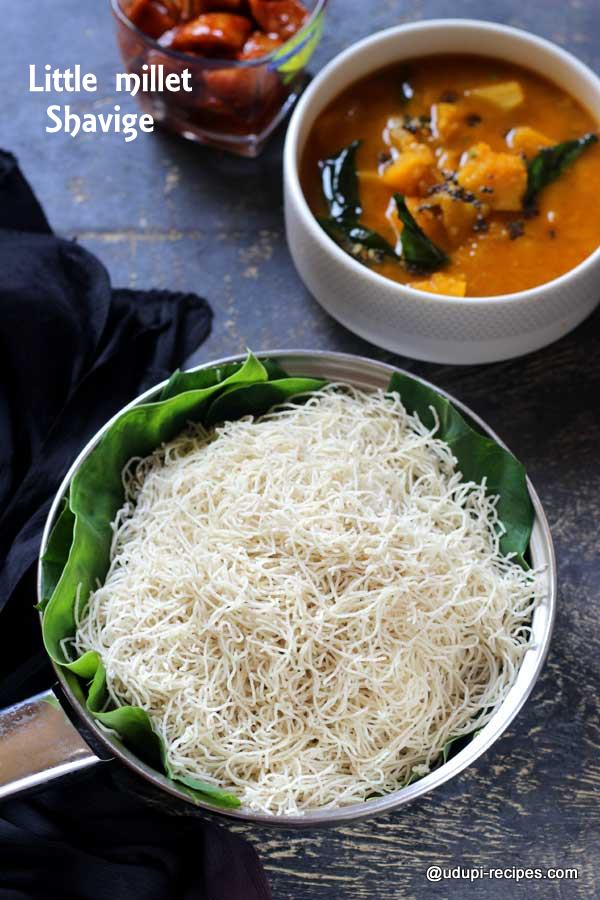 Little Millet Idiyappam | Saame Shavige Recipe
Ingredients
Little millet (Saame)- 1 cup
Fresh grated coconut- 1/2 cup
Salt- 3/4 tsp
Instructions
Preparation

Rinse the little milet twice with enough water and soak it for at least 5 hours. After soaking time, drain off water and add it to a mixer jar.

Method

Include grated coconut as well to the mixer and grind in to very smooth batter. I have added 3/4 cup of water to grind the millet.
Transfer the batter in to a pan, add salt and mix. With constant stirring cook this batter in medium flame. As it cooks, it comes toegether as dough. Switch off once done.
When the dough is still warm, take a handful and shape it like a ball or cylinder. Repeat this process and steam cook all the balls in a idli steamer for 10 minutes. Insert a toothpick to check done-ness, if it comes out clean the dough is cooked perfectly.
Next in a idiyappam press, fill in the cooked dough and press the idiyappam over a plate. Repeat the process with all the dough.
Healthy little millet idiyappam (shavige) is ready to serve with chutney, sambar or sweetened coconut milk.

Notes

Soak the millet for good hours (5-6 hrs) otherwise it will not grind to the perfection.
The batter consistency should be little loose than dosa batter. I have added 3/4 cup of water to grind.
When you cook the batter, it may not solidify evenly. Don't worry as this gets cooked properly in idli steamer.
Remember the dough balls should be pressed to idiyappam when they are still hot. Once they cool down, pressing would be difficult.
https://udupi-recipes.com/2018/02/little-millet-idiyappam-saame-shavige-recipe.html
All the content in this website are © Copyrighted to – Udupi-Recipes