Nothing can beat the flavors of home made pickle. And I admit the fact that at my home all are pickle  lovers. So I do stock lot of them. Indian platter seems to be incomplete without a pickle in it. And we South Indians love the plain rice mixed with yogurt and pickle. Simplest food of all, but it calms down the hunger pangs giving us the feeling of completeness. Practically Summer is the pickling season but some pickling happens in Winter too. Because winter is the season when fresh lemons are copious in the market. And obviously these super tangy, sour lemons trigger your pickle mind towards it. Can you ignore the urge to pickle? No not at all. Just like me!! Last week I made a big jar full of  spicy lemon pickle and sweet lemon pickle which accompany our meal for more than 6 months from now. Happy me!!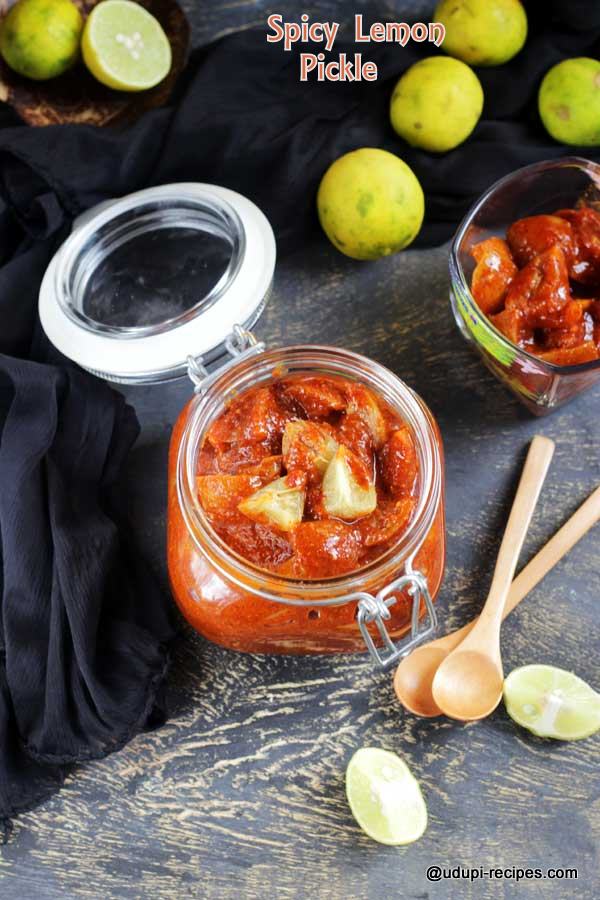 I would like to list down some points on spicy lemon pickle. So lets get down.
Lemon pickle tastes at it's best as it matures. Meaning the older the pickle the tastier it gets. Though this rule is general for all kind of pickles, I emphasize it on lemon pickle in particular. Because lemon features bit of bitterness which subsides considerably as the pickle matures.
The pickle sitting at the corner for more than few months would turn very soft and would have absorbed all the spice flavors in it. Which is what we look for in any pickle isn't it? So let your pickle mature for at least 2 months.
Remove and discard the seeds from lemon which tastes damn weird in pickle. If you happen to bite a lemon seed while eating spicy lemon pickle, your face would turn ugly in expression of dis-taste. So let's get away from bitterly seeds.
So What next? When nature gifts you some tangy lemons, try making this awesome long lasting spicy lemon pickle and relish every bit of it for several months!!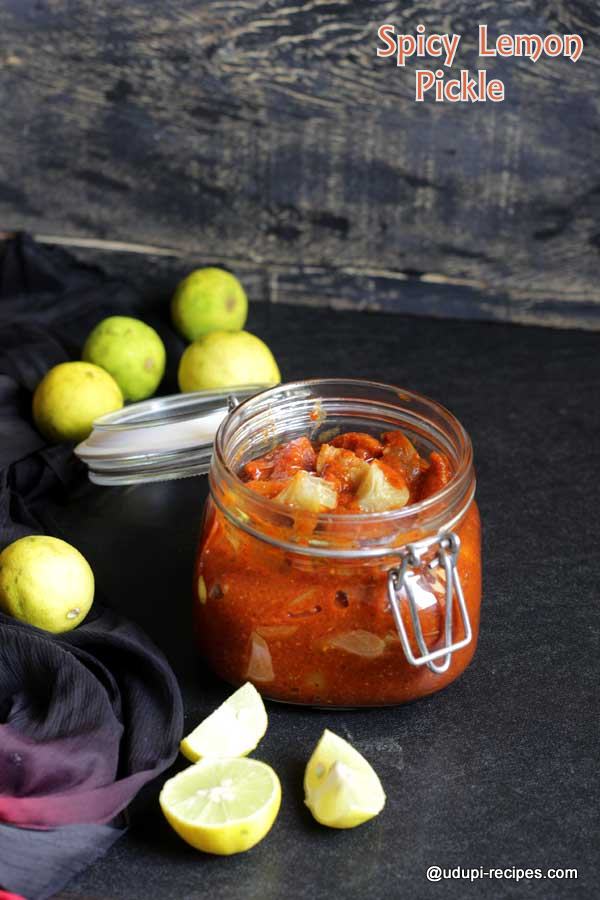 Spicy Lemon Pickle | Nimbu Ka Achar | No Oil Recipe
Ingredients
Fresh lemon (Medium sized)- 15-20 nos.
Crystal salt- 1/4 cup + 1/4 cup
Red chillies- 20-25nos.
Mustard seeds- 2 tsp
Fenugreek seeds- 1 tsp
Cumin seeds- 1 tsp
Cooking oil- 2 tsp
Asafoetida- 1/4 tsp
Instructions
Preparation

Wash and pat dry the lemons using a cotton cloth. This step is very important as even a drop of water can spoil the pickle, ensure lemons are completely dry. Cut each lemon in half and then in to quarter. Discard all the seeds out of lemon. Next in a dry glass jar, add a layer of lemon pieces followed by a layer of crystal salt (2 tsp).
Likewise fill the bottle with all the lemon pieces and salt. Close the lid and let it rest for at least 10-15 days. Shake or mix the contents once a while. After 15 days, the lemon pieces would have shrunk and turned to pale brown. Transfer the pieces into a wide bowl.

Method

On the day of pickling, add 1/4 cup of salt and a cup of water in to a vessel. Let it boil for about 10 minutes in medium flame which would reduce to 3/4 cup after the boiling. Let it cool down completely.
Next proceed to roasting and powdering the spices. In a dry pan add mustard seeds, with constant stirring roast it till it splutters. Followed by mustard seeds, roast fenugreek and cumin seeds also one after the other.
Next in the same pan, add oil and red chillies. Roast them too till they puff up, then switch off flame. Let all these roasted ingredients cool down to room temperature, then powder them together.
Now, include asafoetida and salt water to the mixer and grind to fine puree.
Next, pour this spice puree on to lemon pieces in the bowl. Mix thoroughly and store the pickle in a glass jar.
Let the pickle rest for few days so that lemon absorbs spice flavors. Then spicy lemon pickle is ready to serve with curd rice and paratha.

Notes

In all the steps of pickling keep the water away. Use dry glass jar, spoon and vessel. Because moisture spoils the pickle in no time.
The salt water, the roasted spices should be cooled down before proceeding to powder. This is important for long shelf life of pickle.
Roasting of spices should be carried out in medium flame with constant stirring. If the spices burn, the pickle's taste can easily ruin.
With time the lemon's bitterness reduces considerably and it tastes better and better as it gets old. So let the pickle sit for a month at least for wonderful taste.
https://udupi-recipes.com/2018/02/spicy-lemon-pickle-nimbu-ka-achar.html
All the content in this website are © Copyrighted to – Udupi-Recipes