Have you ever let a spoonful of such gorgeous potato halwa touch your lips lately? I know the feeling. Because I had it just a little while ago. It's a kiss of melt in mouth potato that is heavily loaded with ghee plus sugar. I can't even stop eating it after my first spoon.  This is the absolute October month feeling because Diwali is right around the corner. The glossy looking, mellow-y textured and something awesome like this doesn't need to be reserved for Diwali. You can go right on ahead with your best kitchen self and make this happen before clock strikes lunch time tomorrow. And then you will obviously make this again when you have family gathered around for DIWALI. It's so much addicting. I know.
Let me talk about ingredients. Hey, just stop there. You don't even need to make trip to grocery for the sake of potato halwa. All that required is few potatoes, little ghee and sugar. You already have this right now. And for the toppings, any nuts would be perfect. Cashew, almond, pistachio. I chose pistachio just for the sake of pretty green color over golden yellow.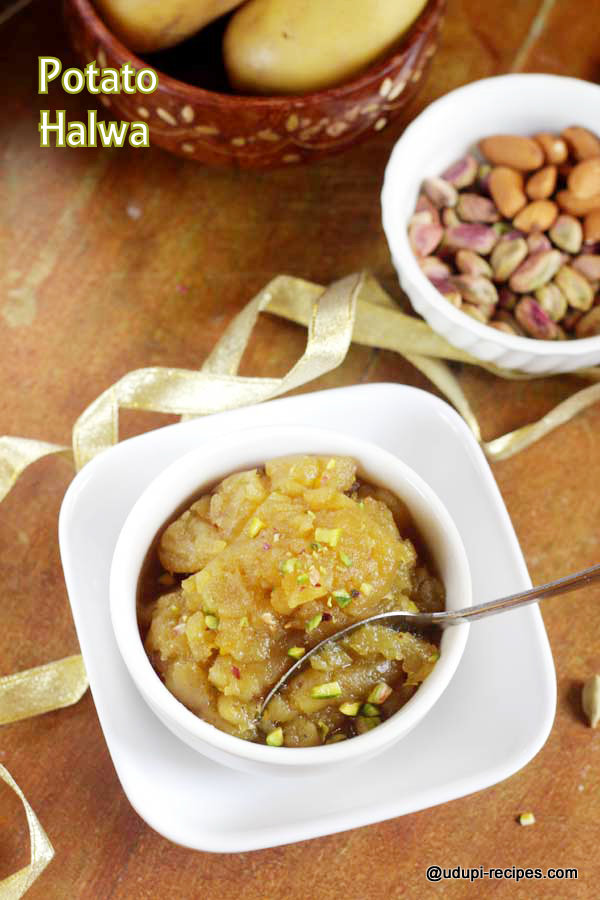 Watch the video:
The potato halwa making process is not at all tricky. It's simple and straight forward. It starts from pre cooking the potatoes till mushy. The peeled and mashed potato gets in to ghee. You need to continuously stir in till you are done with the halwa. Otherwise it would stick to the bottom easily. Potato initially absorbs all the ghee and gradually changes it's color from pale yellow to light brown as you cook. After the sugar addition, the halwa looks absolutely glossy and mellow-y. And towards the end, it oozes out all the pre-absorbed ghee. So you never thought halwa making this easy. Isn't it?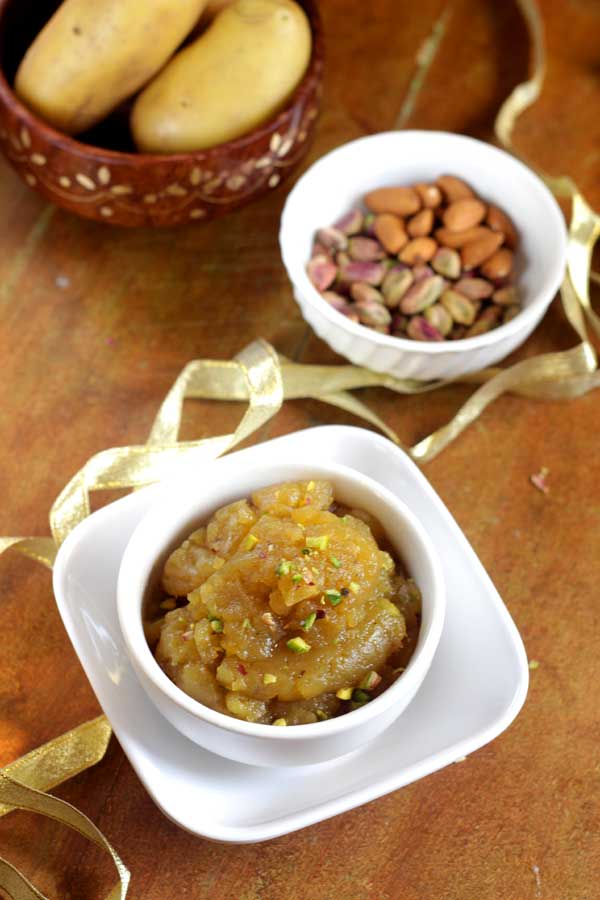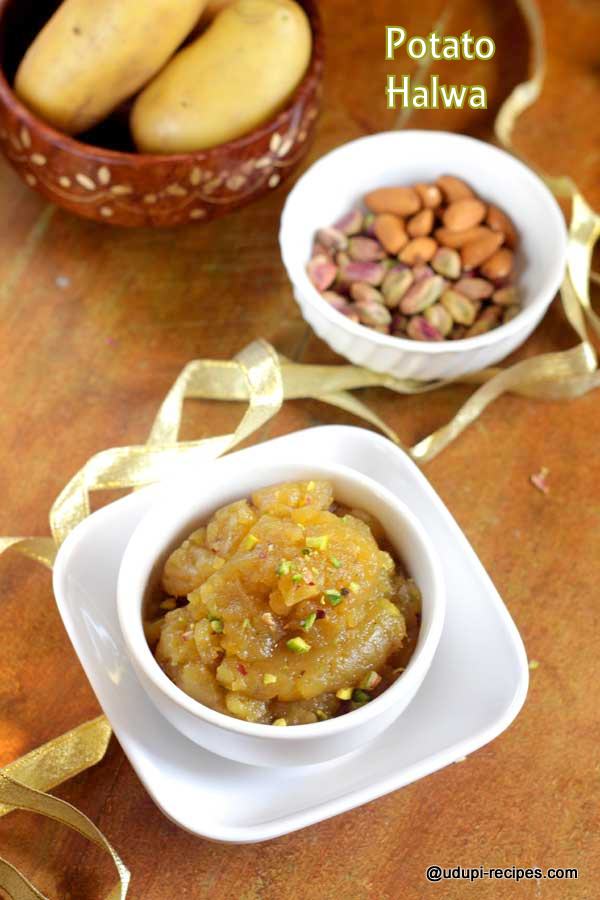 Potato Halwa | Aloo Halwa | Batate Halwa
Ingredients
Potatoes medium sized- 6 nos.(mashed- 2 cups)
Sugar- 1/2 cup
Ghee- 3 tbsp
Cardamom powder- 1/4 tsp
Nuts for ganishing(pistachio or cashew) - 5 to 10
Instructions
Preparation

Rinse potatoes well under running water scraping any mud sticking to their skin. Cook them in pressure cooker or steamer till soft.
Peel them off and mash well such that there are no lumps left. Measure this mashed potato and keep aside. Heat ghee in a pan and let it melt.
Include mashed potato to the ghee and keep stirring. The potato will absorb all the ghee at this stage.
Continue stirring in medium flame for few minutes till the color changes.
As the color changes to light brown, include sugar and continue stirring till all the oozes out and doesn't stick to the pan anymore.
Sprinkle cardamom powder and garnish with chopped pistachio. Drooling potato halwa is ready to relish.

Notes

While cooking mashed potato do not leave the pan unattended. It may burn the bottom and can ruin the taste.
I have used up 2 cups of mashed potato to make this halwa and added 1/2 cup of sugar to it. The sweetness was just right for me. You can even raise sugar to 3/4 cup.
This halwa tastes very good when fresh. After storing for a day, the halwa thickens.
You can even add food color of your choice to make it more attractive. I haven't added any food color.
https://udupi-recipes.com/2017/10/potato-halwa-aloo-halwa-batate-halwa.html
All the content in this website are © Copyrighted to – Udupi-Recipes