This year my journey of Diwali sweets and snacks has begun with a series of easy to try condiments. Because I intend all the lovely internet people over there to whip up these sweets for the festival. And they are easy, 30 minute and minimal ingredient recipes. Sweet and crunchy sugar coated cashews has made my post for today and probably nothing can be easier than this.
The star ingredient of the this recipe is Cashew. Though bit expensive, it really can cut short your sugar intake. Because this sugar coated cashew has less sugar, a very thin layer of sugar syrup. Since the sugar syrup in this recipe has hard ball consistency, cashew doesn't even absorb the syrup. It actually forms a coating over the roasted cashews which gives a kind of crunchy bite in your mouth.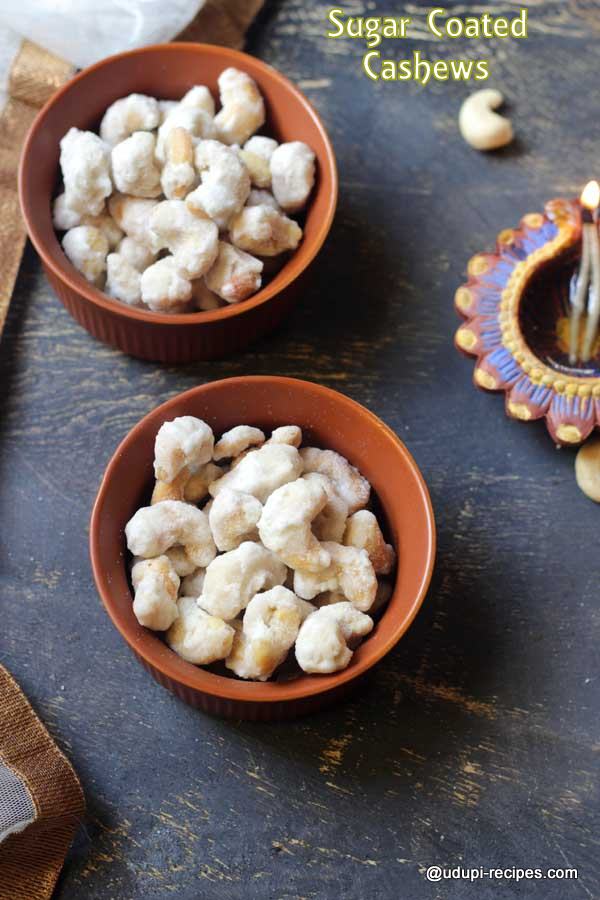 The rice powder and maida combo is been sprinkled over the cashews to get the milky white texture. The uneven coating of these powders over cashew is quite inviting and appetizing. I just wonder, can I store them in a jar for more than a day? Wouldn't they disappear in few hours after preparation? Definitely they would. Because you get a chance to pop these yummy nuts in your mouth as you go back and forth in the kitchen. And this is what the case happening with me right now.
I love the plain, basic cashews in theory(dairy free, healthy fats etc) and in taste(lightly sweet, nutty and so super creamy). And when you add a spoonful of sugar syrup with little rice powder, it's actually addition of one more sweet layer. If you see cashew as an expensive nut, calm your anxious hearts. After all it's Diwali, Deepawali, the festival of lights where nuts should become part of your food.
Wish you Happy weekend with a jar full of sugar coated cashews.
Watch the video: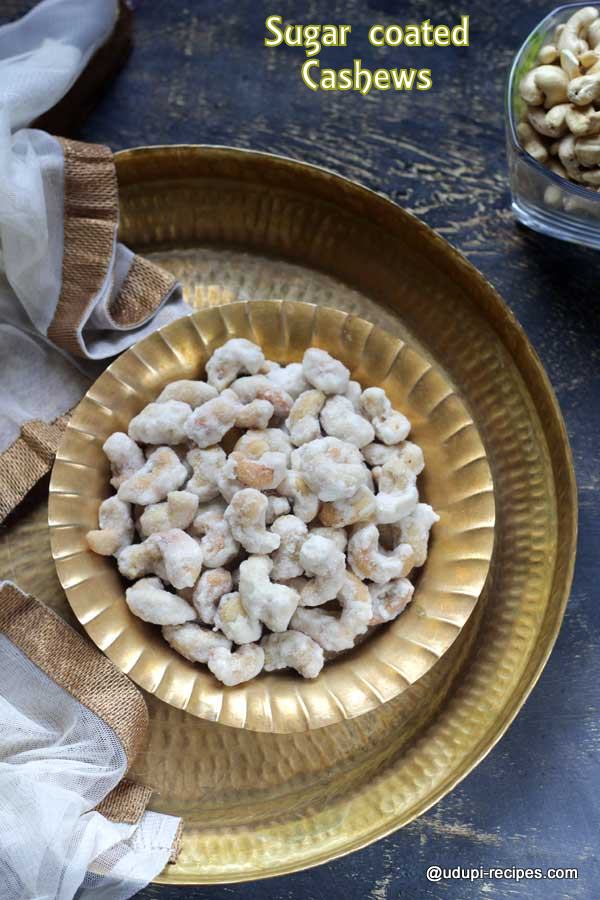 Sugar Coated Cashews | Sweet Cashews
Ingredients
Cashews- 1 cup
Sugar- 1/2 cup
Water- 3 tbsp
Rice powder- 2 tbsp
Maida- 1 tbsp
Ghee- 1 tbsp
Instructions
Method

Heat ghee in a pan and cashews. Roast them in medium flame till they change color slightly. Do not brown them.
Transfer the roasted cashews in a bowl and let it cool down. Next heat a pan with sugar and water.
Let the sugar dissolve completely. continue cooking it in medium flame till you get hard ball consistency.
If you add a half a tea spoon of sugar syrup in to a small bowl of water, you should be able to roll and make hard ball out of it.
Mix maida and rice powder together and set aside. Add few tablespoon of this sugar syrup over roasted cashews. Then sprinkle rice powder plus maida mix over them. Toss them well.
Repeat the process of adding sugar syrup and rice powder over the cashews. Toss well so that sugar and powders coat well over cashews once again. Let them dry over a plate for few hours.
Very crunchy and sweet sugar coated cashews are ready to devour.

Notes

Use whole cashews for the recipe.
While roasting cashews, do not turn them brown completely. Let them change color slightly.
Sugar syrup should reach hard ball consistency so that it coats well over the cashew.
When the cashews dry up after rice powder coating, it will have layer of milky white sweet coating.
https://udupi-recipes.com/2017/10/sugar-coated-cashews-sweet-cashews.html
All the content in this website are © Copyrighted to – Udupi-Recipes