Sabudana thalipeeth or sago roti is super awesome in taste and texture. Oh my gosh, where in the world was I living? Why I took so long to cook such as an awesomeness?
These cute little sago pearls have insisted me to post two fasting recipes in a row. Because they are as delicious as they look and feel. Sago delight followed by sago roti, meaning a dessert followed by savory thing. When I made that delight and served the kids after school, they were like in food heaven and they licked clean the bowl of golden beauty. This response from my children triggered my love towards sago pearls. And I decided to create the magic of sago thalipeeth which is a kind of pancake with few spices and peanuts.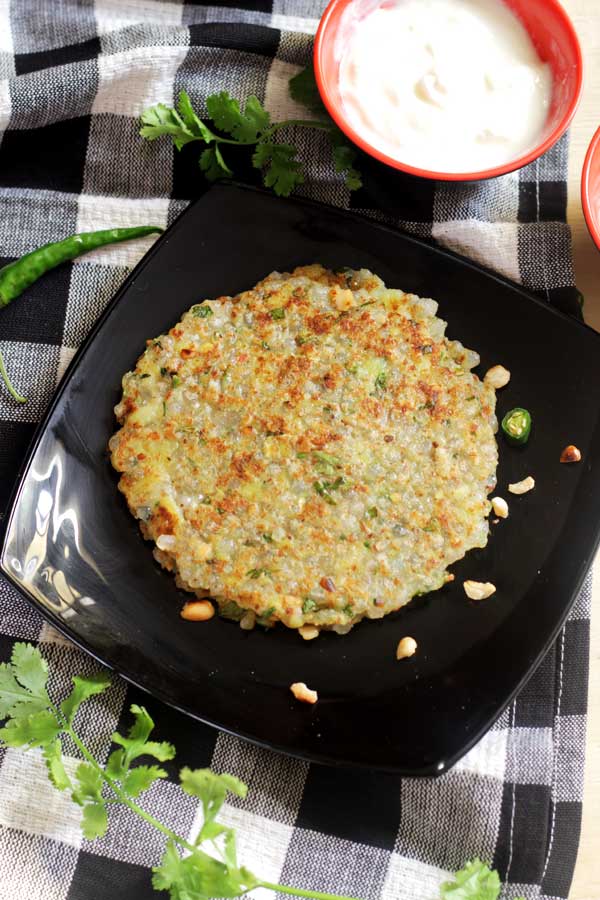 I surely owe our ancestors who made a recipe to be so good and wonderful. How did they even know that the binding of peanuts, sago and potato would be so much amazing and delicious? Because peanut+potato+sago binding happened even in sabudana kichadi too. So in most sago recipes of fasting days have these 3 ingredients in common. And I am thrilled at the way we can feel the crunch of peanuts while biting this thalipeeth in my mouth. It's an absolute comfort to eat them when we actually FAST.
Let me also talk about potatoes here. Potato is a real agent to make the sago pearls get united with all other stuff. So you can imagine the dough and it's softness with no flours being used in it. When you make the dough and pat it over parchment, handle it carefully. Just because they are delicate and fragile like that. I was little extra careful to remove the thalipeeth from griddle as I wanted a picture perfect one. You can end your FASTING with this sabudana thalipeeth and feel the divinity with taste.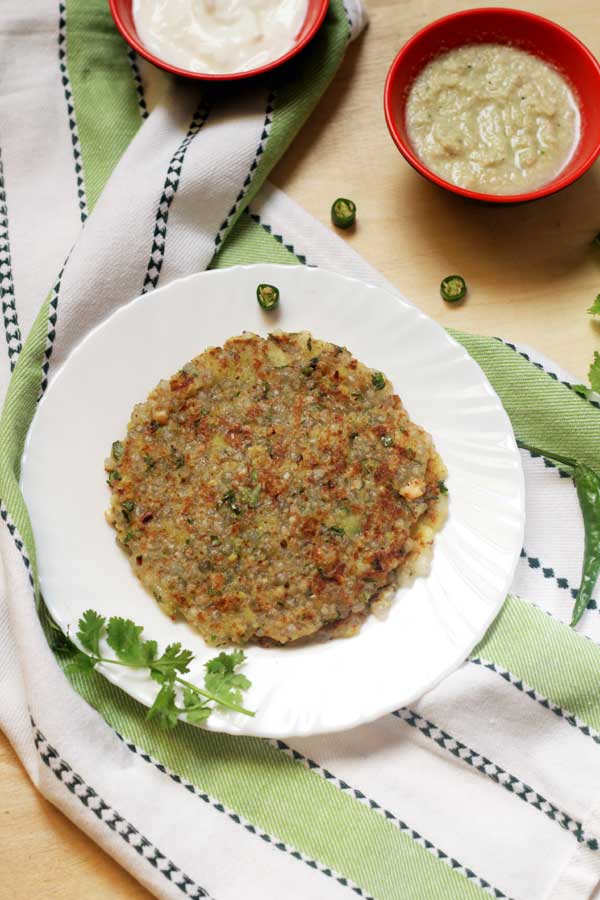 Sabudana Thalipeeth | Sago Roti Recipe
Ingredients
Tapioca sago pearls(sabudana)- 1/2 cup
Potato big sized- 1 no.
Peanuts- 1/4 cup
Green chillies- 2 nos.
Curry leaves- Few
Chopped ginger- 1 tsp
Coriander leaves- 1/4 cup
Salt- 1 tsp
Instructions
Preparation

Soak the sago pearls (sabudana) in enough water for 3-4 hours or overnight. Also pressure cook the potato till it is soft and mash-able.
Finely chop the green chillies, coriander leaves and curry leaves. Keep it aside too.

Method

Heat the peanuts in a small seasoning pan and roast them with constant stirring. When the brown spots appear over them, switch off the stove and let them cool down. Coarsely powder these roasted peanuts and keep it aside.
Drain off all water from soaked sabudana and rinse few times to remove extra starch from them. In a wide bowl take the sabudana, peanut powder, chopped coriander leaves, curry leaves, ginger, green chillies and salt. Mix them thoroughly using your hand.
Next add mashed potato also to the mixture and combine it well to form stiff dough. Divide the dough in to 4 or 5 equal portions. Take a portion on a parchment paper and pat it to medium thick circle.
Carefully transfer the sabudana thalipeeth over a hot griddle and cook till done.
Carefully flip the roti to cook the other side. As the thalipeeth is very delicate, carefully remove from griddle and repeat the process with rest of the dough.
Very delicious sabudana thalipeeth is ready to serve with coconut chutney and yoghurt.

Notes

Drain the water completely from sabudana otherwise it will make the dough loose.
Roasted peanuts give a unique taste to the thalipeeth. So do not skip it.
Add coriander leaves and curry leaves generously because it will enhance the taste.
Keep the spice level bit more because sago is very bland and mild.
Do not pat the thalipeeth very thin as it will easily break when removing from griddle.
https://udupi-recipes.com/2017/02/sabudana-thalipeeth-sago-roti-recipe.html
All the content in this website are © Copyrighted to – Udupi-Recipes