Weekends are just about enjoying little pleasures like doing things the way we love without any routine as such. The weekend mood certainly brings in some laziness in me but I sometimes get overboard with blog cooking. Above all, on weekends I can expect some helping hands too in the kitchen chores. This mere thought would bring in enormous energy and activeness in me that I would be in full of get-up-and-go mindset. So I find my portions of enjoyment treasures during weekends in kitchen too. It is so very soul satisfying to cook some blog food and relish every single bite fresh and delicious. 7 cups burfi or 7 cups sweet is what I made last weekend while recording the full recipe video. Capturing a good quality video without losing attention towards cooking definitely needs a helping hand. Doesn't it?
Recipe video recording is the latest trend in food blogging in which I am still taking baby steps. The tech-y things in capturing and editing a video has to be explored extensively.  This is my effort to bring in the essential know-hows of 7 cups burfi to you so that you get the self-assurance on this sweet.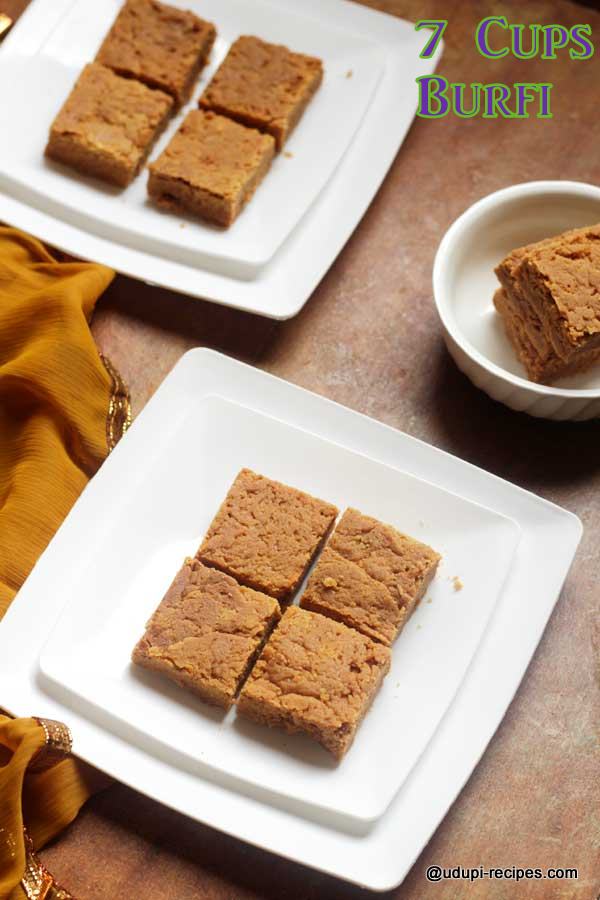 This weekend bonanza 7 cups burfi is not so tricky, even if you are a novice cook you can try this out. You don't have to have sugar syrup expertise. The proportion of ingredients does play a vital role where you have to stick to the precise recipe. Following the exact, precise ingredients as in the below recipe I made it many times and it turned out so very firm with carrot-y color and porous texture.
Only ingredient with which you can play around in this recipe is carrot. You can replace it by fresh grated coconut. In that case you cannot expect the dark shaded carrot-y color like the one below.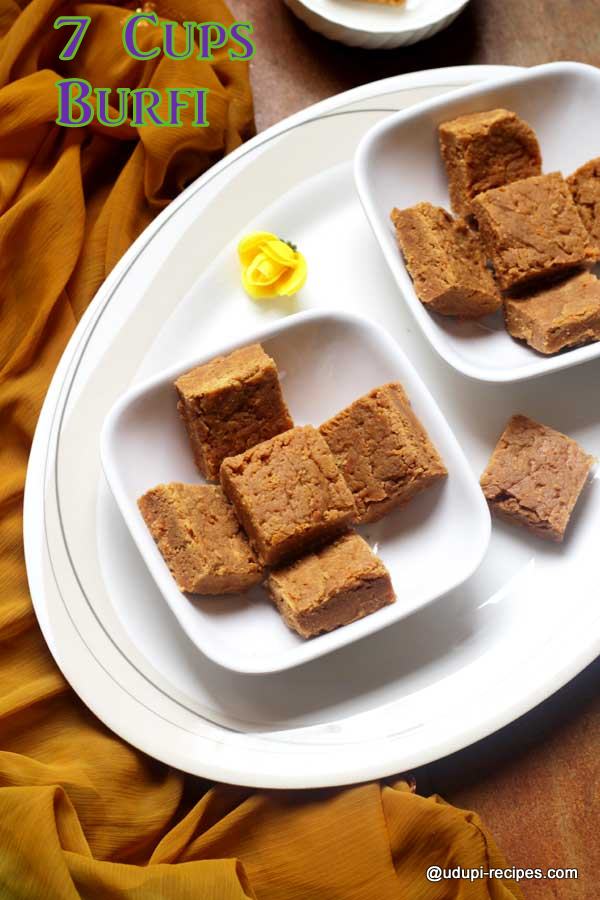 Check this 7 cups burfi video too 🙂
7 Cups Burfi | 7 Cups Sweet Recipe
Ingredients
Gram flour- 1/2 cup
Grated carrot- 1/2 cup
Milk- 1/2 cup
Sugar- 1 cup
Ghee(clarified butter)- 3/4 cup
Instructions
Method

Take sieved gram flour in a pan, with constant stirring roast it in medium flame. The raw smell of the flour subsides and you will notice aroma wafting out. Switch off the flame and transfer it.
Again heat the same pan adding grated carrot. Stir constantly till the rawness disappears from the carrot. Switch off and remove it in a bowl.
Next in a heavy bottom wok or pan add sugar followed by milk. Whisk for a while.
Next add half of the reserved ghee to the same pan and whisk until sugar dissolves. This may take few minutes
Include roasted gram flour and carrot to this mixture and combine everything well. Ensure the flour hasn't formed any lumps. Now the mixture is ready to cook.
In medium flame cook this mixture while stirring it regularly. Add some ghee when you find the mixture thickening.
Continue stirring the burfi mixture for about 15 minutes. Use up all the ghee as you stir and at some point you would notice porous texture and non-sticky-ness of the burfi mixture. Switch off the flame and transfer over ghee greased tray.
Level it up using a spatula and when it is still warm mark the pieces. Separate them when it cools down.
Very quick and easy sweet 7 cups burfi is ready to serve.

Notes

As I have used carrot, the burfi has turned towards darker shade. You can replace it by grated coconut too and the color remains light.
Mixing of sugar with milk and other ingredients should be done off the stove. When sugar completely gets dissolved, you can heat it up for cooking.
I have minimized the usage of ghee to 3/4 cup. If you prefer, you can raise it up to 1 cup.
The final stage to switch off the stove is very important. Do not miss the consistency. Otherwise burfi can turn to halwa.
https://udupi-recipes.com/2017/02/7-cups-burfi-7-cups-sweet-recipe.html
All the content in this website are © Copyrighted to – Udupi-Recipes