Let's welcome Vegetable uttappam.
This carb plus vegetable goodness has never been in my to-do list of breakfast. I never thought of adding fine chunks of vegetables of my choice in the normal dosa form. The deliciousness of caramelized vegetables was not in my food imagination till now. I wonder how can I even miss this pretty food on my breakfast table? But I guess, I tend to overlook  menu in restaurants which is where I get new food ideas for the blog. It may be because we happen to visit restaurants for dinner and not for the breakfast. Well, this is a mere justification for un-noticing certain things. Last week I closely looked at the menu only to find some very popular breakfast like vegetable uttappam, mysore masala dosa, peas masala dosa have been missing their appearance here.
As I realized, I moved ahead to make this awesome vegetable uttappam. It has onions, juicy tomatoes, grated carrots and greens. You get your portions of carbohydrates with all vegetable goodness. Which is like bonus nutrition for free.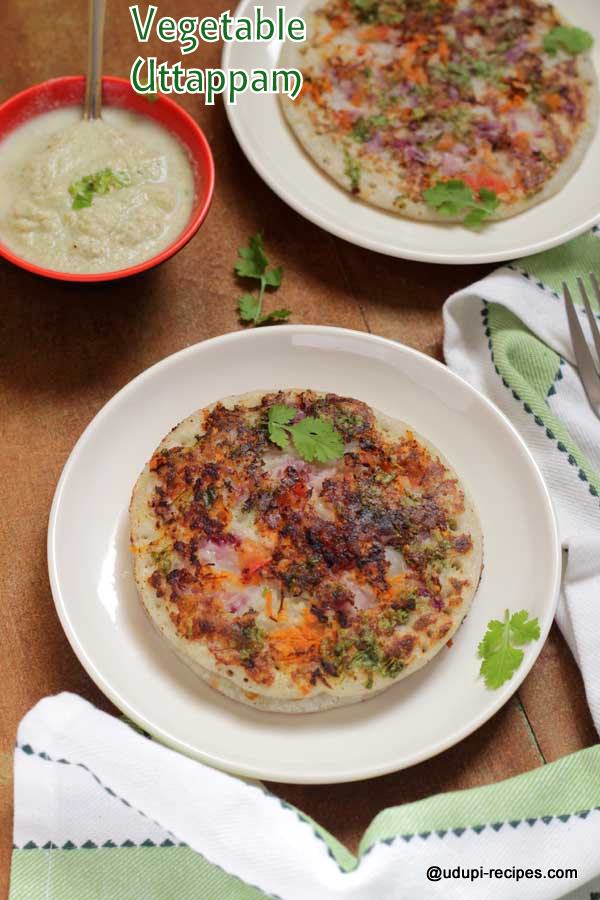 When this breakfast got cooked in my kitchen, it's the total bliss for me. Because caramelized onions along with other veggies take it to the next level. Every bite dipped in spicy coconut chutney in my mouth made me to feel the crunchiness of vegetables thoroughly.
Let me make it point here. You can always use your favourite vegetables like capsicum to make it taste better and better. And enjoy this awesomeness to the core.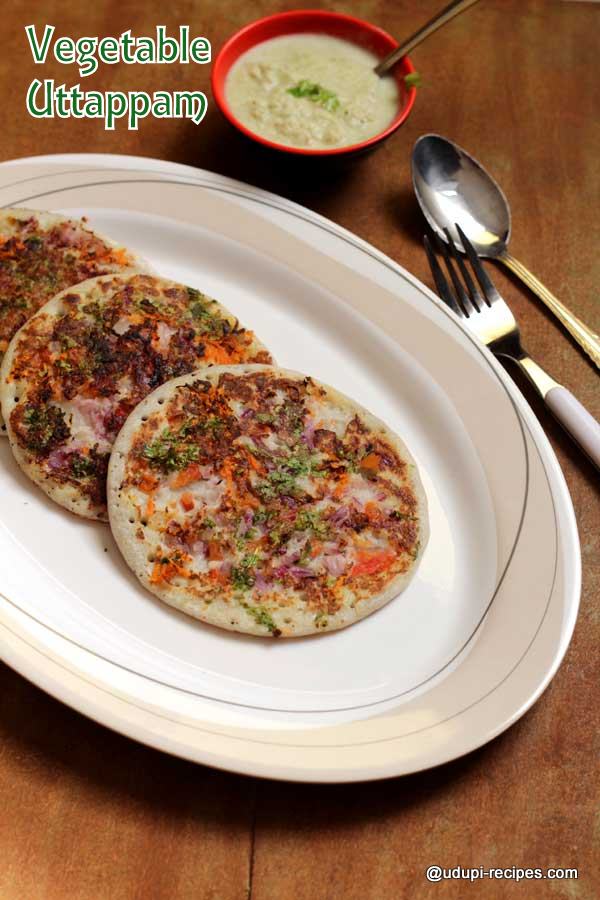 Vegetable Uttappam Recipe
Ingredients
Dosa rice- 2 cups
Split blackgram lentils- 1/2 cup
Fenugreek seeds- 2 tsp
Thin rice flakes- 1 cup
Salt- 2 tsp
Onion- 2 nos.
Carrot- 1 no.
Tomato- 1 no.
Coriander leaves- Handful
Cooking oil- Enough to cook
Instructions
Preparation

Wash and soak rice, split blackgram lentils and fenugreek seeds together in enough water for about 2 to 4 hours.

Method

Drain water from the soaked ingredients and take it in mixer grinder or wet grinder and grind together to little coarse batter. Add some water as required.
When it is half ground, wash thin rice flakes with some water and include it too for grinding. The batter should be thick pouring consistency.
Transfer the batter in to a vessel and keep it covered for 10 to 12 hours or overnight in warm place. Let it ferment.
After good hours of fermentation, the batter would have been increased in volume. Add salt and mix it well. The uttappam batter is ready now.
Chop the onion, tomato, coriander leaves finely. Also grate the carrot and keep them ready. Next heat a dosa griddle drizzling it with a teaspoon of oil. As the griddle fumes, lower the flame. Add ladle full of uttappam batter at the center of the griddle and let it spread by itself.
Sprinkle some onion, tomato, carrot followed by coriander leaves over the uttappam. Using flat spatula press over, so that veggies get inside.
Cook it covering with lid for few minutes. Once done, slowly flip it over and cook till the onion gets caramalized.
Very healthy vegetable uttappam is ready to serve with chutney and sambar.

Notes

The uttappam batter should be slightly coarse than normal dosa batter and it should be of pouring consistency.
Good hours of fermentation is required for the soft and porous uttappam. So do not compromise on that.
You can also choose to add finely chopped capsicum along with other veggies.
It gets cooked slower than normal dosa. So cook accordingly.
https://udupi-recipes.com/2017/01/vegetable-uttappam-recipe.html
All the content in this website are © Copyrighted to – Udupi-Recipes