When the gentle wind of winter season knocks every corner of the house, it is the indication that we have arrived at very happy snack time of the year. Which is actually December and kids vacation time too. Like a normal kids-pleasing mother I am heading to chaats and we have finished first batch of Pani puri already. And for this, I even bothered making my own puffy puri for chaat which was absolutely healthy and satisfying. Making puri for pani puri at home is bit tedious which I agree but when you eat the chaat with your loved ones the efforts are worth enough.
This puri for chaat didn't happen first time at my home, in fact it is a yearly or to be specific every winter-y affair. Every year when winter vacation begins, most of the chaats frequently get whipped up from the scratch. This kind of food-mania or chaat craziness goes to many levels every winter and I end up tweaking every chaat with some innovative stuff. But the most basic things like green chutney for chaat, dates tamarind sweet chutney and puri for pani puri recipe remain intact and same. They have to be right??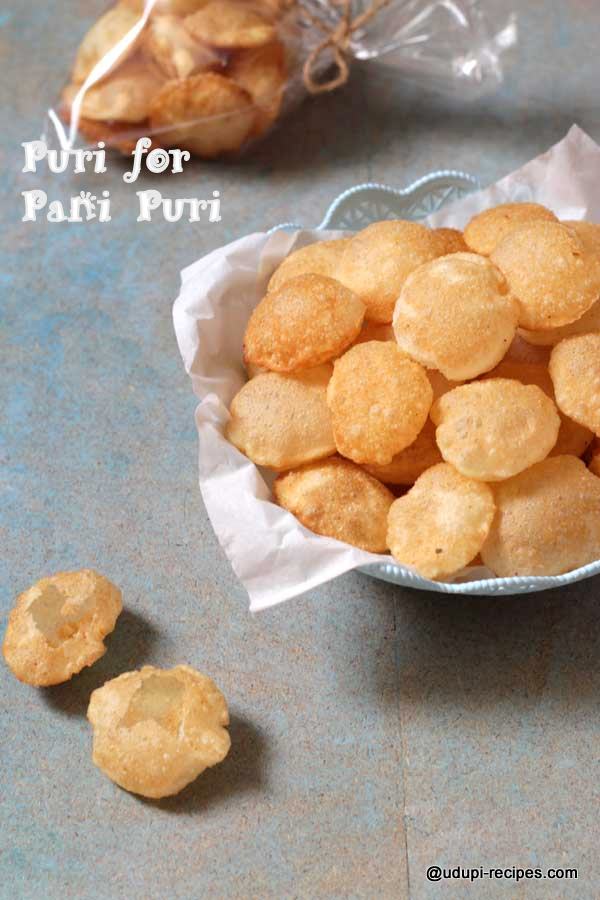 The puri for pani puri has to be fragile and crispy, like you need to poke it to stuff some really awesome things say boiled potato, cooked chickpeas and crispy sev to make it overwhelmingly delicious. In order to make the puri crisp, the fine rava or chiroti rava is highly important and it's ratio with maida too is crucial. Like, if you increase the amount of all purpose flour, the puri turns soggy and doesn't serve the purpose.
If you happen to have some leisure then you can go ahead and make the puri in mammoth quantity which stays well for many days in airtight plastic packet. Later it's just breeze to whip any chaat that you love.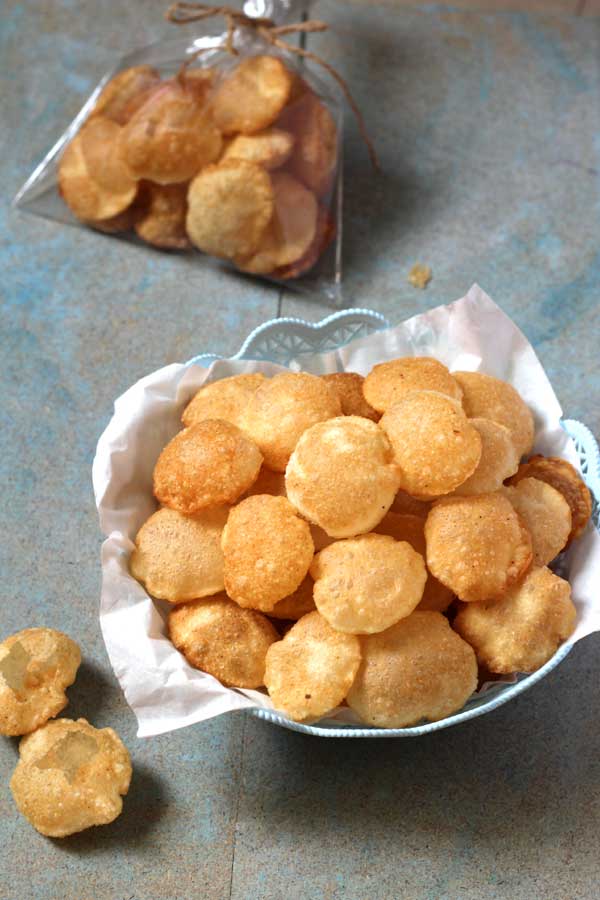 Puri for Pani Puri | Puri for Chaat Recipe
Ingredients
Fine rava / sooji(chiroti rava)- 1 cup
Maida (All purpose flour) - 1/4 cup
Salt- 1 tsp
Cooking oil- Enough to deep fry
Instructions
Preparation

Take all the three ingredients fine rava, flour and salt in a wide bowl. Give a quick mix.
Next include 1/4 cup fo water little by little and knead a stiff dough. Initially it looks like crumble then after kneading it forms stiff dough. Cover it with damp cloth and let it rest for 30 minutes.

Method

After the resting time, knead the dough once again. You can sprinkle little water if you feel the dough as dry. Divide the dough in to 60 marble sized balls and cover them as well with damp cloth.
Next, roll each ball in to thin poori and assemble in a wide tray. Heat a thick bottom wok with enough oil, as it gets heated drop the rolled poori batch by batch. It will puff up immediately.
When the sizzling of oil stops, flip the pooris to cook other side. When pooris turn little brown, remove from oil to drain over kitchen tissue.
Repeat the process with all the rolled pooris. These pooris last longer and retain crispiness if you pack them in air tight plastic cover.

Notes

Do not add maida more than mentioned. Because maida makes poori to be soggy not crispy.
It's chiroti rava that keeps the poori crisp for longer.
Kneading the dough stiff is also very important for the good results.
Do not let the dough balls get dry which will make rolling difficult.
If you find difficulty in kneading dough, you can sprinkle very little water but do not add more.
Check oil for the right temperature by dropping a pinch of dough, if it raises to the surface immediately, that is the right time to drop poori for frying.
Keep the flame medium while deep frying.
https://udupi-recipes.com/2016/12/puri-for-pani-puri-puri-for-chaat-recipe.html
All the content in this website are © Copyrighted to – Udupi-Recipes