Carrot almond soup, or any soup for that matter is the single best winter food that is healthy and delicious. It has two super foods like carrot and almond, both of which are extremely nutrient rich and good for our body. Right now, as the temperature is descending down, need for warm food is equally rising up. In such a scenario, soup comes to my mind first and foremost. So I end up cooking a delicious and creamy soup like tomato soup or green-y palak soup along with my normal meals.
I love to experience best of Winter season with a bowl of piping hot soup, sitting on couch, watching favorite TV show. And trust me, this happens all the time and every time a soup gets whipped up at my home.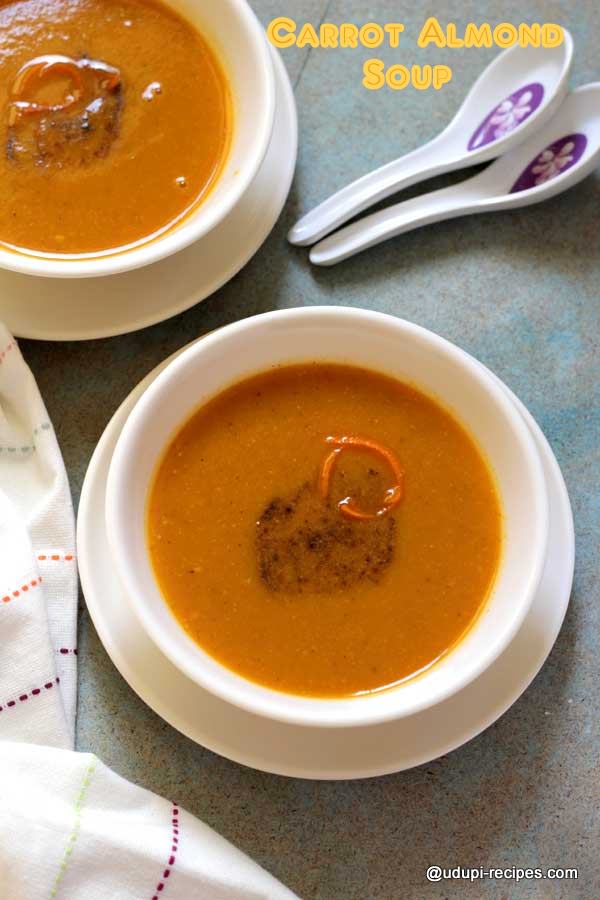 Look at this gorgeous carrot almond soup. Doesn't it look creamy, intense and thick? That is how a real soup needs to be right? But let me make it clear for you. I haven't used any thickening agent like potato or corn starch kind of stuff.  So it's the magic ingredient almond that does the trick here. Extra thick soup goals are achieved at the cost of natural and healthy stuff (Love you Almond). Nutrient rich creamy awesomeness is what's happening right now between you and me.
The most beautiful vegetarian/vegan soup that really only requires only two things from you, CARROT and ALMOND and rest of the things must be there in your pantry already. I can see that from the window of my browser friends!! It is something that can be easily and quickly tossed together and can make your Winter season cozy one.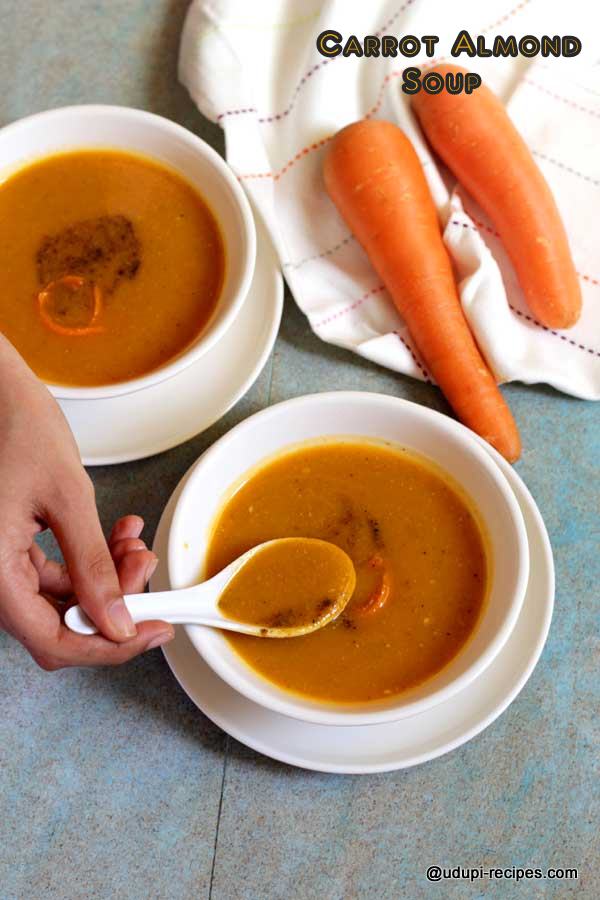 Carrot Almond Soup Recipe
Ingredients
Carrots- 2 large
Almonds- 8 to 10
Onion - 1 nos.
Bay leaf- 2 nos.
Salt- 1.5 tsp
Black pepper powder- 2 tsp
Dry mango powder- 1 tsp
Instructions
Preparation

Soak almonds in water for about 30 minutes.

Method

Wash the carrots and chop them in to big chunks. Also peel off the onion and cut it in to quarters. Put these chopped veggies, almonds and bay leaf in bowl and pressure cook for 2 whistles.
The veggies get really soft and have the bay leaf flavor infused in them. Let it cool down to room temperature. Discard the bay-leaf and grind together to fine puree using a mixer or blender.
Pour the soup in to a cooking pan, season with salt, pepper and mango powder. Mix, add water according to the desired consistency of soup and bring it to boil.
The thick creamy tomato almond soup is ready to serve with or without croutons.

Notes

You don't need any soup thickening agent like corn starch or potato here. The almond does the trick.
You can skip dry mango powder and use lemon juice instead.
For alternative taste, you can use little sugar too.
You can top it with some cream and croutons for extra deliciousness.
https://udupi-recipes.com/2016/12/carrot-almond-soup-recipe.html
All the content in this website are © Copyrighted to – Udupi-Recipes