These cute edible rings made from semolina have taken the title as rava ring murukku and are quite apt to be listed under Shree Krishna Janmashtami recipe. Because this festival is always related with wonderfully awesome snacks and sweets that are made in mammoth and had for many days even after the festival.
One thing about blogging: It's so amazing to be able to take work everywhere with me. No matter where I find myself in the world, as long as there is just one hint of internet connectivity, I can do my work. It's a kind of blessing! and curse. I love to be disconnected from work while vacationing and usually I succeed half way in achieving it. Scheduling that many recipe posts till the point it gets automatically published demands lot and lots of overtime work which is practically impossible for one who is a home maker with two kids.
All the recipes that I have planned for Janmashtami this year have one thing in common. Easy, Simple and On the GO recipes. Like this roasted gram ladoo. Just decide in what to make and  head yourself towards kitchen because all the ingredients must already be there in your pantry because these are very basic ones.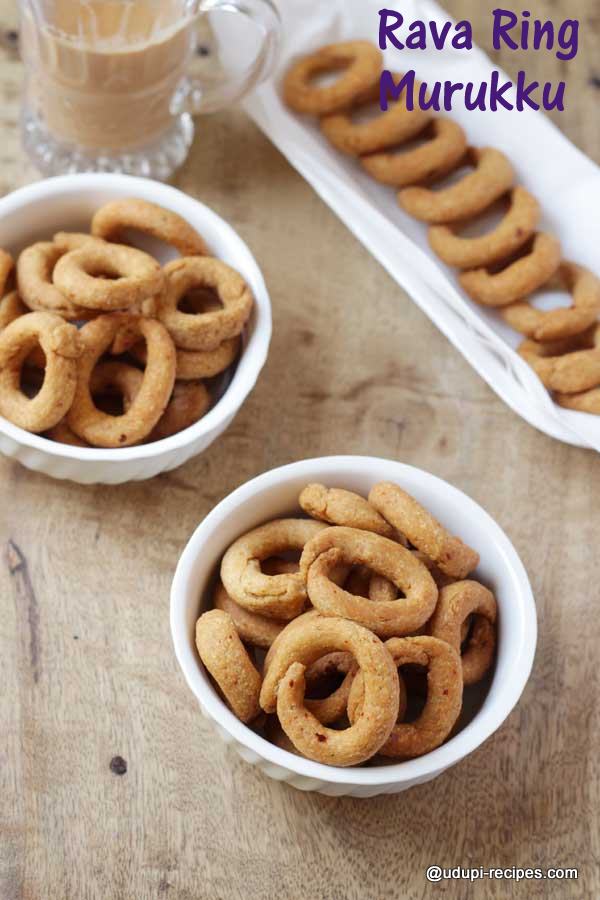 Rava ring murukku has mostly semolina and few spices. Coconut gets minced with the spices and combined with semolina. While making dough, do add water cautiously because too much would make the murukku soggy. And too less means it breaks and doesn't hold the shape. When the dough is ready, have enough time to shape small rings out of it which is bit time consuming.
Keep these tiny ring murukku in a jar and that stays crisp and crunch till the day it lasts.  It's addictive snack and best when lazying around or watching TV.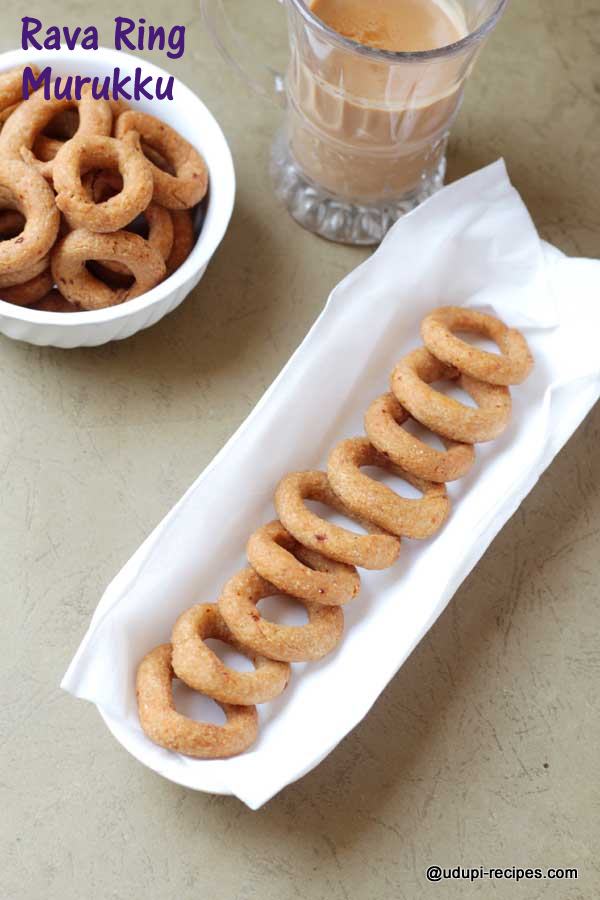 Rava Ring Murukku | Janmashtami Recipe
Ingredients
Medium rava or chiroti rava- 1 cup
Grated coconut- 1/2 cup
Wheat flour- 2 tsp
Cumin seeds- 1/2 tsp
Coriander seeds- 1 tsp
Salt- 3/4 tsp
Red chillies- 2 no.
Curry leaves- Few
Cooking oil- Enough to deep fry
Instructions
Preparation

Put grated coconut, cumin, coriander seeds, red chillies and curry leaves in a mixer and grind to make fine paste. Don't add any water to grind.
Next transfer the ground paste to a wide bowl. Add rava, wheat flour and salt to this. Combine everything well. Add water in steps, little by little and make pliable dough. I used up almost 1/2 cup water.
Cover the dough with a damp cloth for about 10 minutes. Next add 4 tsp of hot oil to the dough and knead once again.
Next pinch lemon sized dough and roll between your palms to shape like a rope. Join both ends together to form a ring. Repeat this process with rest of the dough. Heat enough oil in a wok and deep fry the ring murukku in batches. When they turn little brown remove from oil and drain.
Shree Krishna Janmashtami special rava ring murukku is ready.

Notes

You can substitute red chillies by green ones.
The dough should be stiff and not loose. If the dough has turned too stiff, you can sprinkle a tsp of water.
To check the oil temperature, drop a small pinch of dough. If it raises to top immediately, the temperature is right. Keep the flame in medium heat and deep fry the murukku.
Get the ring murukku ready in batches and carefully drop them in to oil. When they are frying, get the next batch ready.
Store them in airtight container once they cool down to room temperature. This way crispiness lasts longer.
https://udupi-recipes.com/2016/08/rava-ring-murukku-recipe.html
All the content in this website are © Copyrighted to – Udupi-Recipes