My compulsion to get rid of left over ingredients can some time be the reason to cook food for blog. Like this intense red horse gram chutney powder. There was half bag full of horse gram lying in the pantry and it was driving me crazy to cook something out of it. Also when you have to cook and pack food early in the morning for 3, it is always a wise decision to have an alternate for side dish that doesn't perish or ruin so easily. So stocking a jar full of flax seeds chutney powder or peanut chutney powder was my age old trick to overcome hive of activity in the morning.
As you all know, experimenting the recipes with new ingredients is one of my food blog induced obsession and it is really really fun for me. Simple and familiar, basic dishes with new ingredients that people can make comfortably is what I always look for.  I feel so good when that is what comes through this little internet space.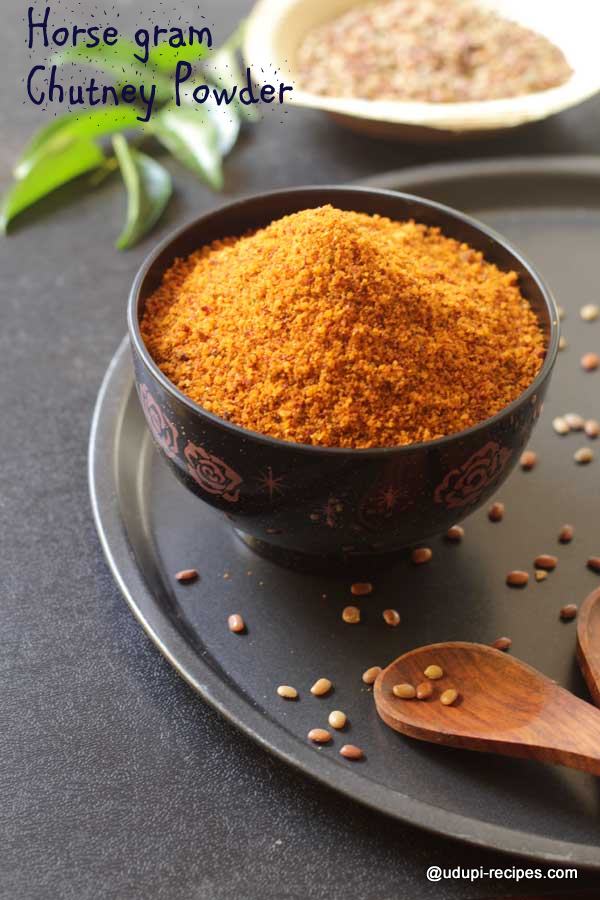 This time power packed legume horse gram has been introduced as new ingredient in the chutney powder recipe.  And the desiccated coconut, red chilly, salt, tamarind and jaggery get powdered homogeneously with the roasted horse gram which is why it pairs up well with south Indian staple food like idli and dosa. I love horse gram chutney powder to be coarse rather like fine flour.  I dip my bite of dosa in chutney powder and really feel the aroma of legume while eating which is how my dream breakfast comes true.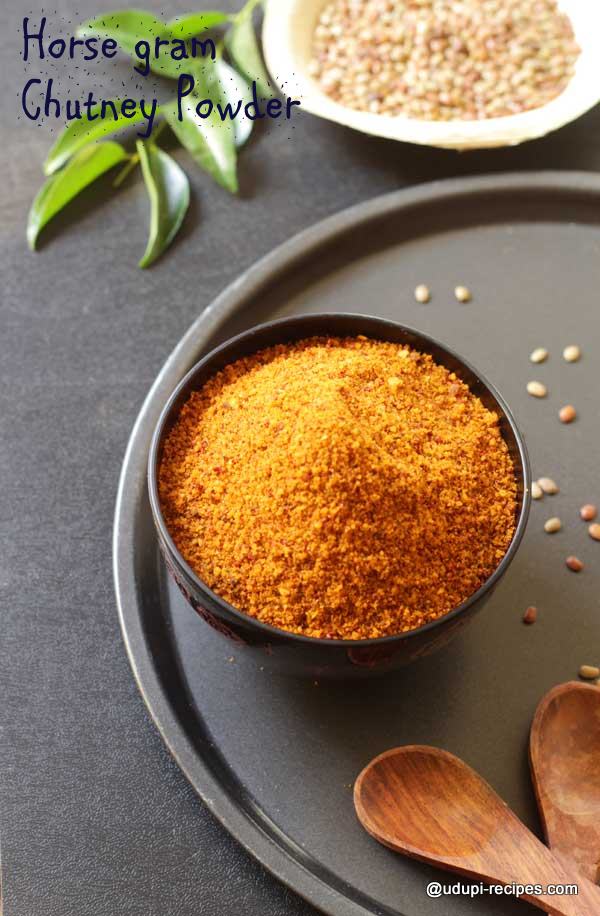 Horse gram Chutney Powder | Huruli Kalina Chutney Pudi
Ingredients
Horse gram - 1 cup
Desiccated coconut- 1/4 cup
Red chillies- 8 to 10 nos.
Salt- 1 tsp (Adjust to taste)
Tamarind paste- 1/2 tsp
Jaggery powder- 1/2 tsp to 1 tsp
curry leaves- Few
Cooking oil- 2 tsp
Instructions
Method

Heat a pan and add horse gram. With constant stirring roast them till they nicely puff up and waft out aroma. Transfer them on a plate. Next add oil, red chillies and curry leaves. Roast them as well in medium flame till they crisp up.
Subsequently roast desiccated coconut till it is crisp. Let all the roasted ingredients cool down to room temperature. Take them in a blender along with tamarind, jaggery and salt. Powder them together to moderately coarse consistency.
Aromatic and healthy horse gram chutney powder is ready to serve as side dish with idli, dosa.

Notes

Do not leave the pan unattended while roasting the ingredients which may burn the bottom and ruin the taste.
Adjust red chillies as per your taste buds.
I like to add little jaggery to chutney powder for nice taste. If you don't like it, you can skip it
https://udupi-recipes.com/2016/07/horse-gram-chutney-powder.html
All the content in this website are © Copyrighted to – Udupi-Recipes