It's a sweet flat bread today with the stuffing of sesame seeds plus jaggery which is probably better known as til poli or ellu holige in local languages of India. The nutty sesame seeds happen to appear all around the food these days just because SANKRANTI is too close by.  I am not an exception and this post pretty much justifies that.
Til poli's simple goodness is like no other that I stress enough because I have posted quite a few puran poli recipes in this space and I know how elaborate, time-consuming process this is. In all those recipes, lots of cooking, grinding and sauteing  goes on just to get the stuffing ready. But absence of all those results in this yummy factor til poli.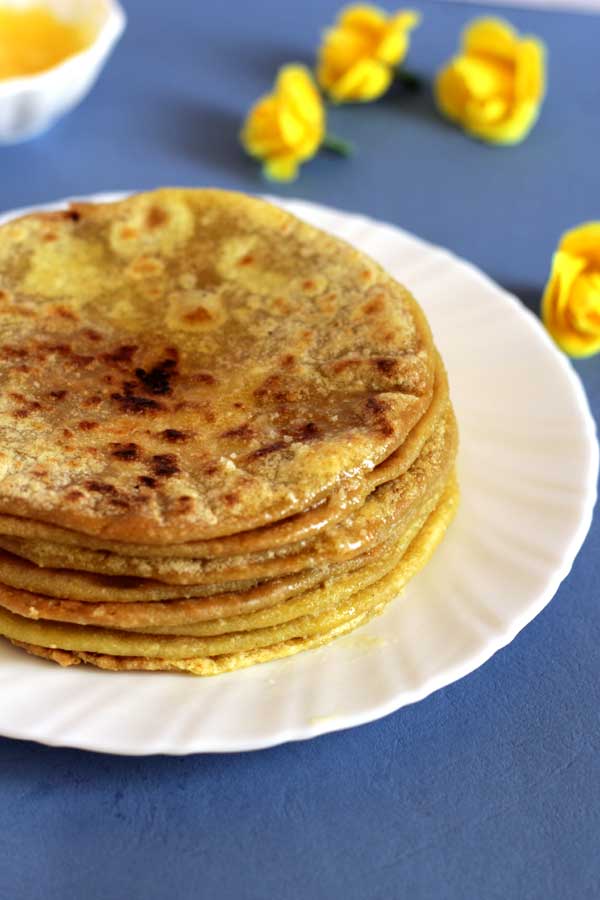 The sesame stuffing in this flat bread has roasted white sesame seeds, jaggery plus desiccated coconut with the hint of cardamom. All of them are minced well in a mixer / blender and that's it the stuffing is ready. You can go ahead and add a tea spoon of milk too if you feel it is too thick and hard like laddu.
Til poli is delicious on the palate and easy on the wallet (because not too expensive like lentils!!).  Sesame seeds flatbread provides adequate nourishment for the body and soul, and needless to say it satisfies the sweet desire for a meal with a zing.
Til Poli | Sesame – Jaggery Flatbread | Ellu Holige Recipe
Ingredients
For stuffing

White sesame seeds (til)- 2 cups
Jaggery powder- 3/4 cup
Desiccated coconut- 1/2 cup
Cardamoms- 3 no.

For dough

Chiroti rava- 1 cup
Maida- 1/4 cup
Salt- 1/2 tsp
Turmeric powder- A pinch
Oil- 5 tsp
Water- 1/2 cup
Instructions
Preparation

Take chiroti rava, maida, salt and turmeric powder in a bowl. Give a quick stir to combine everything well.
Then adding water in parts make a soft pliable dough. At last add oil and knead it well with your hand. Cover it with a damp cloth or lid and let it rest for about half an hour. After resting time the dough would have turned really soft and loose.

Method

To make stuffing for this poli, heat a cooking pan adding sesame seeds. In medium flame roast them with constant stirring till they turn little brown. Transfer the seeds on to a plate and next add desiccated coconut. Roast the coconut as well for few seconds. Do not let it turn brown.
Take the roasted sesame seeds and de-seeded cardamoms in a mixer / blender and grind it for a while. Next include jaggery powder and pulse it again so that sesame seeds combines well with jaggery.
Finally add desiccated coconut and pulse it once again. The jaggery helps sesame powder to hold together, then divide it in to 10-12 lemon sized balls. Meanwhile make 10-12 lemon sized balls from rava dough too. Keep these ready to proceed with til poli.
Next take a dough ball in your palm, widen a bit with your fingers and then keep a sesame puran ball prepared in above step. Carefully cover the stuffing with dough and seal on top.
Next smear enough oil over a polythene sheet and roll the til stuffed dough in to medium thin discs of 4 to 5". Meanwhile heat a non-stick skillet.
Carefully lift the rolled til poli and transfer it over heated skillet. In medium flame let it cook. When bubbles start appearing, flip and cook till few brown spots show up. Remove it from skillet and continue the process with rest of the dough and puran.
Divine tasting til poli is ready to serve topping with a dollop of ghee.

Notes

You can make dough using only maida itself. I tried adding chiroti rava this time to make it bit more healthier.
Remember while making dough, add water in parts. Let the dough be little more loose than chapati dough.
Nowadays roasted sesame seeds are easily available in shops, you can use that also to save time.
When you grind sesame seeds, jaggery and desiccated coconut together, some times it turns hard like laddu. In that case you can add a tsp of milk to make it soft which makes rolling easier.
The consistency of the stuffing and dough should be same to obtain evenly rolled poli. It is the key to get a perfectly stuffed and rolled poli.
It lasts for more than two days at room temperature.
https://udupi-recipes.com/2016/01/til-poli-sesame-jaggery-flatbread-ellu-holige-recipe.html
All the content in this website are © Copyrighted to – Udupi-Recipes