When you hang out for picnics, outings and gatherings which is the addictive and unhealthy snack that you always prefer to devour? Is that french fries,  a pack of chips or masala peanuts? or all together?? All these are so addictive that one cannot keep them away for long, I know.
But the store bought ones are always not assured of quality of ingredients used in making them, on top of that fear of harmful preservatives!!! So  why don't you try making these adorable treats at home ?
I give few justifications for the same:
1. Quality of each item that makes the snack is assured. So you can devour them a bit more….What say??
2. As and when you crave for titbits while watching TV or reading books or surfing internet, a small bowl full of banana chips would satisfy you right away…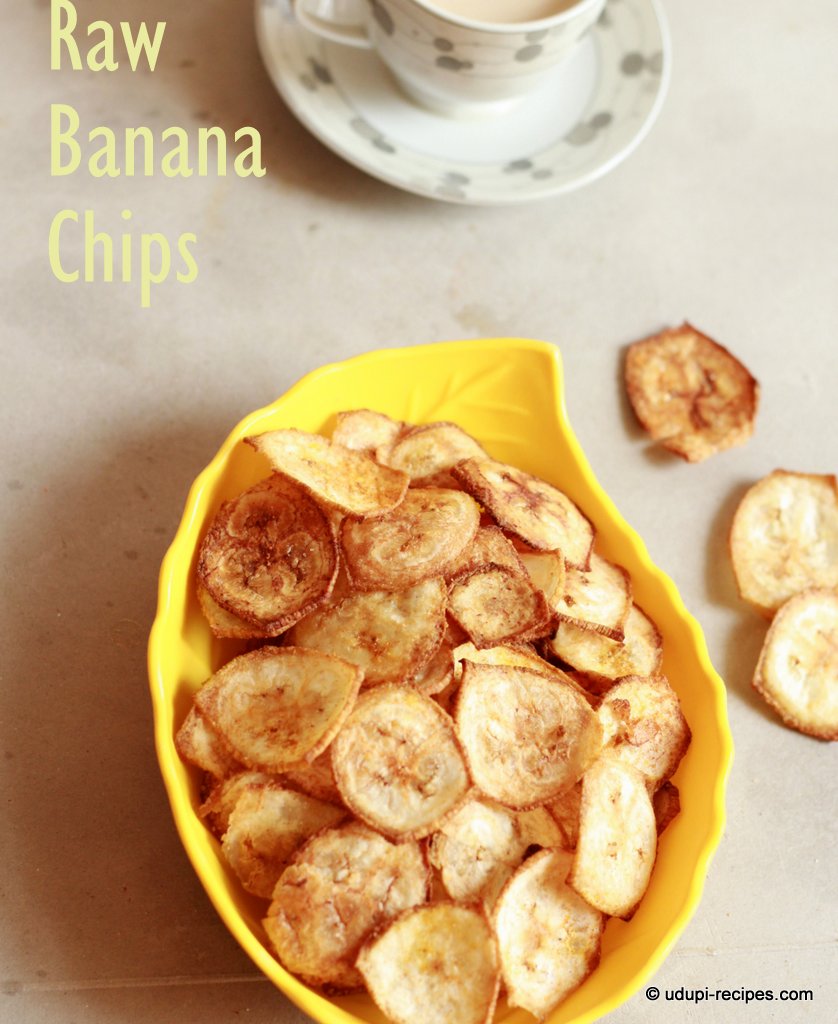 Raw banana chips are just as easier as said…Believe me.  Peeler and Slicer make your life a cake walk. Grab a peeler to peel green, hard raw banana, slice it in to very thin slices and then deep fry them until crisp and light.  Spice it up. It's done.
Few key points to remember: Select  very raw  banana that is green and hard. If the skin is towards yellow, soft then avoid them using for chips. I would suggest slicing only batch of chips at a time or if you are comfortable slice directly in to hot oil. Everyone's all time favorite raw banana chips can be made in minutes. So just get ready for it… 🙂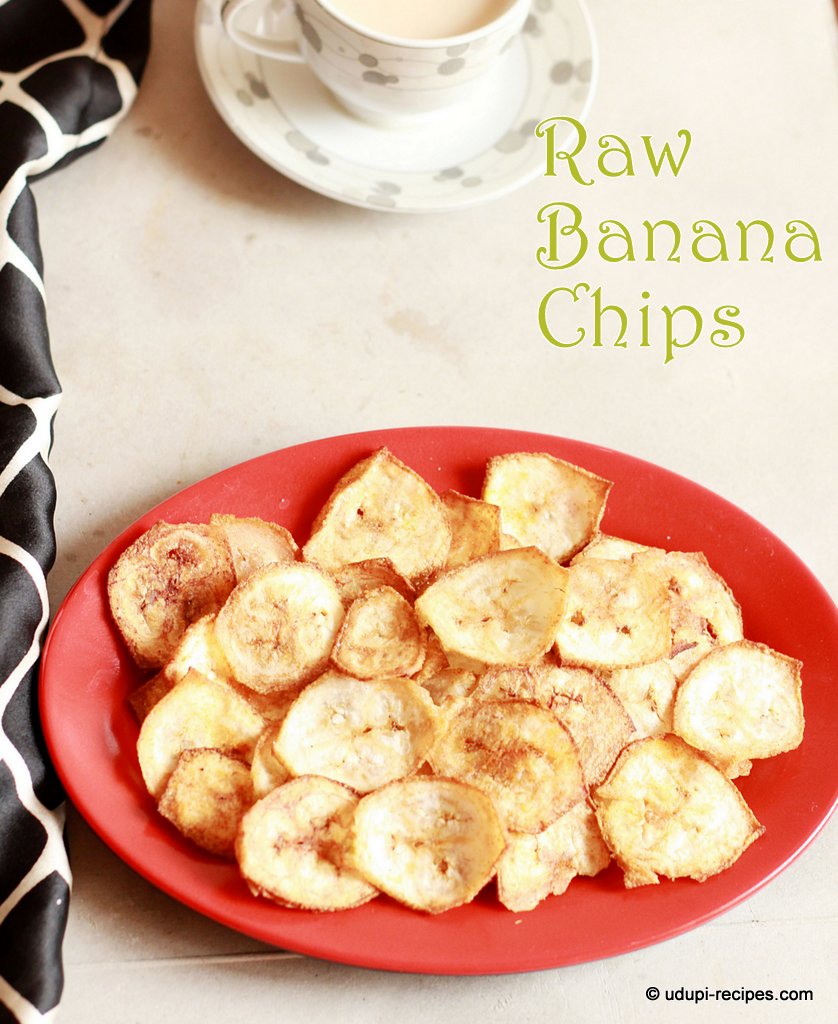 Raw Banana Chips | Raw Plantain Chips Recipe
Ingredients
Raw bananas- 3 no.s (big)
Salt- 3/4 to 1 tsp
Red chilly powder- 1 tsp
Turmeric powder- 1/4 tsp
Cooking oil- Enough for deep fry
Instructions
Method

Trim the edges of bananas and peel the skin off using peeler.
Meanwhile heat a wide wok/kadai with enough oil in it.
Using a slicer make very thin slices of raw banana and drop them into piping hot oil. Then keep the heat at medium flame.
Turn over and deep fry the banana chips till they become crisp and light. When the chips slightly change color, using slotted ladle remove them from oil and drain on kitchen tissue paper. Repeat slicing and frying process with rest of the bananas.
Sprinkle salt, red chilly powder and turmeric powder on the chips. Toss them well so that each one gets coated well with spices.
Addictive snack raw banana chips are ready. Serve them as evening tea time snack.

Notes

You need to slice the raw bananas batch-wise. As you slice them, drop in to hot oil for frying. Do not slice all bananas together. The slices should not rest for too long.
Alternatively, if you are comfortable you can slice the bananas directly in to hot oil. But be careful of your hands exposed to heat.
The oil should be piping hot to drop the chips, otherwise they become soggy.
You can replace red chilly powder by pepper powder for different taste.
Once the chips cool down to room temperature, store them in airtight container.
https://udupi-recipes.com/2014/11/raw-banana-chips-raw-plantain-chips-recipe.html
All the content in this website are © Copyrighted to – Udupi-Recipes