Since the day I started this piece of web called udupi-recipes.com my hands are full with cooking, clicking, editing, fixing technical errors of the site, checking how well my site is doing in search engines and so on.  You all might have observed the URL of my site is no more udupi-recipes.blogspot.com. When I was blogging on free hosting server i.e blogger I had this URL.  Just a month back I moved my site to self hosted server meaning all files and posts of udupi-recipes are now residing on paid server.  So the URL now is just udupi-recipes.com. Is it sounding mumbo-jumbo to you? Check food blog resources page where I have briefed in detail about the resources used by my food blog.
Along this food blog road I am learning new lessons everyday.  The lessons of photography, cooking,  fixing errors of site and also how to report Google when some body steals your valuable work.  Yes,  appealing food photographs, content and 90 posts of my blog were stolen completely. It is so annoying right?? Anyways to be frank with you I am enjoying this food blog journey. It's so hard to stop working because I genuinely LOVE it.
On daily basis I prepare a rice side dish using  veggie or lentils or legumes. Today it is sweet pumpkin curry with coconut. This lip smacking curry is perfect with steamed rice. Get on to pumpkin coconut curry now.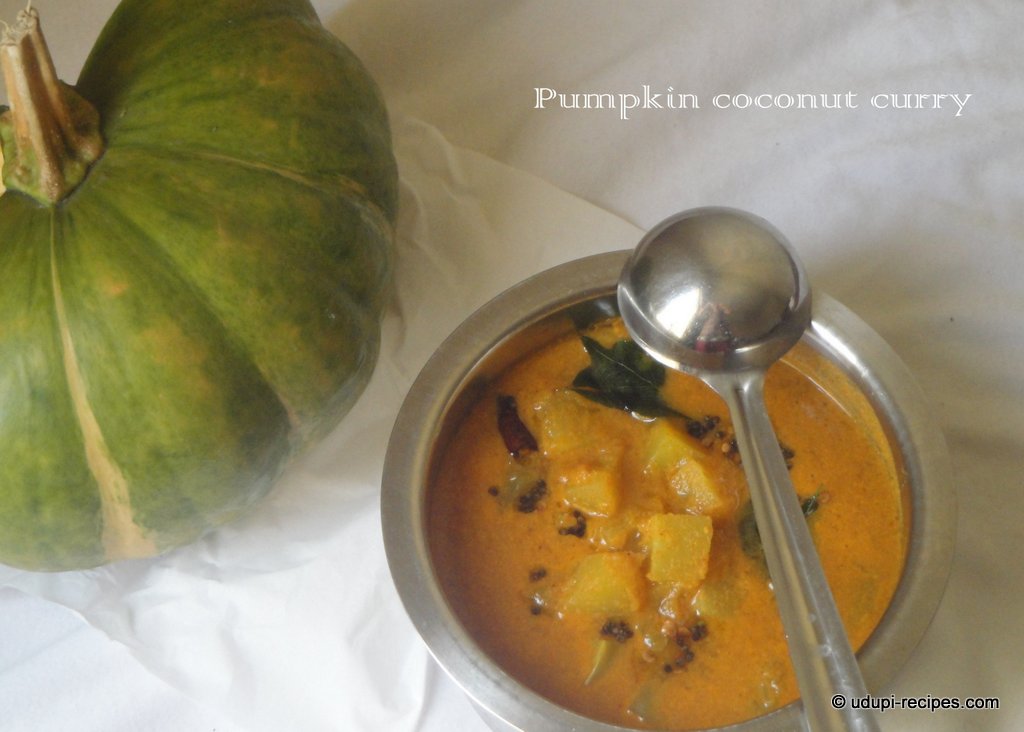 Sweet Pumpkin Curry with Coconut
Ingredients
Sweet pumpkin cubes- 3 cups
Jaggery- Big lemon sized
Turmeric powder- 1/4 tsp
Tamarind- Small lemon sized
Salt- 2 tsp or to taste
Grated coconut- 3/4 cup
*Udupi sambar powder*- 4 tsp heaped

seasoning ingredients

Cooking oil- 2 tsp
Mustard seeds- 1/4 tsp
Split black gram lentil- 1/4 tsp
Broken red chilly- 1 no.
Curry leaves- few
Instructions
Preparation

Soak tamarind in some water for about 15 mins. Extract it's thick juice and discard the residue.

Method

Cook pumpkin cubes adding a cup of water, turmeric powder, jaggery and a strand of curry leaves.
When the pumpkin cubes are soft, add tamarind extract and only one teaspoon of salt to it. The salt added now is just for the pumpkin cubes to absorb. Meanwhile grind coconut and Udupi sambar powder finely adding little water.
Now add the ground coconut masala to pumpkin curry. Also add remaining salt and water as per the consistency. Mix well.
Heat a seasoning pan adding all the seasoning ingredients in the order mentioned, when the mustard seeds splutter and split black gram turns slightly brown, temper the sweet pumpkin curry. Sweet pumpkin coconut curry is ready. Serve it with hot steamed rice.

Note

Make sure the sweet pumpkin cubes are cooked well before adding tamarind. Some varieties of pumpkin will not get cooked in tamarind.
The curry should not be too thin nor too thick. Add water accordingly.
You can reduce grated coconut to half cup, in that case add 2 tsp of cooked toor dal. It is equally good.
https://udupi-recipes.com/2014/02/sweet-pumpkin-curry-coconut.html
All the content in this website are © Copyrighted to – Udupi-Recipes