Medical knowledge of our ancestors has no bounds; they knew seasonal diet, healing properties of every spice used in the kitchen, home remedies for most common sickness and meditation to relax mind and soul.  Preserving age old recipes and passing them on to next generations is a way to learn and get inspired by their lifestyle.  It is your mother, grandmother's recipes that keeps you still fit, healthy and immune to diseases. It is truly said "You are what you eat".
How many of you given that sulky look, twisted your nose with distaste and then turned your back whenever your mother lovingly insisted you to drink a medicinal, spicy pepper jaggery juice? I'm sure all of you right? But that healthy drink made with pepper corns, jaggery and honey could have surely given soothing effect to your irritating throat and hence cough.  Pepper jaggery drink can be enjoyed as a plain thrust quencher or as a medicinal drink, either way it never fails to satisfy you.
Lets get back to the recipe!!!!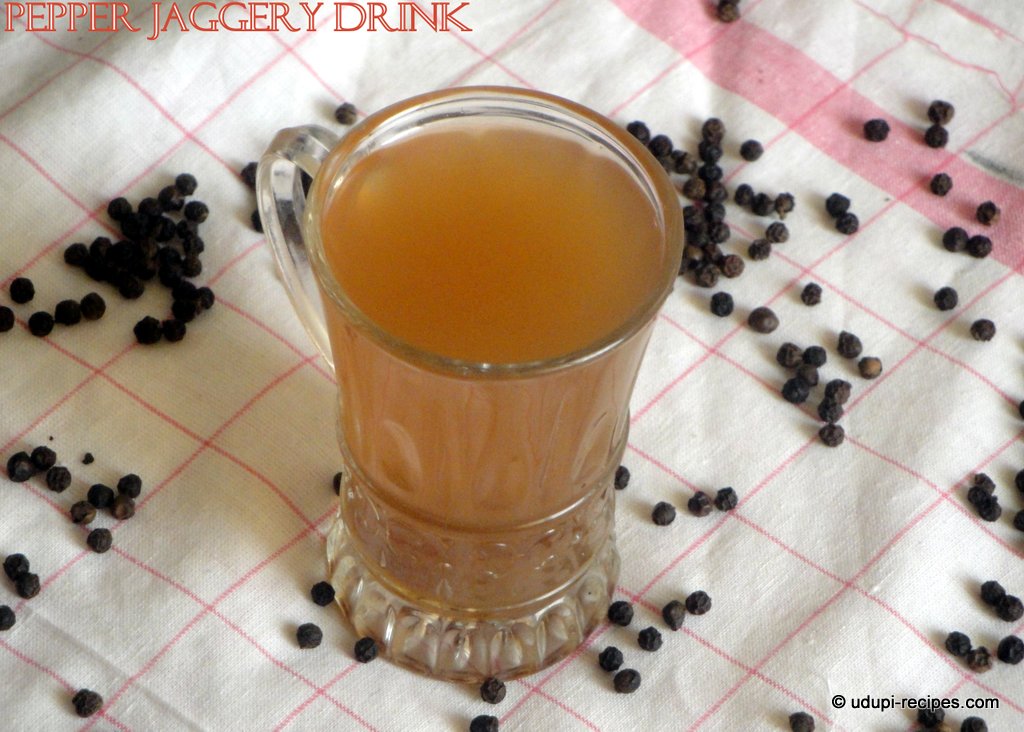 Pepper Jaggery Drink | Black Pepper Panaka Recipe
Ingredients
Tamarind- Small lemon sized
Powdered jaggery- 4 tsp
Black pepper- 3/4 to 1 tsp
Honey- 3 tsp
Cardamom powder- A pinch
Instructions
Preparation

Coarsely powder black pepper corns and keep it aside.
Soak tamarind in half cup of water for 10 minutes. Extract thick tamarind juice and discard residue.

Method

In a cooking pan add powdered black pepper, jaggery and thick tamarind extract.
Add 3 cups of water to same pan and bring it to boil. Switch off the flame and add cardamom powder.
Strain the pepper drink in to glass and add honey. Mix well.
Black pepper jaggery drink is ready. You can serve it hot or cold. Either way it satisfies you.

Note

Adjust pepper as per your taste. This drink should actually taste little hot and spicy.
https://udupi-recipes.com/2014/02/pepper-jaggery-drink-black-pepper-panaka-recipe.html
All the content in this website are © Copyrighted to – Udupi-Recipes
Meet you all with one more interesting recipe. Till then bye.