A healthy and nutritional snack that can be given to kids when they back home from school is
brown rice laddu
or kerala rice laddu. My mother and grandmother are experts in making these laddus. I just love them. Unlike sugar based sweets I love all jaggery based laddus and desserts. Though brown rice and white rice have similar amounts of  calories and carbohydrates, the difference between the two forms of rice lie in processing and nutritional content. In Udupi-Mangalore region the main crop is paddy, even today many families consume only brown rice for their living. This brown rice laddu requires only few ingredients and can be made with minimum amount of time.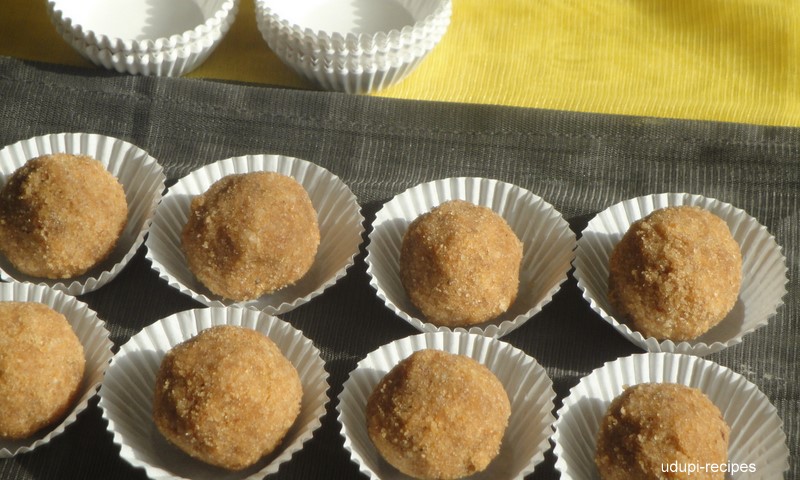 Rice Laddu | Kerala Brown Rice Laddu | Parboiled Rice Laddu Recipe
Ingredients
Brown rice/parboiled rice/kerala rice- 1 cup
Jaggery - 3/4 cup to 1 cup
Fresh grated coconut- 1/2 cup
Cardamom- 3 to 4
Almonds and Cashews- few
Ghee- 2 tea spoon
Instructions
Preparation

Deseed cardamoms and make fine powder. Keep it aside.

Method

In a heavy bottom pan/kadai add brown rice and roast it in medium flame. The rice grains slightly change their color and white patches appear on them, they even puff up little. That is when you need to switch off the flame. Let it cool.
Add the roasted brown rice in to mixer and grind it finely. Powdered rice will be grainy and that is why laddus will not stick to the roof your teeth. Transfer the powdered rice in to a large mixing bowl.
In the mixer, add almonds and cashews. Grind them very coarsely. Add them to the powdered rice. Add fresh grated coconut, cardamom powder too and mix well. Brown rice laddu mix is ready now.
In the same heavy bottom pan, add jaggery and little water(around 1/4 cup) and heat it in medium flame. Jaggery dissolves in water and starts frothing. Once the frothing stops switch off the flame and add the jaggery syrup to the laddu mix.
Using spatula mix well so that powdered rice absorbs the jaggery syrup properly.Now when it is still warm and your palm can bear that heat, shape equal sized laddos out of the brown laddo mix greasing your hand with ghee.
Nutritional brown rice laddus are ready to be relished with.

Note:

It is not advised to wait till the jaggery syrup gets soft ball consistency. The laddus turn very hard and the above mentioned jaggery to rice ratio will not be enough. Give special attention to this.
Along with fresh grated coconut, you can add roasted sesame seeds as well. This will enhance the flavor of laddus.
Shelf life of brown rice laddus is limited 4 to 5 days as fresh coconut is used. If you skip coconut and add only dry fruits then shelf life can be increased from week to 15 days.
https://udupi-recipes.com/2013/11/rice-laddu-kerala-brown-rice-laddu-parboiled-rice-laddu-recipe.html
All the content in this website are © Copyrighted to – Udupi-Recipes