Winter season is back with abundant gooseberries/amlas, oranges and grapes everywhere in the mall. Vitamin C rich fruits and vegetables are said to increase immunity of our body. Needless to say regular use of such fruits and vegetables keeps many diseases at bay. Well, in Udupi we preserve gooseberries too in brine just like mango and jackfruit, so that we can use it through out the year. Such preserved amla or gooseberry is used later in summer to prepare tambli that acts as body coolant. I had some amlas that are brought for "Tulasi Pooja" and I used them in this yoghurt based curry, one of the easy amla recipes. Let us see nellikai tambli recipe now.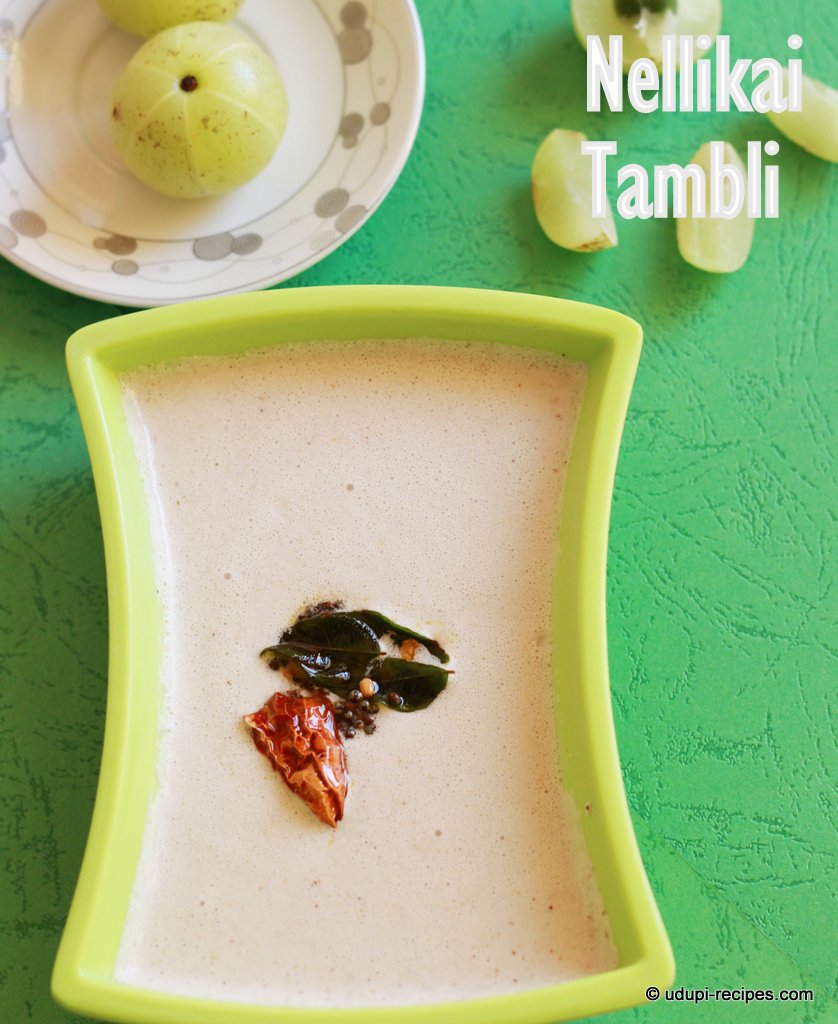 Amla Recipes | Nellikai Tambli | Gooseberry Tambli Recipe
Ingredients
Amla/Gooseberry/Nellikai- 2 no.s
Fresh grated coconut- 4 teaspoon
Cumin seeds- 3/4 teaspoon
Green chillies- 1 no.
Salt- 1 to 1.5 teaspoon
Whisked curds or buttermilk- 1 bowl

Seasoning Ingredients

Coconut oil- 1 teaspoon
Mustard seeds- 1/2 teaspoon
Split black gram lentil- 1/2 teaspoon
Broken redchillies- 1 no.
Curry leaves- few
Instructions
Preparation

Wash and deseed the gooseberries. Keep them aside.

Method

In a mixer add deseeded gooseberries, grated coconut, green chilly, salt and cumin seeds. Grind it to fine paste adding water as required.
Transfer it to a big bowl and add whisked curds or buttermilk. Mix well.
Heat a seasoning pan adding all the seasoning ingredients in the same order as specified above, once when the mustard seeds splutter and split black gram lentil turns to little brown, add the seasoning to amla tambli/Nellikai tambli.
Cooling and vitamin C rich nellikai tambli is ready to serve with hot steamed rice.

Note:

Grind the tambli very finely. You should not get the amla pieces while biting.
The consistency of nellikai tambli should be slightly thinner than normal chutney. When you add whisked curds or buttermilk it tends to be watery. So add water accordingly while grinding.
You can substitute green chillies by red chilly or pepper. Each one gives it's own flavor and tambli will be equally good.
https://udupi-recipes.com/2013/11/amla-recipes-nellikai-tambli-gooseberry-tambli-recipe.html
All the content in this website are © Copyrighted to – Udupi-Recipes
Meet you all with one more interesting Udupi recipe. Till then bye.