"Bitter Gourd" the name itself makes most of our face to pale, because nobody likes it's bitter taste. It is said that we need to consume lunch containing dishes of all tastes like sweet, sour, salt, bitter and hot. All tastes are equally required to make us healthy. We all eat salt, sweet ,sour and hot taste every day but refuse to have bitter. right? At least once in a week it is recommended to consume bitterness too. So I do make a number of bitter gourd recipes and make everyone enjoy it without declining….:). The frequent bitter gourd recipes at our home is bitter gourd palya and bitter gourd curry ( popularly known as "Kanchal kayi rasa" in Udupi). Today I will brief you about bitter gourd curry recipe. Trust me once you taste this you'll never say "No" to bitter gourd and you'll be licking your fingers clean…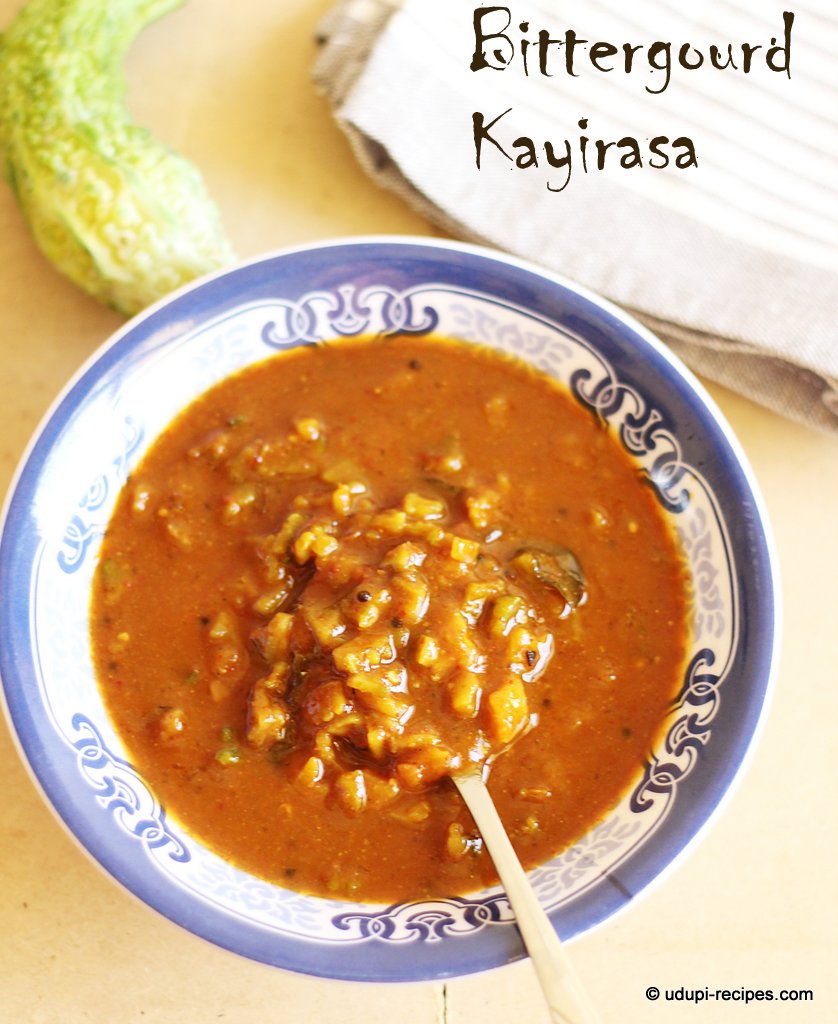 Bitter Gourd Recipes- Bitter Gourd Curry/Bitter Gourd Kayi Rasa Recipe
Ingredients
Bitter gourd- 1 no. big size
Tamarind- big lemon sized
Jaggery- big lemon sized
Salt- 1 teaspoon
Turmeric powder- 3/4 teaspoon
Udupi sambar powder- 1 teaspoon
Asafoetida- Chick pea size

Seasoning ingredients

Cooking oil- 2 teaspoon
Mustard seeds- 1/2 teaspoon
Split black gram/urad dal- 1/2 teaspoon
Red chilly- 1 no.
Curry leaves- Few
Instructions
Preparation

Wash and slit bitter gourd in to half vertically. Then chop it in to thin slices. Add a tea spoon of turmeric powder and a tea spoon of salt to chopped bitter gourd slices. Mix well so that salt and turmeric gets coated on to slices. Keep it marinated for half an hour. This step is mandatory to remove bitterness of bitter gourd.
Soak tamarind in enough water for at least half an hour, extract one cup of it's juice and discard pulp.

Method

Add water to the turmeric coated bitter gourd slices, squeeze them well and keep it aside.
Heat a cooking pan adding cooking oil, mustard seeds, split black gram, broken red chilly and curry leaves. Once the mustard seeds splutter, add squeezed bitter gourd slices to the seasoning. Saute them till the slices turn crispy, at least for 5 minutes.
Add extracted tamarind juice, jaggery and salt. Add water as per the consistency required and let bitter gourd cook well for some time.
Now add Udupi sambar powder and asafoetida to the cooked bitter gourd and saute for a minute.
Tangy, sweet and hot bitter gourd curry is ready. It is a perfect blend of sweet, sour, spicy and slight bitter taste. Serve along with hot rice and relish....

Note:

Frying bitter gourd till crisp in seasoning adds crunchiness to the pieces. So do not forget to do this.
You can store it for two days even without refrigeration in medium hot weather.
https://udupi-recipes.com/2013/06/bitter-gourd-recipes-bitter-gourd-currybitter-gourd-kayi-rasa-recipe.html
All the content in this website are © Copyrighted to – Udupi-Recipes
 Meet you all with one more interesting Udupi recipe. Till then bye.