Dosa is a kind of breakfast which all my family members love to eat, so I prepare variety of dosa every alternate day. Neeru dosa, uppu huli dosa, sajjige rotti, wheat dosa, maida dosa, cucumber dosa, masala dosa, set dosa are the primary breakfast that I do prepare. Even in these dosas I try to alter, add and try new version of it. Today I thought of posting wheat dosa, a crispy dosa recipe for you. Trust me you will love to have it…..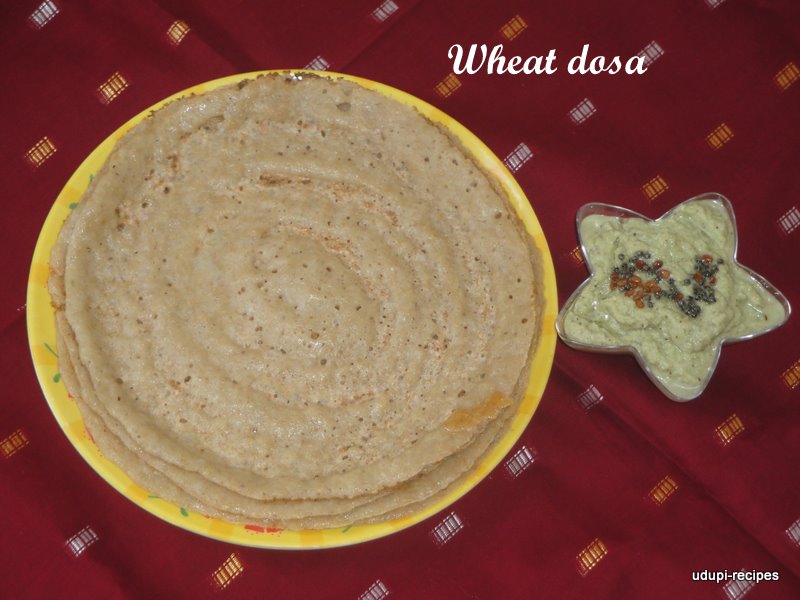 Ingredients
Wheat grains- 1 cup
Grated coconut- 3/4 cup
Green chilly- 2
Ginger- 1" piece
Salt- 1 teaspoon
Instructions
Preparation

Wash and soak wheat grains for 8 to 10 hrs.

Method

Grind the soaked wheat grains along with grated coconut, green chilly, salt and ginger in mixer/grinder. Add water in steps so that the batter gets consistency of normal dosa. No fermentation of the batter is required, straight away you can start with dosa preparation.
Heat a dosa skillet and spread a tea spoon of oil on it. Rub using coconut coir. Pour a ladleful wheat batter at the center. With the back of ladle spread the batter as thin as possible in circular motion from center to widening towards the edge.
Drizzle some oil on the wheat dosa and let it cook for 2 mins with closed lid in a medium flame.
Once done, using a flat spatula remove dosa from the skillet. Repeat the process with rest of the batter. Serve wheat dosa with chutney/ sambar of your choice.

Note:

If you desire you can add chopped curry leaves and coriander leaves to the batter.
Green chilly and ginger are optional, without them the plain wheat dosa too tastes good.
When hot the dosa will be very crispy and tasty. So serve from skillet directly to plate.
https://udupi-recipes.com/2013/01/whole-wheat-dosa-recipe.html
All the content in this website are © Copyrighted to – Udupi-Recipes
Meet you all with one more interesting Udupi recipe. Till then bye.