Sweet, soft and melt in mouth textured badam halwa for you. This square of deliciousness is my all time favorite dessert but I happen to master the recipe just this week. Because I didn't get hold of a foolproof almond halwa recipe till now. Google, the ultimate search engine showed a ton of recipe blogs in which almond halwa is to be consumed like carrot halwa using a cup and spoon. But I was looking for a more genuine recipe in which halwa can be cut as perfect square. Easy to hold and easy to eat isn't it? I got the one recently through a Cook from Bangalore. I had to go back and forth twice with the recipe to get it right. But end result is damn good.
I was overwhelmingly happy to see my badam halwa coming out from the tray being perfect square in shape with soft, even texture and melt in mouth taste.
This halwa needs minimum ghee. Which is what more fascinating to me. For u too? Ok, we are on the same boat. The almonds are cooked till soft and peeled initially. You can even soak them overnight and peel the next day. Latter option is best if you have pre-plans of making this sweet. If you instantly plan for badam halwa then former one is good that is cooking till you can easily peel the skin off.  Once you have a bowl of skin-less almonds, next it is only grinding and stirring.
Saffron strands make lot of difference in the looks. So I love them for making my halwa look gorgeously pretty. It's also important to learn how long to stir the halwa mixture. The  halwa mixture leaves the sides of pan, comes together as mass and that is the indication to stop.
This badam halwa is truly an amazing and rich sweet that needs no explanation. And the below picture tells you all. Isn't it?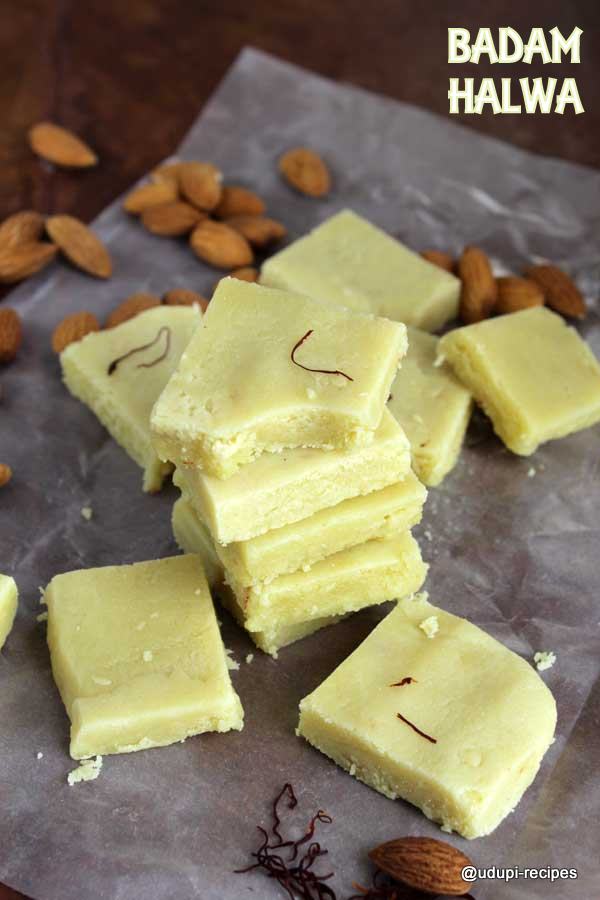 Watch video:
Badam Halwa | Almond Halwa Recipe
Ingredients
Almonds - 1/2 cup
Milk- 1/2 cup + 1 tbsp
Ghee - 1/8 cup
Sugar- 3/4 cup
Saffron strands - 8 to 10 nos.
Instructions
Method

Take almonds in a vessel and add a cup of water. Boil this for 5 minutes and keep it closed. Let it cool down.
When the almonds have cooled completely, drain all the water. The almonds would have doubled in size.
Next peel the skin off from all the almonds. Transfer them to a mixer.
Add 1/2 cup milk and grind it coarsely. It should have sand like grainy texture.
Soak the saffron strands in a tbsp of milk for 10 minutes. Next add a tbsp of ghee to cooking pan. Add sugar and ground almond paste.
Start cooking this mixture in low flame. When sugar dissolves completely, include saffron milk to it and continue cooking.
The mixture gets the color of saffron now and starts spluttering. Be careful at this stage but keep stirring. Include rest of the ghee and continue cooking for almost 10 minutes. The mixture thickens and leaves the pan. If you take little mixture and try to make a ball after cooling, it holds shape.
Transfer the halwa mixture to ghee greased tray and spread evenly. Let it rest for an hour and mark pieces. Then separate them and enjoy.
Badam halwa (almond halwa) is ready to serve.

Notes

Instead of boiling, you can even soak the almonds overnight and then use for making halwa.
Do not grind the peeled almonds in to fine mixture. The ground almond mixture should look like sand in texture.
Do not use more milk than recommended.
Saffron strands give bright yellow color to halwa. So do not skip adding them.
Cook the halwa mixture in low flame only to avoid burning at the bottom.
You cannot afford to leave the pan without stirring for a minute as it tends to stick at the bottom.
In the final stage, the mixture leaves pan and becomes non-sticky. That is when you need to switch off the flame.
After transferring to tray, let it rest for at least one hour. Otherwise you cannot cut in to pieces.
https://udupi-recipes.com/2019/03/badam-halwa-almond-halwa-recipe.html
All the content in this website are © Copyrighted to – Udupi-Recipes