Sometimes you just need to look forward to your breakfast and sometimes=always. Will you look forward to
Really crispy, paper thin pancake?
Potato masala with perfect blend of real spices?
Creamy textured thick peanuts chutney?
YOU TELL ME. If this question is asked to me, I would probably say YES with broad smile because I am like that. Rava masala dosa makes me dream for my breakfast. It's a bliss to devour crispy pancake pairing with potato masala and creamy peanut chutney. My mouth is watering already as I type these words..Oh my gosh. Look at the color of this thin, breakable dosa straight from the griddle. Quite appetizing.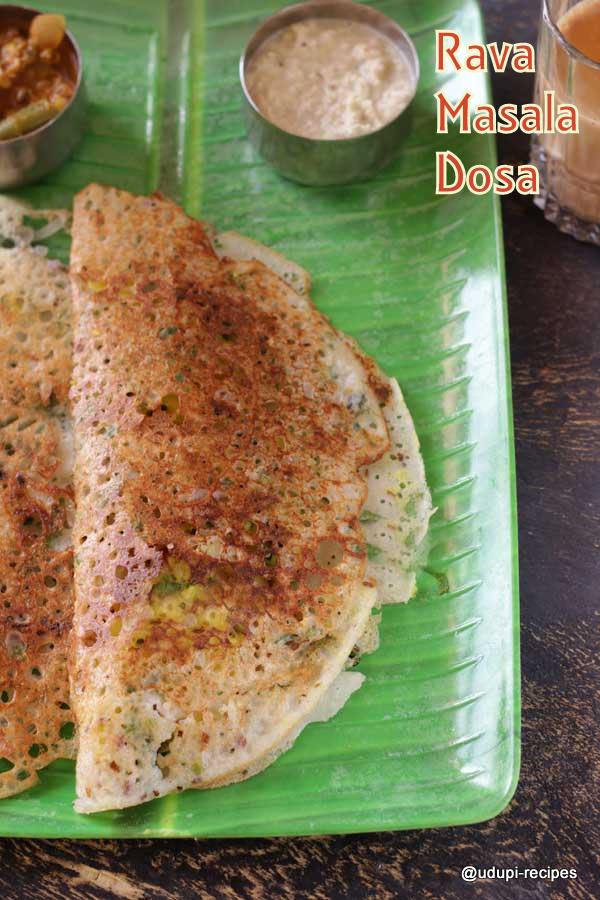 Let me tell a pre-requisite thing before making this rava masala dosa.  You need to eat the dosa straight from hot griddle. Because the crispiness doesn't last longer. It  loses the crisp, fragility in few minutes. And you cannot enjoy real taste.
Also ensure you have few more minutes to spend in the kitchen. As you plan rava masala dosa, the first thing to keep in mind is to cook them in medium low flame until turns crisp. Which requires some patience and you would find it is worth enough to spend those extra minutes after eating dosa.
Instead of simple rava dosa, if you make potato masala and eat like masala dosa, it's a great breakfast indeed. Because potato masala and peanut chutney takes the deliciousness to next level.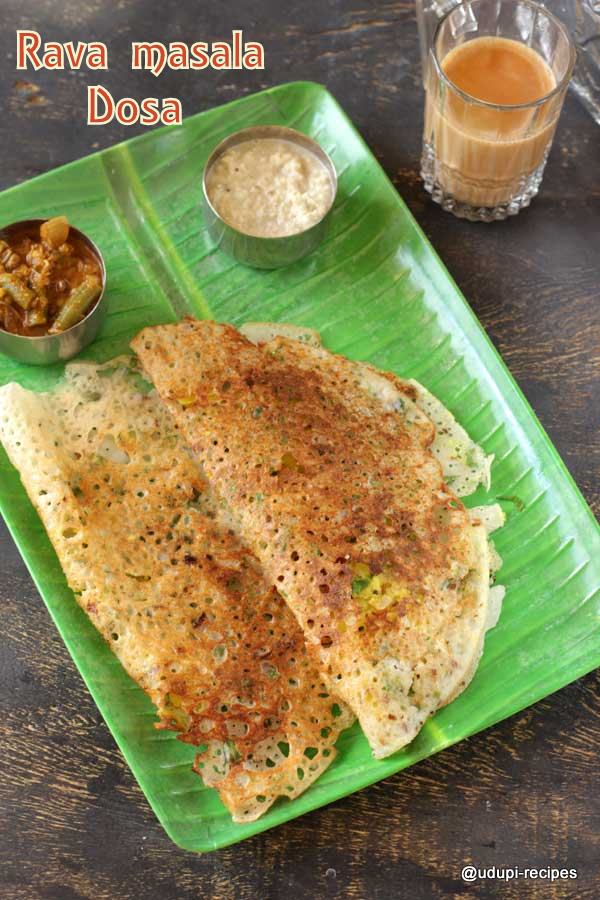 Watch the video:
Rava Masala Dosa | Instant Masala Dosa
Ingredients
Rava (semolina) - 1/2 cup
Rice flour- 1/2 cup
Maida (all purpose flour)- 1/4 cup
Yougurt (curds)- 1 tbsp
Water - 1.5 cups or more
Cumin seeds - 1/2 tsp
Blackpepper (crushed) - 1/2 tsp
Onion - 1 no.
Coriander leaves- 1/4 cup
Curry leaves- few
Salt- 1 tsp (as needed)
Oil- as needed to cook

For masala

Oil - 2 tsp
Mustard seeds - 1/2 tsp
Cumin seeds- 1/2 tsp
Split blackgram lentils - 1/2 tsp
Chickpea lentils- 1/2 tsp
Curry leaves - few
Onion - 1 no.
Potato - 2 nos.
Green chillies- 2 no.
Turmeric powder - 1/4 tsp
Ginger chopped - 1 tsp
Coriander leaves- Little
Lemon - 1/2
Instructions
Preparation

Chop onions, coriander leaves and curry leaves very finely and keep aside.
Pressure cook potatoes till soft. Peel the skin off and mash them. Keep aside till use.

Method

In a wide bowl add rava, rice flour and maida together.
Include yogurt and water as needed. Mix well.
This dosa needs the batter to be watery. So include some more water and adjust consistency. Next add cumin seeds, pepper, onion, coriander leaves, curry leaves and salt.
Mix all these and keep the batter aside for 15-20 minutes. Next to prepare masala, heat a pan adding oil, mustard seeds, lentils and curry leaves. Saute till the lentils turn brown.
Next add onion and stir till it turns translucent. Include ginger,mashed potato, turmeric powder and green chillies. Mix and cook for few minutes. Add some water, coriander leaves and squeeze in dash of lemon. Masala for dosa is ready.
The batter after resting might have turned little thick. If so, adjust consistency. Take a ladle full of batter and spill over hot griddle as dosa. Cook it covered till it turns brown. Keep some masala at the center and carefully loosen the dosa to remove.
Crispy rava masala dosa is ready to serve with chutney and sambar.

Notes

The proportion of rava, rice flour and maida is 1:1:1/2. It makes the perfect crispy dosa.
The dosa batter should be of flowing consistency. So adjust accordingly.
This dosa takes some time to cook. You need to wait till it turns crispy. Otherwise it's soft.
Every time before making dosa, stir the batter once. Because the ingredients settle down at the bottom.
You include chopped ginger, green chillies also to the batter.
https://udupi-recipes.com/2019/02/rava-masala-dosa-instant-masala-dosa.html
All the content in this website are © Copyrighted to – Udupi-Recipes