This Kaja sweet is the simplest one with which I could start my series of Diwali sweets this year. These are cute, little sweet things which doesn't seem to be heavily loaded with sugar. And I am easily inclined to less-sugar sweets, which is why madatha kaja sweet is the first one this year. I loved the thin sugar coated flaky layers that were crisp even after couple of days. Last year when I happened to go to a food festival of Karnataka here in UAE, I got the chance to eat madatha kaja in a "Karnataka special" food stall. Obviously it caught my attention. The crispy layers  of  Kaja were gorgeously attractive.  Looked like they are wrapped in the glossy sugar coating. When I tasted it, the taste was more or less like badusha. So before giving hands on Badusha recipe I tried this madatha kaja sweet and it's worth trying.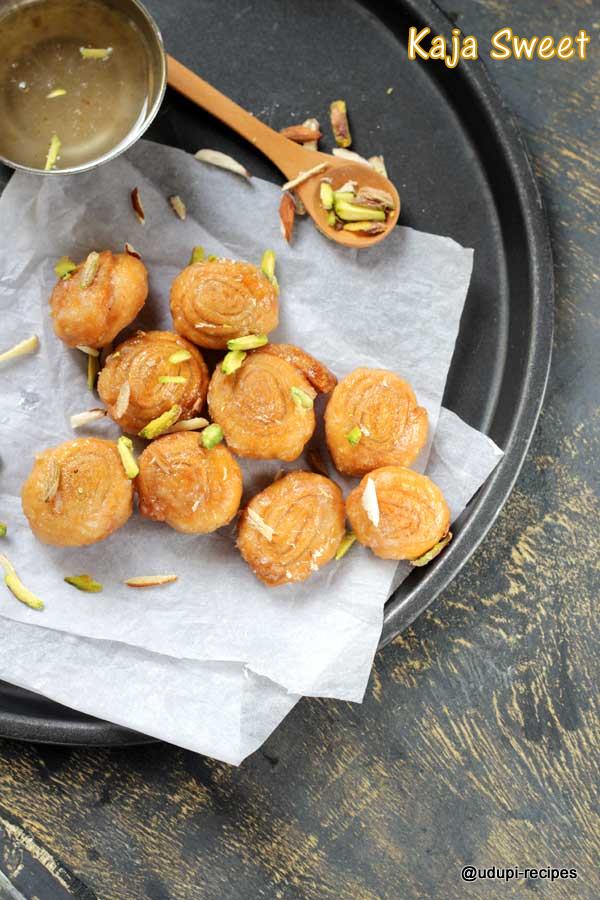 I would like to share few quick tips for the perfect Kaja sweet.
 It's the ghee that you add to flour initially gives the flaky texture. So get the maida in to crumbled form by adding ghee initially. You can even warm up ghee.
 Stiff and smooth textured dough always lets you roll very thin. Which can turn crisp after deep frying. So keep an eye on water that you pour to knead dough.
 Let the sugar syrup attain single syrup consistency or less. No worries. The consistency doesn't ruin the taste, texture and shape of the sweet.
Almond and pistachio toppings make the sweet look good in the eyes of camera, so I have added. Otherwise they aren't necessary.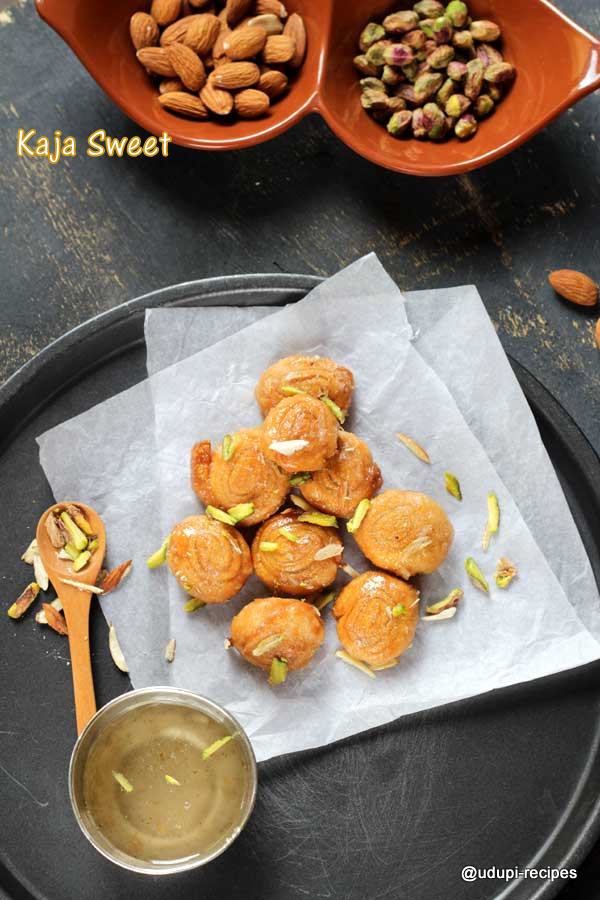 Kaja Sweet | Madatha Kaja Recipe
Ingredients
All purpose flour (Maida)- 1/2 cup + 2 tbsp for dusting
Ghee- 1 tsp + 1 tsp
Water- 1/8 cup or as needed
Cooking oil- Enough to deep fry
Pistachioed and alomonds- enough to garnish

For sugar syrup

Sugar- 1/2 cup
Water- 1/8 cup
Cardamom powder- 1/4 tsp
Lemon juice- 1 tsp
Instructions
Method

In a cooking vessel add sugar and water, cook it in medium flame. Sugar dissolves slowly.
When the sugar syrup consistency is of single thread, switch off the flame. Add cardamom powder and include lemon juice.
Take maida in a bowl and add ghee to it. Using your fingers mix it well so that the flour gets crumbled form.
Next, add water little by little incrementally and knead a stiff dough.
Cover the dough with damp cloth for 20 minutes and then divide in to two equal parts. Dusting enough flour roll each one as thin chapati.
Next on the surface of rolled dough spread ghee all over using a brush or back of the spoon.
Sprinkle some dry flour all over. Now cover this up with the other rolled dough as shown below.
Next fold the chapati tightly like a log. And cut this log in to pices of approximately 1 cm thickness.
Take each piece and press it slightly and give it a shape. Ensure the layers are intact.
Next heat a wok with enough cooking oil, when it gets heated up, deep fry the ready kajas batch-wise. Keep the flame medium and fry till they turn brown.
Next immerse these fried kajas in sugar syrup for about 5 to 10 minutes. Let them absorb syrup and then remove from the syrup and store.
Flaky and crispy Kaja sweet is ready to serve.

Notes

The sugar syrup will not be consumed completely. So you can use the remaining syrup for other sweet.
To check sugar syrup consistency, take a drop of syrup between your index finger and thumb, if it forms a single thread then it's done.
The maida dough should be stiff without any cracks, so use water accordingly.
Roll the maida dough as thin as possible to get crispy kaja sweet.
You can even roll 3 to 4 chapatis, place one over the other and fold like log to get more layers in the sweet.
Do not fry in high flame because the layers may remain uncooked. Keep the flame low medium and cook the sweet slowly for even cooking.
https://udupi-recipes.com/2018/10/kaja-sweet-madatha-kaja-recipe.html
All the content in this website are © Copyrighted to – Udupi-Recipes