Summer delicacies are still ON at my sweet little Udupi recipes kitchen. Some cold treats for kids, some long lasting reserves and some mango delights are the summer specials that I am talking about. Whatever I post under the title of summer special would fall in any one of the above. Today it's crispy poha fryum, a long lasting condiment that can be stored for months to year.
I tend to derail from the potential recipe list when I find an easier, yet interesting recipe on my way. After poha papad, I knew how easy it is to use rice flakes in a papad form. Because there isn't any cooking involved  at all.  So I deviated from my list of recipes for this month to post a quick, easy and delicious poha fryum.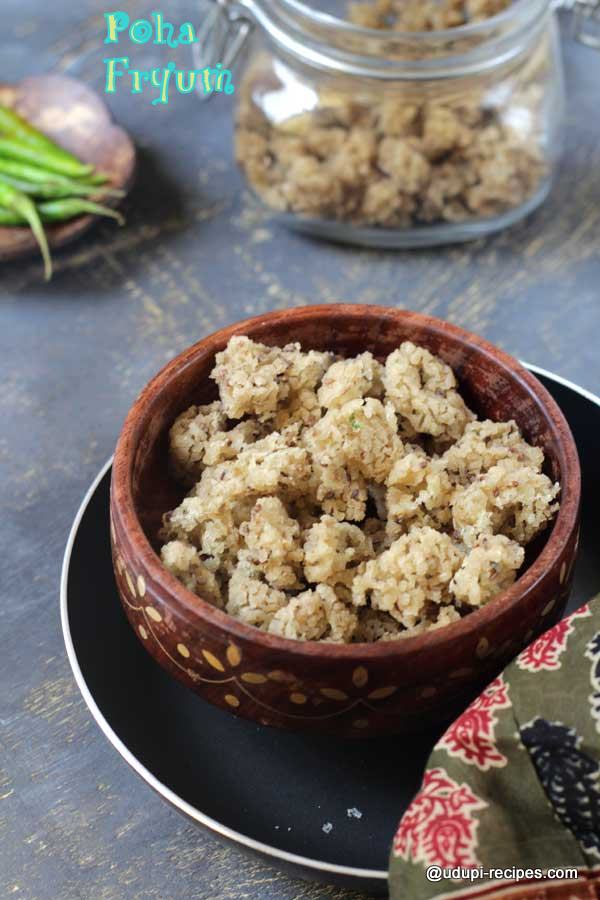 We at our home love the simple meal with only rice and rasam. If it accompanies some crispy fryums or papad, then it's feast for us. So I never lose the opportunity to try and store such long lasting delicacies because they are after all my part of my everyday meal.
Please note: this long lasting summer special treat doesn't need much of your time. Just in 20-30 minutes, you can wrap up making a batch of it.  Seriously, you need only 20-30 minutes because there isn't any cooking to make fryum batter. So if you are hesitating to try any fryum recipe assuming elaborated time demand, then this is perfect recipe for you.
Poha Fryum | Avalakki Sandige Recipe
Ingredients
Thin rice flakes- 2 cups
Water- 1.5 cups
Green chillies- 2 nos.
Salt- 1 tsp
Cumin seeds- 1 tsp
Curry leaves- Few
Black sesame seeds- 2 tsp
Instructions
Preparation

Take rice flakes in a bowl and soak it in water for at least 15 minutes.

Method

Coarsely grind green chillies, cumin, salt and curry leaves together using a mixer. You can include little water for ease of grinding. Rice flakes would have absorbed all water by now.
Using a potato masher or ladle, mash the soaked rice flakes very well. Add the ground green chilly paste from above step and mix it up.
Finally add sesame seeds and give a nice mix. Now the fryum dough is ready.
Next pinch a small portion of this dough and place over a tray at equal distance. Repeat this process till the dough is over. You can even use a clean cotton cloth instead of tray.
Place the tray under sun for at least 2 days or till the fryums are dry. Turn them over in between to ensure even drying of fryums.
Store it in an airtight container. Deep fry them as and when required and relish with rice-rasam.
Poha fryums are too easy to make and crispy to eat.

Notes

You can even use thick rice flakes. In that case soaking time should be more.
You can use some mint leaves along with green chillies for different taste.
After sun drying, the fryums shrink in size, so do not make them very small.
https://udupi-recipes.com/2018/05/poha-fryum-avalakki-sandige-recipe.html
All the content in this website are © Copyrighted to – Udupi-Recipes