Let me start the New year with a wonderful and quick dessert vermicelli kesari.
The year 2016 has been drew to an END and brand new 2017 calendars have been hung on the walls of each room. When I introspect the days passed by, it has been a year of graceful moments; some good, some bad and some were really hard. It was a year which assembled all my extended family members under one roof for a glorious celebration where the laughter, the love and the bonding reflected eternally. I stumbled upon some new healthy eating and living techniques last year and adopted them accordingly.
The year was remarkable in my life in the sense, I began learning something that I never attempted before. It may not be perfect or not in a way as I expect but learning gives me a sort of satisfaction. So in a nutshell, the year had everything from laughter to tear, excitement to joy and love to pain. Leaving behind the negativity, I am welcoming the NEW YEAR with all positive vibes. So are you. Right friends?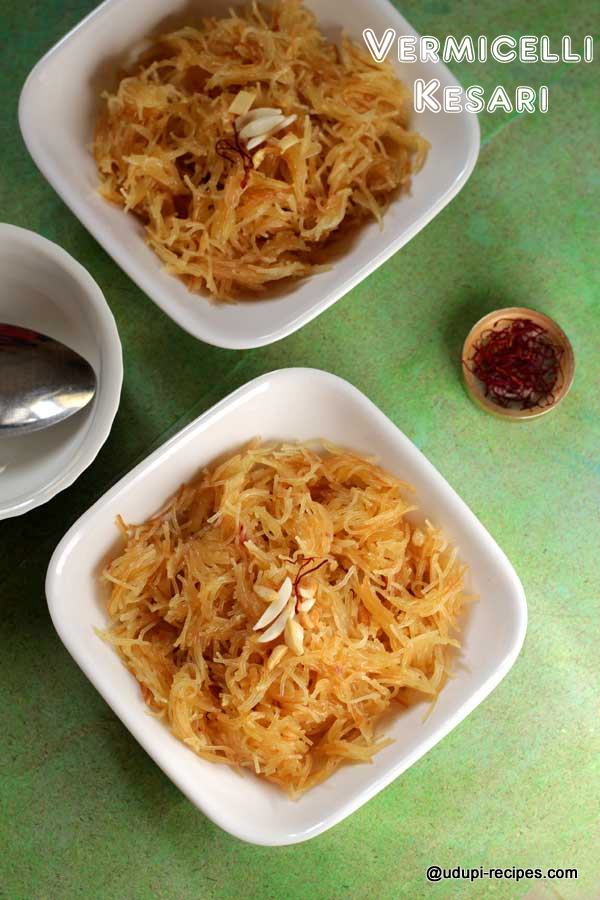 With respect to blog, the year 2016 has given both rise and fall equally. Though the number of visitors which is technically termed as traffic has been growing steadily, the revenue wasn't so. It was average till the middle of the year, then began to climb up and reached a decent amount as the year ended. I push myself for consistently posting interesting recipes with little improvements every time. This is what makes the blog grow content-wise, traffic-wise and revenue-wise. I hope, the year 2017 would double up my energy to do things that I am good at.
Vermicelli kesari like a normal rava kesari is easiest of all desserts. It has the wonderful aroma of saffron and has perfect sugar plus ghee infusion.  The fine strands of vermicelli drenched in sugar and ghee taste overwhelmingly delicious and stand out from regular ones.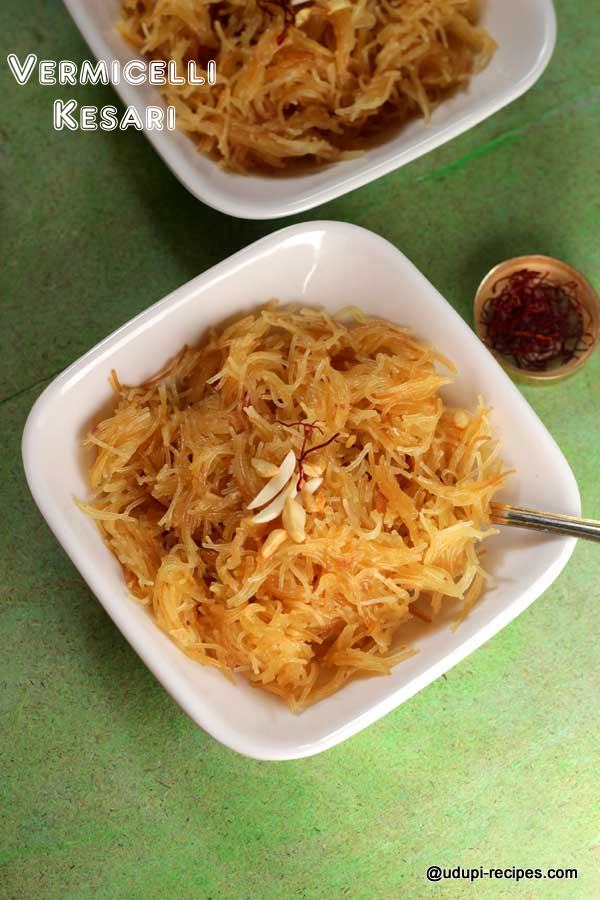 Vermicelli Kesari | Semiya Kesari Recipe
Ingredients
Fine vermicelli (semiya)- 1 cup
Sugar- 1/2 cup
Ghee- 4 tsp
Water- 1 cup
Saffron strands (kesari)- Few
Cardamoms- 2 nos.
Broken cashews- Few
Almond- 2 nos (optional)
Instructions
Preparation

De-seed the cardamoms and powder it finely using mortar and pestle. Keep it aside.

Method

Heat a teaspoon of ghee in a pan and roast the broken cashews till they change in color. Remove from pan and keep aside. Next add remaining 3 tsp of ghee and vermicelli to the pan.
Stirring constantly, roast the vermicelli till the ghee coats them well and nice aroma wafts out. Add a cup of water and let the vermicelli cook which will take around 5 minutes. Meanwhile soak the saffron strands in 2 tea spoon of water.
Vermicelli absorbs water and becomes soft after cooking. You can check it by pressing a strand between your thumb and index finger. Next add sugar to the cooked vermicelli.
As the sugar dissolves the vermicelli loosen up, add saffron soaked water, cashews and cardamom powder finally. Let it cook up for few more minutes till it comes together as mass.
Delicious vermicelli kesari is ready to serve. Garnish with almond pieces.

Notes

I have used fine variety vermicelli which needs water in the ratio of 1:1. It may vary depending on type of vermicelli you are using.
Make sure the vermicelli is cooked well in water before adding sugar otherwise vermicelli would be chewy and hard.
You can use any food color to enrich the look. I used natural saffron itself.
You need less ghee for this vermicelli kesari than normal rava kesari.
https://udupi-recipes.com/2017/01/vermicelli-kesari-semiya-kesari-recipe.html
All the content in this website are © Copyrighted to – Udupi-Recipes