Hyacinth beans are healthy cooking things which is probably showing it's face for the first time here. This beans has entered my kitchen when I stayed in silicon city, Bangalore for 4 plus years. If you find yourself in Bangalore-Mysore region during winter season, you can witness 90% of women who would be cooking or peeling or eating this beans on daily basis. The people of this region have immense love towards hyacinth beans and they make most savory and sweet things out of it. Being associated with people of Bangalore while juggling myself between work and family,  I too learnt some basic hyacinth recipes. The first one among them is hyacinth beans upma (avarekalu uppittu).
The simplest breakfast upma tastes way too good with these beans.  The upma in its most basic form has only seasoning, salt and semolina(rava) in it. But it can take vivid form with vegetables, hyacinth beans, greens and lentils. With every variation and twist the upma tastes overwhelmingly delicious to me. But nevertheless, upma has it's own group of haters. I have seen certain people in my life who never even taste it.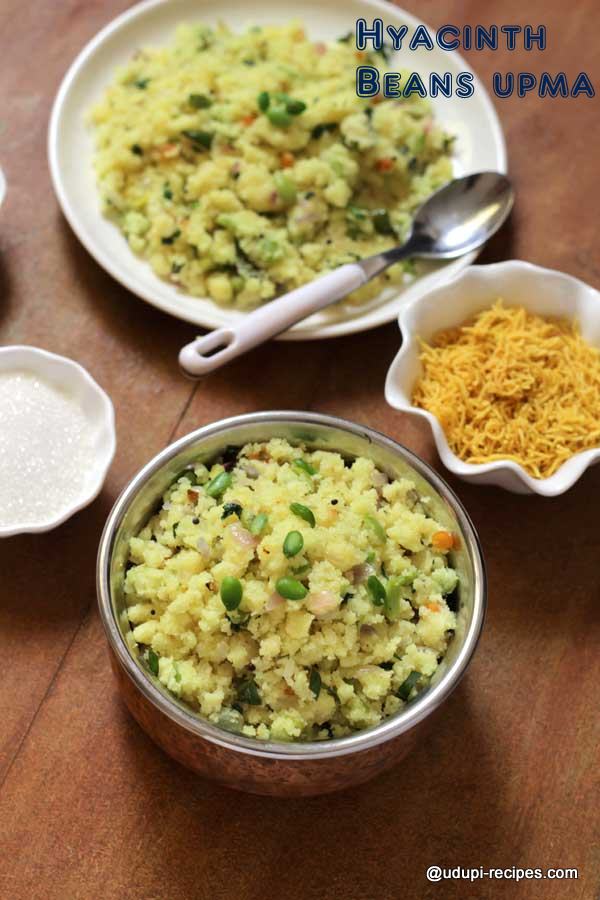 This rava upma finds it's place on dinner table too at my home. Seriously!!! You may find it difficult to believe but it's true. When cooked rice is insufficient to fill the hunger pangs of all four of us, then as a quick fix I cook upma. And it is hyacinth beans upma if the beans are in season.
I guess I have to talk about how it is being served too.  If you love some crunch bite, then I recommend you to top your plate of upma with plain nylon sev. Sweet tooth guys or kids would prefer to eat upma sprinkled with lot of sugar. Coconut chutney, pickle, yogurt can also pair very deliciously with upma and I love all of them. What about you??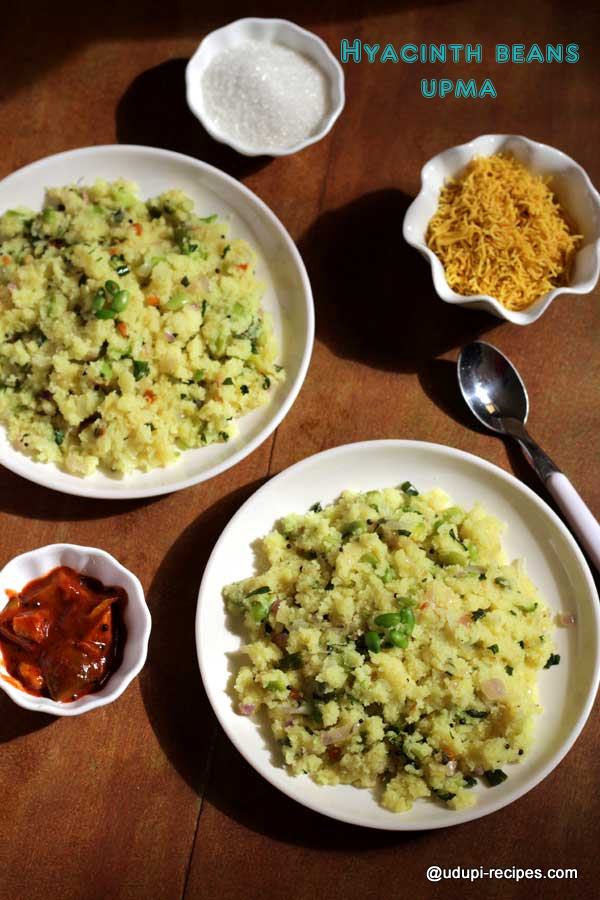 Hyacinth Beans Upma | Avarekalu Uppittu Recipe
Ingredients
Hyacinth beans- 1/4 cup
Medium rava or bansi rava- 1 cup
Onions- 1 no.
Green chillies- 1 or 2 nos.
Salt- 1 tsp
Chopped ginger- 1 tsp
Turmeric powder- 1/4 tsp
Lemon- Half
Coriander leaves- Handful
Curry leaves- Few
Ghee- 3 tsp (optional)

Seasoning ingredients

Cooking oil- 6 tsp
Mustard seeds- 1 tsp
Split black gram lentils- 1 tsp
Split chickpea lentils- 1 tsp
Instructions
Preparation

Pressure cook byacinth beans with enough water for 3 whistles or till soft.

Method

Peel off the onion and chop it finely. Similarly chop coriander leaves and curry leaves, slit green chillies and keep them ready till use. Heat a pan adding oil, mustard seeds followed by both the lentils. Saute till the lentils change in color, then add curry leaves, chopped ginger and onion.
Continue sauteing till the onions turn translucent. Next include the medium rav and turmeric powder. Roast the rava with constant stirring. This may take about 5 to 8 minutes.
Meanwhile, get 2 cups of water to rolling boil. You can use water drained from beans too. Carefully pour the hot water and beans to roasted rava. Keep the flame low at this stage. Combine well and let it cook for few minutes.
Finally top it with chopped coriander leaves, ghee and squeeze lemon. Delicious hyacinth upma or avarekalu uppittu is ready to serve as breakfast or evening snack.

Notes

Roasting rava is an important step. Stir constantly and be careful not to burn the sooji.
While adding water to the roasted rava, keep the flame low as it splutters a lot.
You can increase green chillies as per your taste buds. Also you can use some pepper corns for heat.
Do not overcook hyacinth beans, you should feel them in every bite.
Adding ghee on top enhances the flavor and taste.
https://udupi-recipes.com/2017/01/hyacinth-beans-upma-avarekalu-uppittu.html
All the content in this website are © Copyrighted to – Udupi-Recipes