2017 !!! New year, New thoughts, New innovations in cooking for the first ever festival is how my year started off. As the year rolled in, my food thoughts were revolving around the Sankranti festival which usually falls on January 14th. Though ven pongal and sweet pongal are the traditional food which gets prepared at every South Indian's home, I was looking for some variations. Not only me, this happens in every food blogger's mind perhaps who inspires others to cook setting herself as an example. Likewise, I used up rice flakes and called it as poha sweet pongal which exactly resembles the original. The pictures below justify the same right??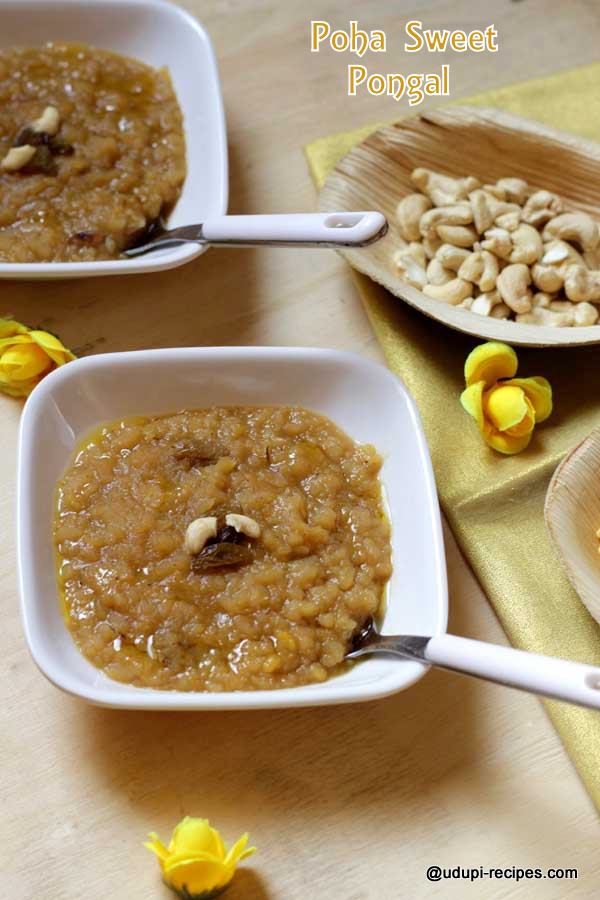 Poha sweet pongal has all the basic ingredients that a pongal recipe calls for. Say split green gram lentils, jaggery and ghee. Only twist here is: thick rice flakes are used as substitute to RICE. This substitution actually brings down the overall cooking time as rice flakes don't need much time to cook.
The nutty aroma of lentils, sweetness of jaggery, dripping ghee and crunchy nuts like cashews elevate the deliciousness of sweet pongal and make the festival to be remembered for it's crazy feast.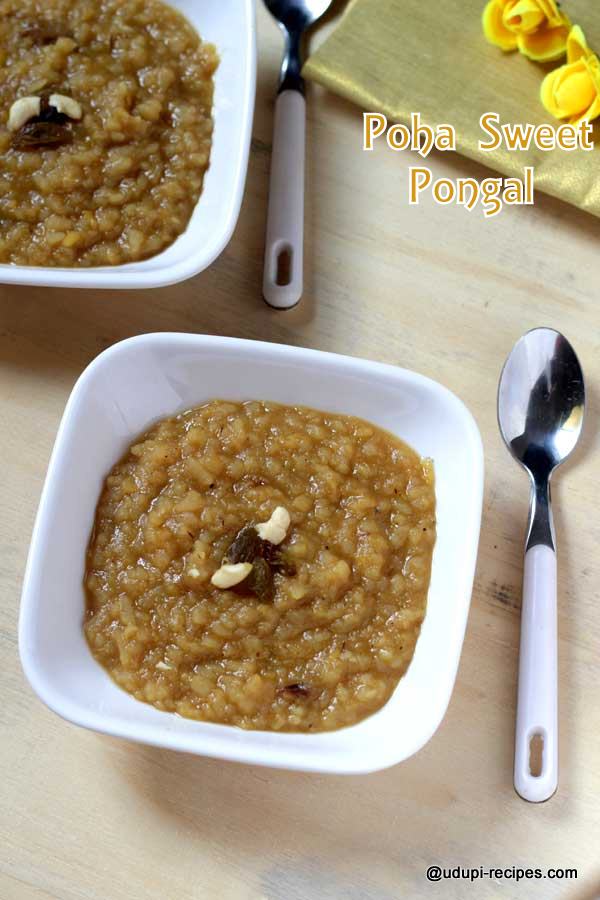 Poha Sweet Pongal | Avalakki Sihi Pongal
Ingredients
Thick rice flakes (poha)- 1 cup
Jaggery- 3/4 cup to 1 cup
Split green gram lentils- 1/4 cup
Desiccated coconut- 1/3 cup
Cashew nuts- Handful
Raisins- Handful
Cardamoms- 2 nos.
Nutmeg powder- A pinch
Ghee- 5 tsp
Water- 2.5 cups
Instructions
Preparation

Heat a pan with split green gram lentils and roast them in medium flame for few minutes. But ensure the lentils doesn't change color to brown.

Method

Take the roasted lentils in a bowl and add a cup of water. Pressure cook the lentils till they are soft and mushy. I cooked for 3 whistles in medium flame. Once cooked mash them and keep it ready.
Next heat a pan with a tea spoon of ghee and roast cashews followed by raisins. Transfer them and then add jaggery with 1/2 cup of water to the same pan.
Cook the jaggery for few minutes till it dissolves completely. Filter this jaggery syrup to remove the impurities and put it back in the pan to cook.
Rinse the rice flakes with some water and drain it off. Next include cooked lentils and rice flakes to the jaggery syrup and continue cooking.
The lentils and rice flakes infuse the jaggery within and become thick. Add one more cup of water, desiccated coconut, ghee, nutmeg powder and roasted nuts. Mix and let it cook for few more minutes.
Delicious poha sweet pongal is ready to serve.

Notes

Ensure the green gram lentils are roasted evenly, do not brown them.
The jaggery just needs to be dissolved in water and consistency check is not necessary.
If you are serving the pongal immediately then 2 cups water is enough otherwise you may require little more water.
The water quantity varies with the quality of rice flakes too.
Rice flakes to jaggery ratio is 1:1, as I don't have sweet teeth I prefer little less. So I used 3/4 cup of jaggery.
https://udupi-recipes.com/2017/01/poha-sweet-pongal-avalakki-sihi-pongal.html
All the content in this website are © Copyrighted to – Udupi-Recipes