Friday, Friday, Fridayyyyyyyy.
The day where we are all trying to slow down while also keeping up with our ambitions, dreams and responsibilities and just trying to get our lives together and be happy.  Weekends happen to be slow and lazy for every one, but today it wasn't for me. Normally I don't cook for blog on Fridays, instead I focus myself in cooking for family which they love and adore to eat.  Inline with that routine I got added up with a blog food plus blog video today which doubled up my stay in kitchen. And right now I am posting  an incredible rice side dish ridge gourd kootu in this virtual space of mine which is my passion and kind of self appointed job.
A super delicious rice side dish can easily clear off a plateful of rice in minutes. So, like every mom, I do this trick of making a real, veggie treat with spice level being mild and normal for kids that surely have second and third servings . This pretty good looking ridge gourd kootu, where green veggie cubes are popping out is  deliciously delicious and can keep your meal cravings high during dinner.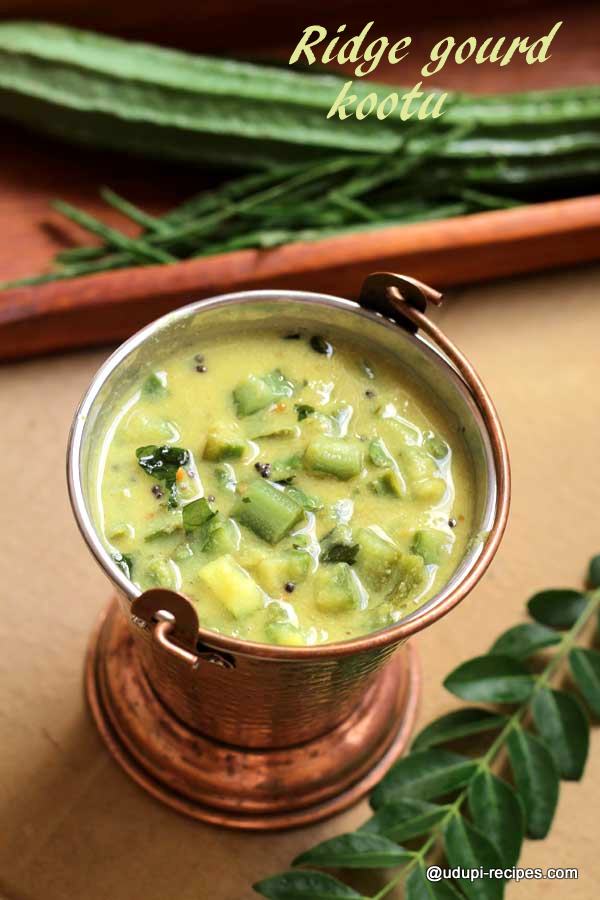 Kootu is obviously no new word to you right?? Because I already have this damn good snake gourd kootu in the blog and you apparently might have cooked it as well. I know. I know You and me are twins when it comes to food. Ridge gourd, a vegetable being so very tender gets cooked in no time. As you saute the cubes they ooze out water and become soft and light, hence it's one of cooking friendly veggie that I love to deal with.
Ridge gourd kootu has both lentils and coconut puree (where coconut is minced with cumin and green chillies). Intentionally I kept the spice level low and used only two green chillies and you can adjust them as you prefer. The cooked lentils and flavorful coconut puree get nicely blend with veggie cubes and become a companion with steamed rice.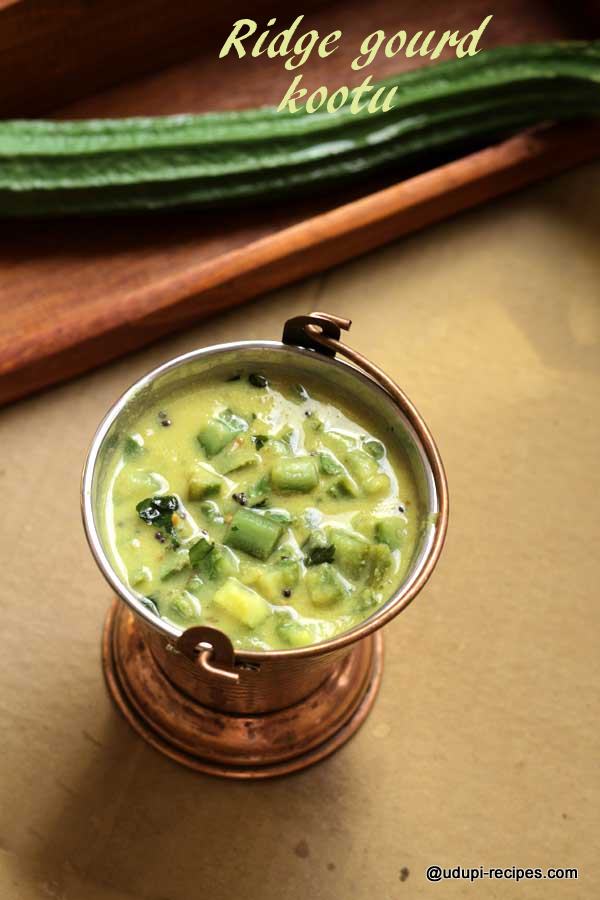 Ingredients
Tender ridge gourd- 2 nos.
Fresh grated coconut- 1/2 cup
Pigeon pea lentils (toor dal)- 1/4 cup
Tamarind paste- 1 tsp
Turmeric powder- 1/2 tsp
Green chillies- 2 nos.
Cumin seeds- 1/2 tsp
Salt- 1 tsp

Seasoning ingredients

Cooking oil- 2 tsp
Mustard seeds- 1/2 tsp
Split black gram lentils- 1/2 tsp
Curry leaves- Few
Instructions
Preparation

Wash the veggie under running water and trim the edges. Carefully remove the ridges using a sharp knife. And chop it in to small cubes.

Method

Pressure cook toor dal with enough water till it is soft and mushy. Meanwhile soak tamarind in 1/4 cup of warm water for about 10 minutes. Extract it's juice and keep it ready.
Next get the coconut puree ready. Grind coconut, cumin and green chillies together with little water to fine puree.
Heat a pan with oil, mustard seeds, lentils and curry leaves. Saute for a while and when the mustard seeds sizzle, add the chopped ridge gourd cubes. Saute and add turmeric and tamarind juice.
The ridge gourd which is soft veggie, takes very little time to cook. When the cubes turn little pale, add in cooked toor dal and coconut puree. Finally add salt and little water. Bring it to boil and switch off.
Tasty and delicious ridge gourd kootu is ready to serve with steamed rice.

Notes

When you chop the ridge gourd, taste a bite and ensure it's not bitter. Some times it tends to be bitter and ruin the taste.
Do not overcook the veggie to mushy. It tastes good to feel the crunch while biting.
Do not use coconut more than mentioned which will change the color towards white.
Adjust consistency by adding required water, but ensure it's not runny.
I liked the flavor of cumin in this kootu.
https://udupi-recipes.com/2016/11/ridge-gourd-kootu-recipe.html
All the content in this website are © Copyrighted to – Udupi-Recipes