This is official food marathon in the month of October and I have started taking baby steps. Baby steps because I take many trials before a sweet thing can actually make it's place here in this small internet space. Some of the delicious stuff seem very easy to cook but surprisingly they are not. Like this Adhirasam !!! Going back and forth with the recipe, fine tuning it, being extra sensitive to each trick in a way to master the recipe, consulting all food intellectual persons for the input is how my days are passing most of this month. Let me call October <= You are crazy or you make me crazy.
It's quite obvious for you to find me involved in Diwali preparations too early than usual. Practically speaking I have to start it early to make things easier for you. My home is having too many sweets and snacks way too early than Diwali which end up being cleared off before the actual festival. This is the truth of my food blogging life. 🙂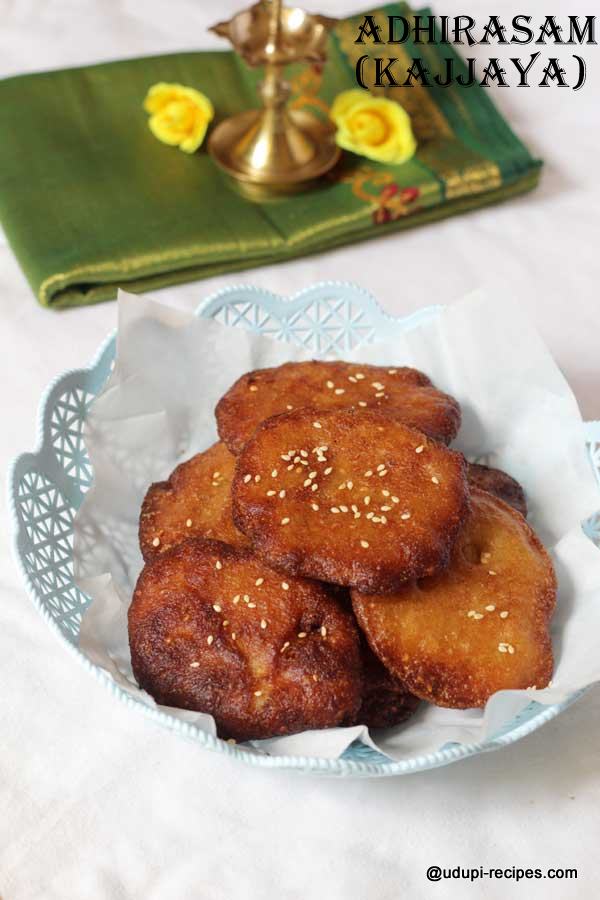 Lets head towards the theme of today's post that is Adhirasam which is probably called as 'Kajjaya' in Kannada and it is deliciously delicious. You need to keep certain things in mind to master it.
Sugar syrup consistency : Sugar syrup should be of soft ball consistency where a drop of syrup keeps firm in water and can be rolled to a ball.
Keep the rice and rice flour moist until you make dough. And this dough should be gooey and loose which will turn sticky after a day when you deep fry. If the dough gets too hard after resting,  then add a teaspoon of milk to make it perfect. Just a way of troubleshooting.
This luscious sweet thing adhirasam is too yummy and  real blessing of this festival.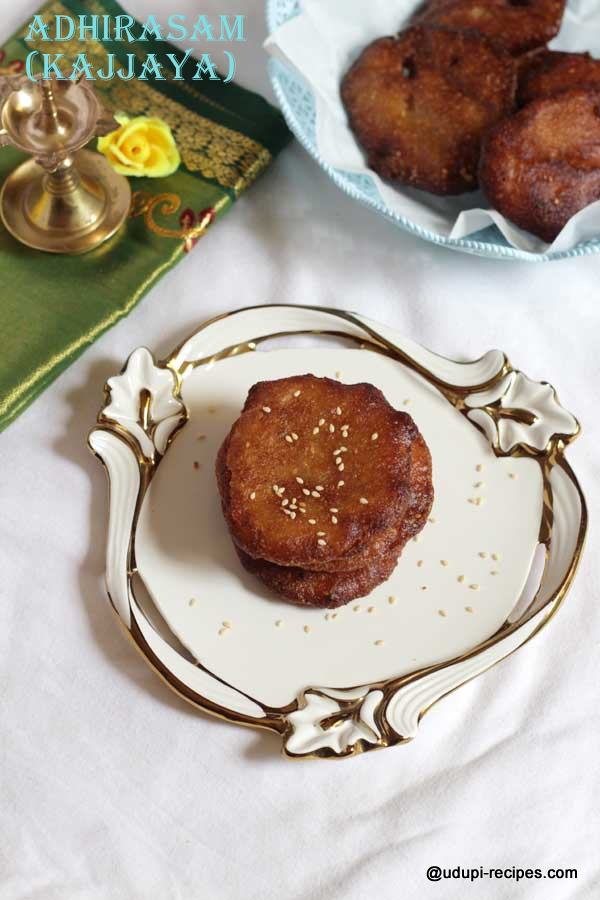 Adhirasam | Athirasa | Kajjaya Recipe
Ingredients
Raw rice- 1 cup
Powdered jaggery- 1 cup
Cardamom powder- 1 tsp
Roasted white sesame seeds- 4 tsp
Cooking oil - Enough to deep fry
Instructions
Preparation

Soak rice in enough water for about 2 hours. Rinse well and drain it, spread over a cotton cloth and let it be under shade for about half an hour.

Method

Now the rice wouldn't be dripping but it still would be having moisture in it. This is the right time to get it powdered. So take the rice in a mixer and grind to fine powder. Sieve this rice flour and transfer it to a wide bowl.
Add sesame seeds and cardamom powder to the flour, mix and keep it covered, so that moisture isn't lost. Next heat a wok with jaggery and little water (around 1/4 cup). Cook till the jaggery dissolves completely.
Get the jaggery syrup filtered by pouring it through the fine strainer. This helps to remove the impurities. Next heat jaggery syrup in the same wok till syrup reaches soft ball consistency. Meaning when you pour a drop of syrup in some water, it should be firm such that you can make ball out of it.
Next add jaggery syrup in parts to the rice flour in the bowl. Keep mixing as you add the syrup. The rice flour would absorb the syrup and becomes gooey and loose. You don't require all jaggery syrup, so add as needed. Let this gooey dough rest in a container for about a day.
Next day you will find the dough stiff and sticky. Greasing some ghee to your palms, take lemon sized dough and pat it over a banana leaf like thick disc. Heat oil in heavy bottom pan and drop the disc in to oil. As it puffs up, turn to cook the other side.
When it turns brown, remove from oil and using one more spatula press to drain extra oil.
continue this process till you are done with all the dough. Adhirasam or kajjaya is ready to serve as Diwali sweet.

Notes

The trick is not to get the rice and rice flour dry, so you have to spread it over a cotton cloth in shade itself not under SUN.
When you powder the rice, it should still retain moisture but not dripping. Keep the flour closed so that it wouldn't get dried up.
The jaggery syrup consistency is very very important for the perfect adhirasam. So ensure soft ball consistency of syrup.
When you initially mix the flour with syrup, it should be gooey and loose. So use jaggery syrup accordingly.
Give the dough resting time of at least 24 hours in room temperature. You can even keep for 2 days but not more than that.
Use banana leaf or zip-lock plastic sheet to pat adhirasam. Do not pat too thin because it turns crisp not soft after frying.
Always deep fry in medium flame to avoid adhirasam getting burnt.
You can store these sweet things for a week to fortnight at room temperature.
https://udupi-recipes.com/2016/10/adhirasam-athirasa-kajjaya-recipe.html
All the content in this website are © Copyrighted to – Udupi-Recipes