Some seriously exciting things are happening right now in my kitchen ranging from this moong murukku to two layer chocolate burfi which is coming soon. Because it's Diwali guys, a festival that has all the glory of lights, crackers and of course the food, more specifically sweet and savory things.
Flip back through a few snack recipes in the blog,  you will see the blazing truth: I like murukkus a lot. Probably too much. Probably to the point of weird much. That is the reason I have initialized my savory condiments list with moong murukku recipe this year.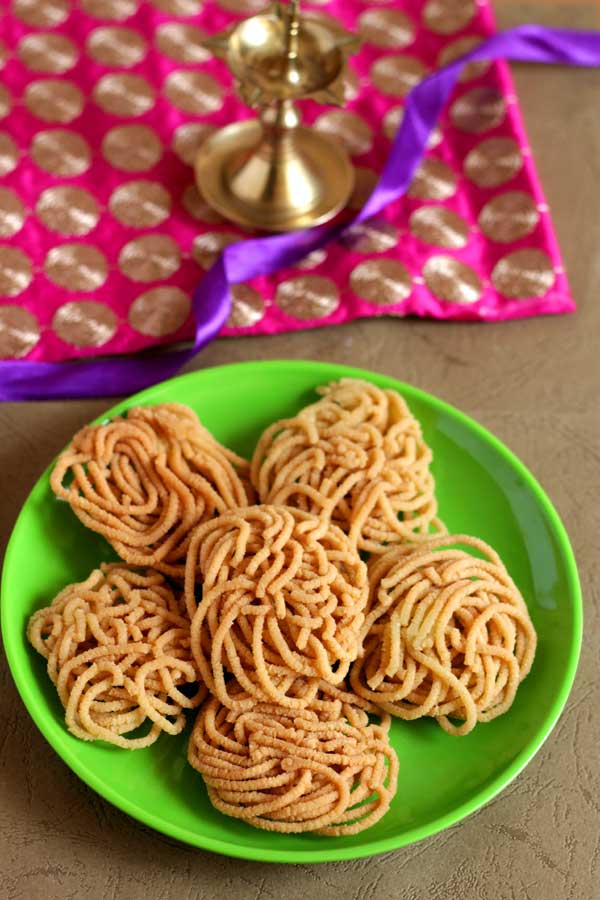 This moong murukku recipe is copied straight from my mother's kitchen and it's replicated as is with barely no tweaks. It has split green gram i.e yellow lentils which are cooked till soft and pureed fine. Followed by which is you combine it with rice powder and spices. I basically use cumin, green chillies and salt for spicing it up but you have the liberty to play around with the ingredients. Like you can skip grinding coconut with spices and directly use the red chilly powder, cumin powder and salt. Take a chance. Test and see. Squeezing the dough in the press in swirls and deep frying in hot oil is what lies in the final step.
I love the way how moong murukku turned crispy and crunchy yet retaining the green gram flavor. It's one of the best goodies to snack on in between the sweets on this Diwali 2015.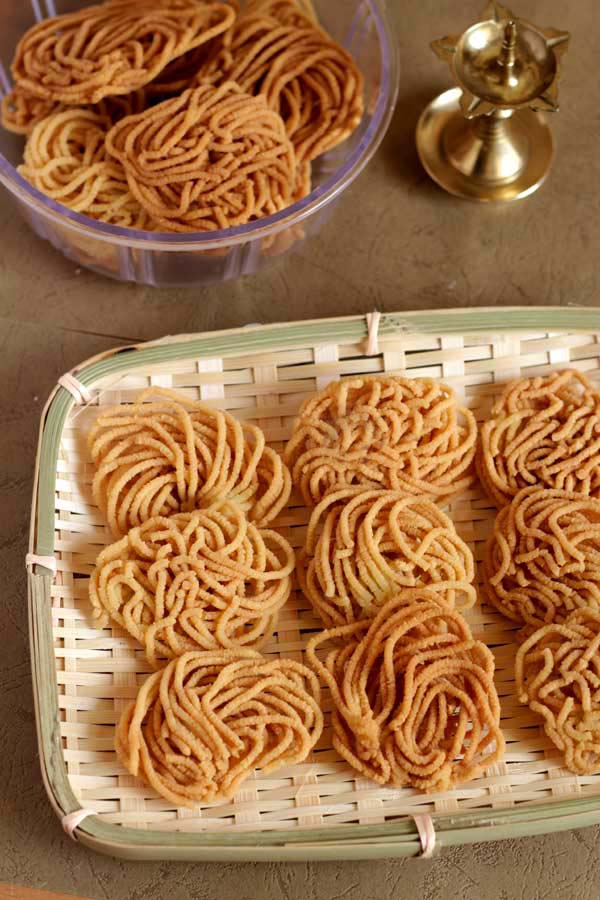 Moong Murukku | Split Green Gram Murukku
Ingredients
Split green gram (moong dal)- 1/4 cup
Rice powder- 1.5 cup
Grated coconut- 3 tsp
Green chillies- 2 nos.
Cumin seeds- 1 tsp
Salt- 1 to 1.5 tsp
Cooking oil- Enough for frying
Instructions
Preparation

Rinse split green gram with enough water and cook it till soft adding 1/4 cup of water.

Method

Grind cooked green gram to fine puree along with 1/4 cup of water. Transfer it to a bowl. Then grind grated coconut, cumin, asafoetida and green chillies to fine paste adding very little water.
In a wide bowl add rice powder,coconut plus spice puree, salt and split green gram paste. Combine everything well in to slightly thick dough. You wouldn't need any additional water for this dough as cooked lentils have enough water in it.
Next take the murukku press with the kara sev plate and fill it with the prepared dough. Grease two plastic squares with some oil and squeeze in layered murukku in circular manner. Do not over do layering which won't get cooked easily.
Heat oil in wide wok and when the oil is rightly heated, carefully slide the squeezed murukku in to hot oil. Let it cook in medium flame till the color turns towards light brown. Flip in between for cooking both sides evenly. When the sizzling and sh.. sound ceases remove the murukku from oil using slotted ladle.
Repeat the process to finish the dough. Crispy snack moong dal murukku is ready for Diwali.

Notes

Do not over pour water to cook split green gram lentils, in which case you may end up with the dough being flowing consistency.
I have used store bought rice powder itseslf. You can use home made too.
If you add more water to grind the lentils or coconut and spices, then you would require more rice powder which may make the murukku hard to bite.
You can substitute green chillies by red chillies also.
Before sliding murukku in to oil, ensure it is rightly heated by dropping a pinch of dough, if it raises to the top gradually then it is the right temperature to start frying.
You can also squeeze murukku directly in to hot oil, but be careful the heat emitted from oil may make your skin burn.
https://udupi-recipes.com/2015/10/moong-murukku-split-green-gram-murukku-diwali-2015.html
All the content in this website are © Copyrighted to – Udupi-Recipes