Pickling is really an elaborated process  that involves extra caution and care as pickles need to be  preserved for a span of time.  Our ancestors must have found the way of pickling to conserve  perishable foods for months.
In my last trip to vegetable market, happened to see very big, mango sized limes, insisted by the store keeper I made my mind to buy them. Back in my mind, I was scheming to pickle them in this way which my father-in-law was very fond of.
This particular pickle must be the simplest way of pickling limes.  As opposed to  sweet lemon pickle or spicy version of it,  this lemon ginger pickle  makes use of green chillies replacing red ones. Green chillies and ginger are seasoned on to lemon pieces that are marinated in salt and fenugreek powder. It is very important to note that after pickling, this lemon ginger pickle should rest(in airtight container) for a week in order to be ready for use. The lemon pieces would turn soft, pulpy and mushy absorbing all the spices. Then you can enjoy the goodness…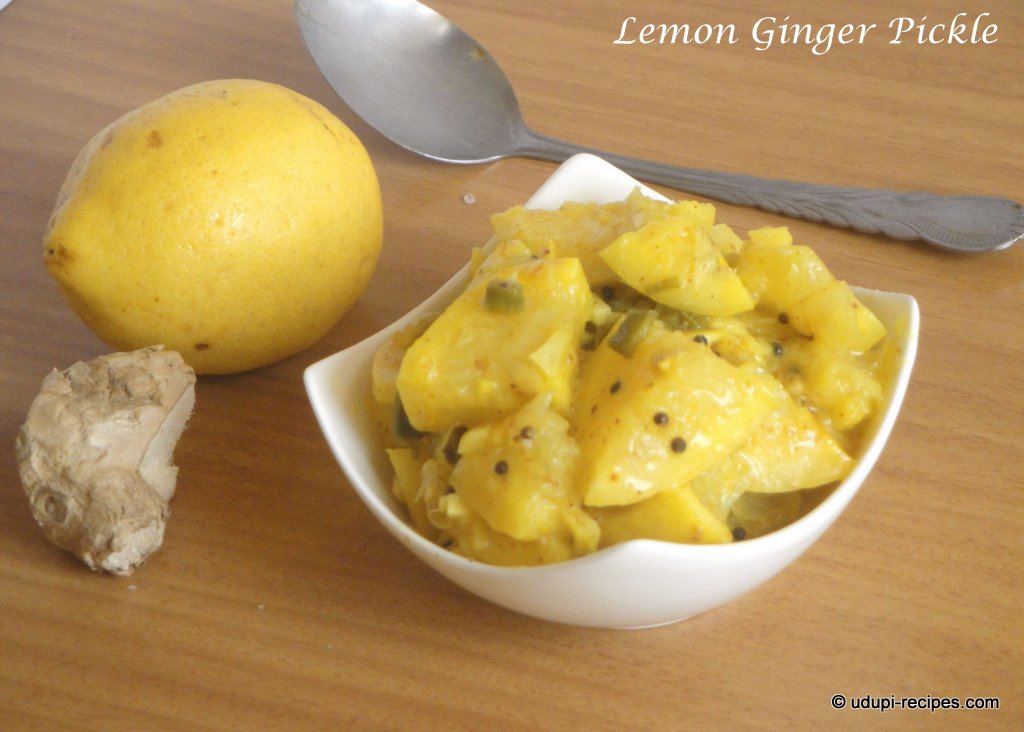 Lemon Ginger Pickle Recipe
Ingredients
Big sized lemon- 2 no.
Green chillies- 4 no.s
Finely chopped ginger- 3 tsp
Crystal salt- 5 tsp
Fenugreek seeds- 1/2 tsp
Turmeric powder- 1/4 tsp
Mustard seeds- 1/2 tsp
Cooking oil- 2 tsp
Instructions
Preparation

Wash lemons throughly in water and wipe it dry using kitchen towel. Cut each lemon in to 8 or 12 pieces depending on the size of lemon.

Method

Dry roast the fenugreek seeds till they turn slightly brown. Finely powder crystal salt and roasted fenugreek seeds separately. Keep them aside.
In a wide mixing bowl add chopped lemon, turmeric, powdered salt and fenugreek. Mix well.
Heat a sesoning pan adding oil and mustard seeds. When mustard seeds splutter add chopped green chillies and ginger. Saute for a while and then switch off. Let it cool.
Now add cooled ginger seasoning to lemon mix. Toss it and store it in airtight container.
Lemon ginger pickle is ready. After a week the lemon pieces turn pulpy and soft that is when you can enjoy lemon ginger pickle with curd rice.

Note:

It is important to let the lemon pieces to be marinated with all the spices in container for a week. Only after that the pickle would be ready to use.
There is no hard and fast rule for amount of green chillies and ginger to be added. Adjust them as per your taste buds.
At room temperature the shelf life of this pickle is around a month.
https://udupi-recipes.com/2014/02/lemon-ginger-pickle-recipe.html
All the content in this website are © Copyrighted to – Udupi-Recipes
Meet you all with one more interesting recipe. Till then bye.