WISH YOU ALL A VERY HAPPY NEW YEAR. We are all set to welcome new year 2014 and it's time to say goodbye to 2013. Time and tide never wait for any one, they just keep on moving. We have to learn this lesson of motion from TIME right guys?  Let us all make this simple resolution in 2014. "Don't freeze, don't stop, don't worry that it isn't good enough, or it isn't perfect, whatever it is: art, or love, or work or family or life, Keep going, each step may get harder but don't stop".
Today I have brought a dish called Aralu panchakajjaya or puffed paddy panchakajjaya on this occasion of new year. It is a mandatory dish to be served on the traditional ritual called "Seemantham" carried out during 7th month of pregnancy. There are 5 ingredients used in this dish, so it is panch kajjaya. Let us see this recipe now.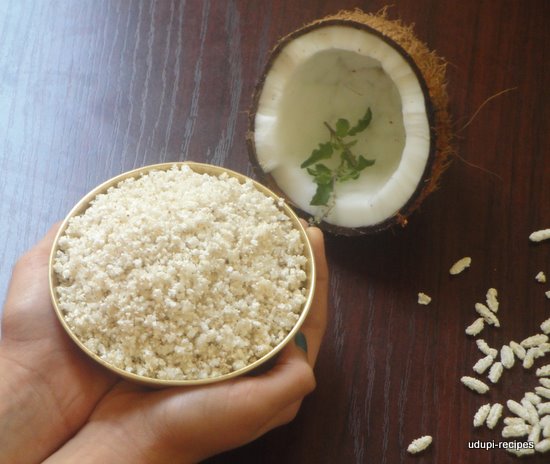 Puffed Paddy Panchakajjaya Recipe
Ingredients
Puffed paddy- 40 gms
Sugar- 1/2 cup
Fresh grated coconut- 1/2 cup
Cardamoms- 2 nos.
Ghee- 1 teaspoon
Instructions
Preparation

Deseed cardamoms, powder it finely and keep it aside.

Method

Add puffed paddy in to a mixer and grind it coarsely.
Transfer it in to a wide bowl, add sugar, grated coconut, cardamom powder and ghee to it. Mix well.
Puffed paddy panchakajjaya is ready. Offer it as naivedyam and seek blessings from Him.

Notes:

Do not grind puffed paddy finely.
As per your taste adjust amount of sugar.
Puffed paddy is light in weight but more in volume that is the reason I mentioned quantity in grams instead of cups. 40 grams will be around 3 cups.
https://udupi-recipes.com/2013/12/puffed-paddy-panchakajjaya-recipe.html
All the content in this website are © Copyrighted to – Udupi-Recipes
See you with another interesting Udupi recipe. Till then bye.